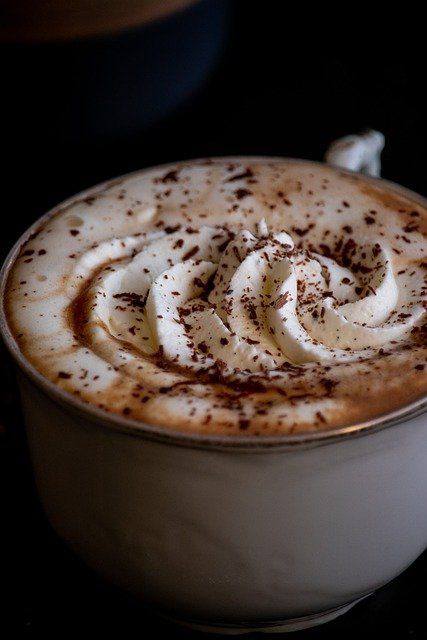 Pixabay
»»————-————-——-—- ༻✦༺ -———-————-————-««
Just recently I had been drinking coffee with some whip cream. It does tastes delicious but I think it has some bad effects in my body because the whipping cream might contain phosphorus that affects my skin and making it a bit itchy which is typical if you would overdose on Phosphorus.
But I had read on the label that the whipping cream doesn't contain much phosphorus that I know of, it is just a dairy-based cream for salads and soups which is just fat compared to "Coffeemate" which has a lot of phosphorus in it.
So now I will not be drinking coffee with whip cream anymore even though really it does taste goo with some whip cream.
My diet is so strict that I know it is just impossible for me to get an elevated phosphorus levels because for one thing I do not eat that much, then I take my phosphate binder but only this time I drink my coffee with whipping cream which could be having substances that is not favorable to my current health condition.
I am keen on maintaining balance to my system because I already had a lasting damage already which explains my physical appearance and disability. SO I just have to sacrifice and make changes particularly about my diet so that I can minimize the suffering that I am experiencing from having a weak bones and itchy skin.
Thanks for reading. :D
Deutsch (German) Translation:
Vor kurzem hatte ich Kaffee mit etwas Schlagsahne getrunken. Es schmeckt köstlich, aber ich denke, es hat einige schlechte Auswirkungen auf meinen Körper, da die Schlagsahne Phosphor enthalten kann, der meine Haut angreift und sie ein bisschen juckt, was typisch ist, wenn Sie Phosphor überdosieren.
Aber ich hatte auf dem Etikett gelesen, dass die Schlagsahne nicht viel Phosphor enthält, wie ich weiß, es ist nur eine Sahne auf Milchbasis für Salate und Suppen, die im Vergleich zu "Coffeemate" nur fett ist, die viel Phosphor enthält es.
Also werde ich jetzt keinen Kaffee mehr mit Schlagsahne trinken, obwohl er mit etwas Schlagsahne wirklich klebrig schmeckt.
Meine Ernährung ist so streng, dass ich weiß, dass es für mich einfach unmöglich ist, einen erhöhten Phosphorspiegel zu bekommen, weil ich zum einen nicht so viel esse, dann nehme ich meinen Phosphatbinder, aber nur dieses Mal trinke ich meinen Kaffee mit Schlagsahne, die könnte which Substanzen einnehmen, die für meinen aktuellen Gesundheitszustand nicht günstig sind.
Ich bin sehr daran interessiert, mein System im Gleichgewicht zu halten, da ich bereits einen bleibenden Schaden hatte, der mein körperliches Erscheinungsbild und meine Behinderung erklärt. Also muss ich nur Opfer bringen und vor allem meine Ernährung umstellen, damit ich das Leiden, das ich durch schwache Knochen und juckende Haut erlebe, minimieren kann.
Danke fürs Lesen.
»»————-————-——-—- ༻✦༺ -———-————-————-««
─=≡Σ((( つ•̀ω•́)つLET'SGO!
▂▅▇█▓▒░ ⎛⎝(•̀ ‿•)⎠⎞░▒▓█▇▅▂