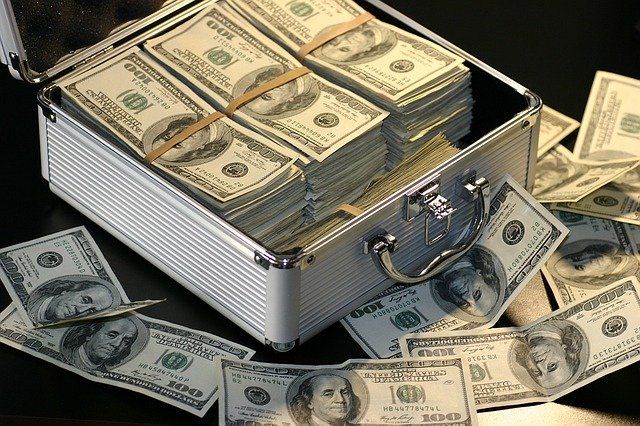 Pixabay
»»————-————-——-—- ༻✦༺ -———-————-————-««
Earnings on a daily basis is down considerably and I must say that I am worried a bit now. Still at least I am earning compared to other people who have no means of income which is why I am still so thankful.
These cryptos plays with our emotions and decisions are crucial if you want to be a successful into it because in a flash your money could go poof in a matter of seconds if not weeks and at the same time could go fabulous if you make it big if things go north and favor you.
I know as with low prices of cryptos is a perfect time to invest because you would want to invest at lower prices compared to if prices are mooning. They say that you would also want to cash out on the way up and not the way down because it is the wise thing to do but the thing is that things are uncertain as the fear of missing out also messes with your decisions so most of the time you would hold and hold hoping that your cryptos or cryptos in general would continue to moon or at least that is what you are hoping for.
But what we are into now as for the prices is concerned way better compared last year so for the long term goal we will see best prices again. But again if prices are down we are inclined not to buy and hope that it will all go up which it will which is why it is just hard to make decisions that will either make or break you in these fascinating world of cryptos.
Thanks for reading. :D
Deutsch (German) Translation:
Die Einnahmen auf Tagesbasis sind erheblich zurückgegangen und ich muss sagen, dass ich jetzt ein bisschen besorgt bin. Immerhin verdiene ich immerhin im Vergleich zu anderen Menschen, die kein Einkommen haben, weshalb ich immer noch so dankbar bin.
Diese Kryptos spielen mit unseren Emotionen und Entscheidungen sind entscheidend, wenn Sie erfolgreich sein wollen, denn blitzschnell könnte Ihr Geld in Sekunden, wenn nicht sogar Wochen, und gleichzeitig fabelhaft werden, wenn Sie es groß machen, wenn Dinge gehen nach Norden und begünstigen dich.
Ich weiß, dass es bei niedrigen Preisen für Kryptos ein perfekter Zeitpunkt ist, um zu investieren, da Sie zu niedrigeren Preisen investieren möchten, als wenn die Preise schwanken. Sie sagen, dass Sie auch auf dem Weg nach oben Geld auszahlen möchten und nicht auf dem Weg nach unten, weil es weise ist, aber die Sache ist, dass die Dinge ungewiss sind, da die Angst, etwas zu verpassen, auch Ihre Entscheidungen durcheinander bringt Zeit, die Sie halten und halten würden, in der Hoffnung, dass Ihre Kryptos oder Kryptos im Allgemeinen weiter monden würden oder zumindest das, was Sie hoffen.
Aber was uns jetzt bei den Preisen angeht, ist im Vergleich zum letzten Jahr viel besser, so dass wir für das langfristige Ziel wieder die besten Preise sehen werden. Aber auch hier neigen wir dazu, nicht zu kaufen, wenn die Preise sinken, und hoffen, dass alles steigen wird, was auch der Fall ist, weshalb es einfach schwer ist, Entscheidungen zu treffen, die Sie in dieser faszinierenden Welt der Kryptos entweder treffen oder brechen.
Danke fürs Lesen.
»»————-————-——-—- ༻✦༺ -———-————-————-««
─=≡Σ((( つ•̀ω•́)つLET'SGO!
▂▅▇█▓▒░ ⎛⎝(•̀ ‿•)⎠⎞░▒▓█▇▅▂