Hi Everyone I am so happy today as I am finally a witness on Blurt now.
So, How I joined
I joined basically just to blog and earn some crypto like almost all do the same. Then I started interacting and got to work on the development part too. It increased my interest in blurt and I contributed to the development too by fixing bugs and adding some features. So, I decided to move a level up to user + dev + witness as this community is awesome
Being a witness what you can expect from me
I have been a full stack developer and DevOps for 3 years as well as a blogger and sometimes a gamer too. So, I will not only keep sharing content with this community. But I will also keep fixing things in the development of blurt and related apps as much as I can.
Also, I will keep this community running by keeping my witness updated and running.
I am also a part of blurt community on discord and actively keeping an eye on things going there. So, I will be creating guides and helping people to join as a witness or at least do use the blog. After my joining, not much but 3 users I have joined this platform @artliferahul @jass99 @@@callmedheeru
I look forward to seeing the community grow more.
Here are my witness properties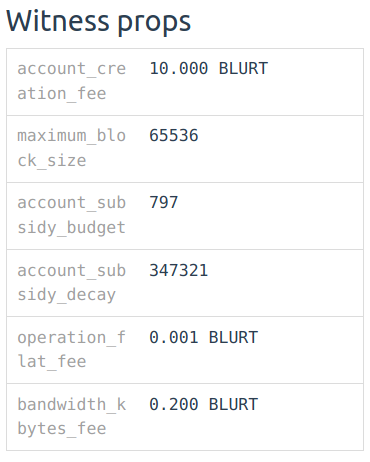 My Witness Specs
Currently, I have started as a single node only but will soon add more nodes as a backup.
My current witness specs on Contabo are
2 CPUs
4GB RAM
300 GB HDD
32 TB traffic
In Germany
Voting for Witnesses
Witnesses are a vital part of the Blurt blockchain. It's a good idea to use your witness votes and use them wisely. You can vote for up to 30 witnesses.
I recommend voting for witnesses who are involved in the community and take their responsibilities seriously.
Here's a screenshot of the witnesses I vote for: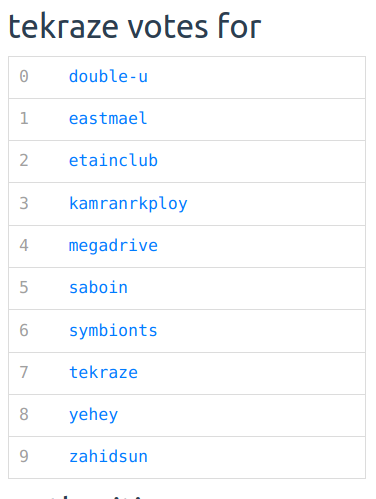 Currently I have voted for 9 people only as they are those I have interacted with but I will vote more when I got to know some more people.
Voting for my witness
so, we gone through witness in detail. Now if you want to support me in supporting blurt more, please help me by giving your precious vote.
Steps
Go to this URL https://blurtwallet.com/~witnesses
Login with your active key
Scroll to @tekraze and click the vote
Note: Please vote wisely as you can vote only 30 witness
Until then, thanks, everyone. I Will be thankful to all who give me a vote.
---
Happy Blurt Blogging
---
Follow me on my social networks
---
Tekraze Blog
Instagram Personal
Instagram Blog account
Instagram Gaming Account
Youtube Gaming
DTube
Tekraze on Medium
Dehazelabs on Medium
Dev.to
Hashnode
---