Hello, Blurters!
This is my official witness introduction post.
About Me and My Role as a Blurt Witness
I started my witness node on the day Blurt was born. The founders were scrambling to get enough witnesses to get the chain started, and I decided to pitch in by running a witness node.
Since then, we've had two hardforks that both went smoothly, and I was able to upgrade my witness node without a hitch.
I believe it's important for witnesses to participate and keep up to date with what's happening in the community as well as what's happening on the development side of things. That's why I've done my best to keep up to date with what is happening in the Blurtosphere and will continue doing so. I keep an eye on the Blurt Discord server , especially in the witness and dev channels. I also keep track of what's happening on the GitLab repo.
I have also been granted the privilege of being a moderator in the Discord server. I will do my best to help those who need it whenever I can. Feel free to ask me questions about Blurt either on Discord or here on the blockchain. I'm happy to help.
Witness Properties
Another part of the repsonsibilities of a witness is to vote on some chain properties. These properties include account creation fees, transaction flat fees, transaction bandwidth fees. I update these every once in a while, and I try to keep them low as to not make it too expensive for people to use the Blurt blockchain.
Here's a screenshot of my witness properties: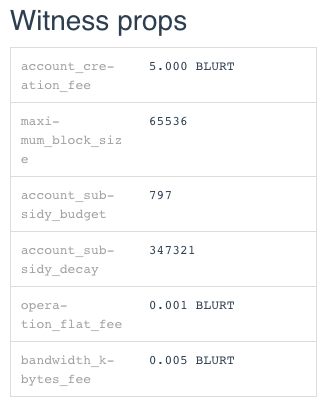 Witness Node Specifications
I'm currently operating two Blurt nodes. One is my main witness node, located in Toronto, Canada. The other is a seed node that can serve as a backup witness node in case the main one has problems. That one is located in Sweden.
I haven't setup any automatic failover yet, but I plan to do so as soon as possible.
Main Witness Node Specifications:
2-core processor;
4 GB of RAM;
80 GB SSD;
located in Toronto, Canada.
Blurt Seed Node/Backup Witness Node Specifications:
4-core processor;
4 GB of RAM;
50 GB SSD;
located in Sweden.
Voting for Witnesses
Witnesses are a vital part of the Blurt blockchain. It's a good idea to use your witness votes and use them wisely. You can vote for up to 30 witnesses.
I recommend voting for witnesses who are involved in the community and take their responsibilities seriously.
To that effect, I have a personal policy of not voting for witnesses who haven't updated their properties. If you see a flat fee of 0.050 BLURT, and a bandwidth fee of 0.010 BLURT, it means they haven't bothered to update their fees and just left them on the default settings.
I'm not telling you what to do. That's just my personal policy. 😉
Here's a screenshot of the witnesses I vote for: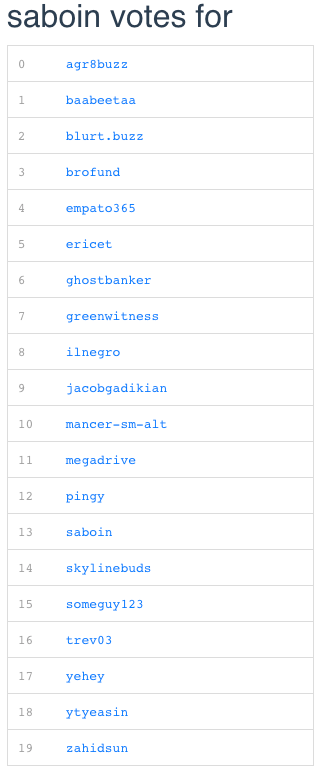 Here are two options for witness voting interfaces:
This is my preferred site for voting for witnesses. This site shows the properties that each witness votes for, so you can make a more informed choice. The only caveat is that this site only works on the desktop computer with either WhaleVault, which you can get at the Chrome webstore, or Blurt Keychain, which you have to download from GitLab and install manually with your browser in developer mode.
This is the official site. It works both with or without the WhaleVault or Keychain extensions, but it doesn't show the witness properties (at least not yet at the time of writing this post).
Choosing a Proxy Instead of Voting Directly for Witnesses
If you don't want to vote for witnesses yourself for whatever reason, and you have someone you trust to make that decision for you, you can choose that someone as a proxy for your witness votes.
To choose a proxy, you can just go on the official site, and scroll all the way down, and there is a box where you can enter the name of the account you want for your proxy.
---
Well, folks, that'll be it for this one.
Until next time, I hope you all have a great one!
Happy Blurting!