¿Qué es un Testigo de la Cadena de Bloques?
De acuerdo a la documentación oficial que puedes leer
Aqui
.
La Blockchain de Blurt requiere un conjunto de personas para crear bloques y utiliza un mecanismo de consenso llamado prueba de participación delegada, o DPOS. La comunidad elige a los "testigos" para que actúen como productores de bloques y órgano de gobierno de la red. Hay 20 testigos a tiempo completo, que producen un bloque cada ronda de 63 segundos. Un puesto 21 es compartido por los testigos de reserva, que se programan proporcionalmente a la cantidad de aprobación de la comunidad ponderada por la participación que tienen.
Algunas de sus funciones principales las podemos leer también en la documentación oficial Aqui
El papel de un testigo en Blurt Blockchain es verificar las transacciones entrantes, producir bloques cuando está programado participar en la gobernanza. Además de esto, existe la expectativa formal de que los Testigos defiendan la cadena de bloques Blurt, revisen el software y creen la comunidad Blurt. De acuerdo a lo anterior los testigos proporcionan una infraestructura mediante un conjunto de servidores, equipos computacionales como los Raspberry Pi o computadoras; con el fin de verificar las transacciones que se realizan dentro de la cadena de bloques. De acuerdo a ambas documentaciones los testigos juegan un rol importante al proveer infraestructura, pero también deben debatir todos aquellos cambios o mejoras que puedan existir dentro de la cadena de Bloques. En este punto los testigos deben conocer todos los cambios que sucederán a nivel de programación y el impacto que pueda tener en la plataforma para informarlo al público en general.
¿Debo aprobar a todos los Testigos?
Cada usuario dentro de la plataforma Blurt posee 30 votos que puede otorgar en favor de los testigos. Por lo cual cada testigo no solo debe realizar una propuesta a la comunidad para recibir un voto a favor, debe trabajar en favor de la cadena de bloques, debe promocionarla y sobre todo hacer vida activa dentro de la misma, proponer mejoras, incentivar mejoras entre otros tópicos que pueden ayudar a la estabilidad de la cadena de bloques; Por lo cual la respuesta inmediata es no. Ningún usuario está en la obligación de votar por un testigo, lo ideal es que el mismo haga una propuesta formal a la comunidad y a todos los miembros de la plataforma, darse a conocer y sobre todo materializar su propuesta. Hace 6 meses inicie mi proyecto desde casa con la finalidad de incentivar a los usuarios de habla hispana; acá pueden ver la publicación original
Witness Low Cost
Mi propuesta Witness
Las ganancias obtenidas serán delegadas con el fin de incentivar a otros usuarios a crear sus propias iniciativas. Trabajo de forma conjunta con los Witness Blurtlatam y Blurthispano el proyecto #blurtstartup

Realizar de forma aleatoria la selección de publicaciones con el fin de validar que no sean plagios y se emitirá un reporte semanal del trabajo realizado.

Compartir tutoriales que ayuden a los emprendedores en materia tecnológica
Ayudar a los usuarios que puedan tener cualquier duda con respecto a los apartados técnicos que puedan surgir del uso cotidiano dentro de la cadena de bloques

Si la fundación Blurt requiere de alguna ayuda y soporte estaría en disposición de hacerlo

Realizar promoción a través de las redes sociales de todos aquellos avances que vayan sucediendo para mantener actualizados a los que hacen vida dentro y fuera de la plataforma

Seguir realizando pruebas de diferentes hardware y configuraciones para compartirlos con la comunidad. Estaré retomando el proyecto Lowcost en los próximos días.
---
¿Dónde puedo ver la lista de los Testigos?
---
---
Vota por mi como Witness Link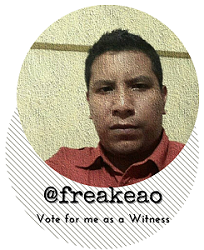 ---
ENG
---
What is a Blockchain Witness?
According to the official documentation which you can read
Here
.
The Blurt Blockchain requires a set of people to create blocks and uses a consensus mechanism called delegated proof of stake, or DPOS. The community elects "witnesses" to act as block producers and the network's governing body. There are 20 full-time witnesses, who produce one block every 63-second round. A 21st slot is shared by reserve witnesses, who are scheduled proportionally to the amount of community approval weighted by the participation they have.
Some of their main functions we can also read in the official documentation Here.
The role of a token in Blurt Blockchain is to verify incoming transactions, produce blocks when it is scheduled to participate in governance. In addition to this, there is a formal expectation that Witnesses will defend the Blurt Blockchain, review software and build the Blurt community. According to the above the Witnesses provide an infrastructure through a set of servers, computational equipment such as Raspberry Pi's or computers; in order to verify the transactions that take place within the blockchain. According to both documentations the witnesses play an important role by providing infrastructure, but they must also discuss all those changes or improvements that may exist within the Blockchain. At this point the witnesses must know all the changes that will happen at the programming level and the impact it may have on the platform to inform the general public.
Should I approve all Witnesses?
Each user within the Blurt platform has 30 votes they can cast in favor of witnesses. Therefore each witness must not only make a proposal to the community to receive a vote in favor, must work in favor of the blockchain, must promote it and above all make active life within the same, propose improvements, encourage improvements among other topics that can help the stability of the blockchain; For which the immediate answer is no. No user is obliged to vote for a witness, the ideal is that he/she makes a formal proposal to the community and all members of the platform, to make himself/herself known and above all to materialize his/her proposal. 6 months ago I started my project from home with the purpose of encouraging Spanish-speaking users; here you can see the original publication
Witness Low Cost
My Witness proposal
The profits obtained will be delegated in order to encourage other users to create their own initiatives. Working together with the Witnesses Blurtlatam and Blurthispano on the #blurtstartup project.

Randomly select publications in order to validate that they are not plagiarism and will issue a weekly report of the work done.

Share tutorials that help entrepreneurs in technological matters.
Help users who may have any doubts regarding technical sections that may arise from the daily use within the blockchain.

If the Blurt Foundation requires any help and support, it would be willing to do so.

Promote through social networks all those developments that are happening to keep updated those who make life inside and outside the platform.

Continue testing different hardware and configurations to share them with the community. I will be resuming the Lowcost project in the coming days.
---
Where can I see the list of Witnesses?
---
---
Vote for me as Witness Link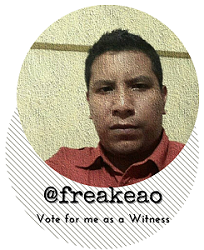 ---
Source
---