We played a couple of rounds of disc golf at the course we played in the league at. It is a more difficult course with some longer holes that was converted from a golf course.
I was playing pretty well and headed towards a personal best round but got a bit greedy on one of the holes. It was a shorter downhill throw. The mistake to make is to hyzer out early and fade into a bit of a valley. The basket is perched on the edge of a hill with some deep dark woods behind it. The other mistake to make is to go a bit long and ace into the basket, lol.
It is very tempting to try and park the disc in the side of the hill just below the basket. You kind of have to crush it to keep from fading early and disc should come in kind of hot and spike right into the hillside.
I've done this before but today there was a strong left to right slight headwind. I stepped up with confidence thinking I could keep enough hyzer on the usual Crave disc that I like to throw here. This disc is not particularly good in the wind and I know that. I threw the perfect line but naturally it flipped up and turned and burned deep into the deep dark woods.
I'm not that good at scrambling out of the woods so I ended up with a bogey on my birdie attempt, lol.
I ended with a +2 on the round so that felt pretty nice for me. My son had a -5 and had a really good round. Our friend ended with a +12.
My son and I played the putt putt disc golf course here too. It is a fun eighteen hole course where all the holes are a short par two. There are a few holes that you can ace but most of them are challenging enough that you don't want to run them. I ended up winning that round with a +3 to my son's +5.
We found a couple of discs on the course today and I kept one of them because it had no name or number on it. It is a Blizzard Champion Boss disc. I have another one of them but I don't usually bag it because it is too light and overstable for me. I threw this new to me Boss disc and it really went far and flew nicely and it is closer to the weight I usually like to throw. These discs seem to vary a lot in stability and if they are used a lot they get less stable. I think this one will be good for the summer weather.
I also got a new putter with the script I earned this Spring. It is really awesome! In one round it has taken over the main putter slot.
The new discs are on the far right: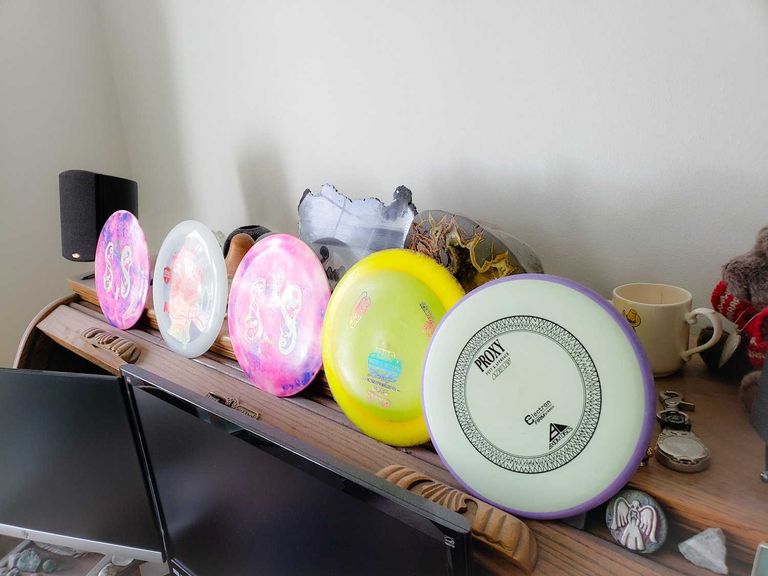 ---
Thanks for reading! I always value your support and comments. The pictures were taken by me with my Galaxy S9+. Text and graphics copyright lightsplasher & litesplasher.
---
 <br/> _This report was published via Actifit app ([Android](https://bit.ly/actifit-app) | [iOS](https://bit.ly/actifit-ios)). Check out the original version [here on actifit.io](https://actifit.io/@lightsplasher/actifit-lightsplasher-20210611t025529069z)_ <br/> <br><img src="https://cdn.steemitimages.com/DQmXv9QWiAYiLCSr3sKxVzUJVrgin3ZZWM2CExEo3fd5GUS/sep3.png"><br><table>    <tr>        <img src="https://cdn.steemitimages.com/DQmRgAoqi4vUVymaro8hXdRraNX6LHkXhMRBZxEo5vVWXDN/ACTIVITYCOUNT.png"> </tr>   <tr>        <div class="text-center"><b>14317</b></div> </tr></table><table>    <tr>        <img src="https://cdn.steemitimages.com/DQmZ6ZT8VaEpaDzB16qZzK8omffbWUpEpe4BkJkMXmN3xrF/ACTIVITYTYPE.png">  </tr>   <tr>        <div class="text-center"><pre><b>Daily Activity, Golf, House Chores, Walking</b></div></pre></div>  </tr></table><div class="text-center"><img src="https://cdn.steemitimages.com/DQmNp6YwAm2qwquALZw8PdcovDorwaBSFuxQ38TrYziGT6b/A-20.png"><a href="https://bit.ly/actifit-app"><img src="https://cdn.steemitimages.com/DQmQqfpSmcQtfrHAtzfBtVccXwUL9vKNgZJ2j93m8WNjizw/l5.png"></a><a href="https://bit.ly/actifit-ios"><img src="https://cdn.steemitimages.com/DQmbWy8KzKT1UvCvznUTaFPw6wBUcyLtBT5XL9wdbB7Hfmn/l6.png"></a></div>