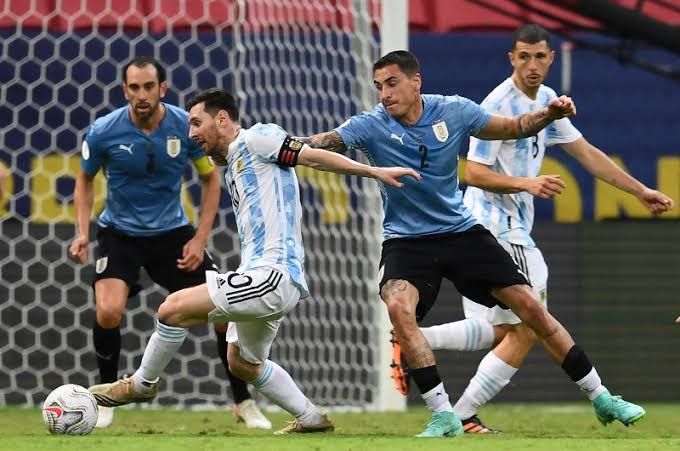 I watch any football match of Argentina national team. As I am a big fan of Argentina since my early age, I can't but watch the match of this team. But it is a matter of fact that I enjoyed a few exciting, good and so enjoyable match like the last match they played against Uruguay last night.I was amazed to see the performace of Argentine players. They were just another level in this match. Though Argentina won this match by 3-0 goal, Uruguay also played well, particularly in the first half.
Basically from starting to 35 minutes, it seemed that Uruguay would take lead. But they were deprived when Emi Martinez saved two shoots that might be goal, and one other shoot was blocked by the post. It was a bad luch for Uruguay, particularly for Luis Suarez who is one of my most favourite striker now. When Uruguay was giving consistently pressure on Argentine defense, Argentine players struggled to make them prepeared. And soon they came back to match and take a lead by Leo Messi's goal. After 1st half, Argentina was ahead by one goal. In the second half they lead more two goal. The two goal was from Rodrigo De Paul and Lautaro Martinez.
But I was facsinated to see the performance from Lo Celso. He had two assists, six key passes and eight chance create. What a performace from a midfielder. I am a big fan of Lo celso from when he played in Paris Saint Germaine. I think he is the most creative midfielder now in Argentine squade. It was also a good match for De Paul. He is now part and parcel of Argentina team. I become overwhelmed to see his work rate. How a man can give so much work rate! That's staggering!!!!
In the match against Paraguay, Argentina suffered for a perfect number nine as then Lautaro Martinez was absent because of injury. But in this match he returned and fulfill the want of a striker. Thanks Lautaro. At last I have nothing new to say about Messi. This man is just unbelievable.
Thanks for visiting me.