Well can you?
The wind of change is blowing, they overplayed their hand with the omicron (moronic) variant, qr codes, track and trace, vax passports.
There is only so much people can tolerate, regards lies.
If it was about health we would be encouraged to eat healthily, told to exercise, take walks, keep fit.
If it was about keeping people safe then track and trace would be used for rapists, child molesters AKA Paedophiles & murderers.
If it was about health 2, then it would be about replacing Legal pill pushing medical staff with healthy alternative medicine, natural, minus a sheet as long as my arm with side effects.
If, if, if only it was the package being sold by those that tell lies called politicians.
It is obvious the MSM have been in on the scamdemic from the start.
It is obvious that medical staff were willing to go along with it via bribes, raised wages, bonuses for jabbing people, extra money for saying anyone that died had convid.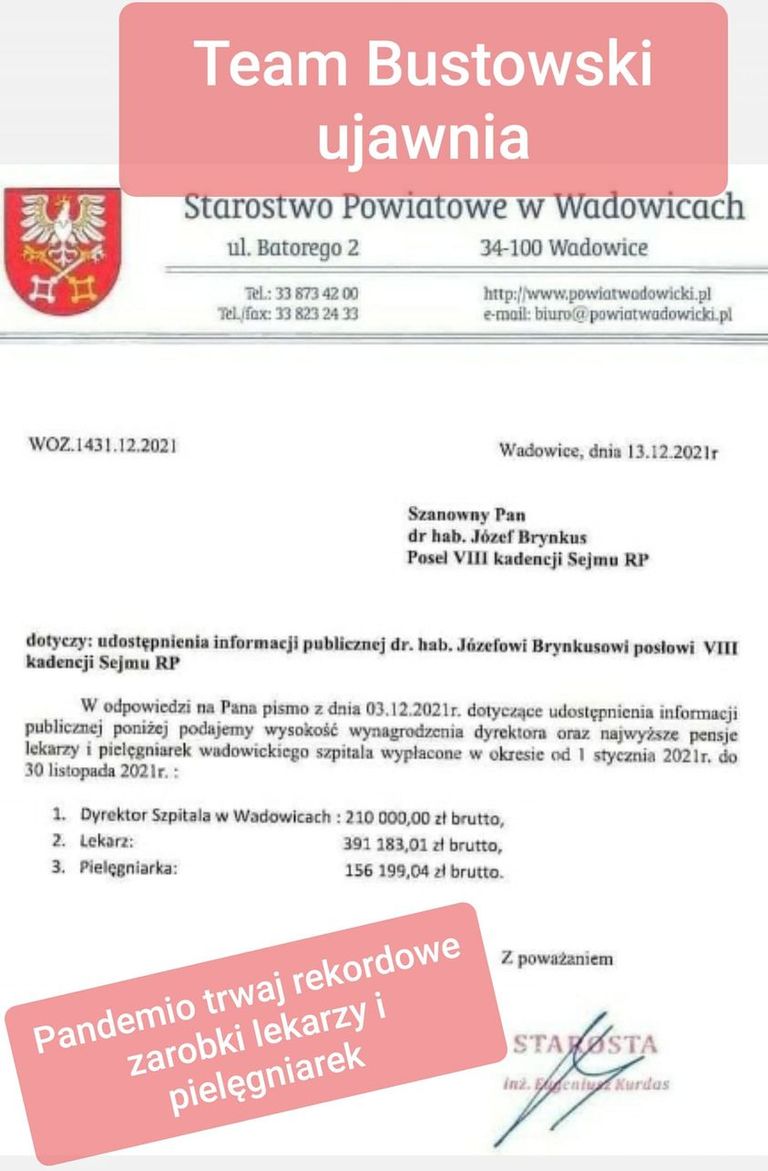 That above is a freedom of request reply.
Whilst hospitals here closed due to been overrun with zero patients, the above is the bribe they were paid not to treat people.
Anyone who is Polish knows 391,000zl is an insane amount for a doctor to get paid here, but that is the hush money they got, and that is just 1 hospital out of many.
Fear not. The wind of change is here.
Never in my life have I seen so many new independent political parties appear. It matters not who wins, it matters only we take as many seats from the 2 party system to wrestle con-trol from them, and that we will.
For 2 thousand years and more they have served up a dish of hatred, division, self loathing. That is more a reflection regards what politicians and bankers think of themselves than it is of us the people.
By deception do war, even against your own people, as long as it suits your own aim, is the name of the game, for them "the few".
Money backed by nothing is worth nothing, I have said this time and time again, and it is true.
There is a great awakening, sure it has been slow, but you only have to research the amount of protests each day around this world, to see people have had enough.
Toxic food allowed via lobbying by corporations.
Toxic medical treatment allowed via the same.
Toxic wars for profit again via lobbying.
With wars seemingly being replaced with profit for pharmaceuticals instead, this war is by stealth, TV, radio, and talking head puppets called politicians, owned and told what to say by the banksters, or else.
I do ponder how much dirt a bankster needs before selecting a crime minister to keep them on the Bilderberg/WEF/world bank/IMF etc leash, good puppet, good puppet.
But the winds of change are blowing.
A world of love not hate is nearer than one thinks, it is within touching distance.
Any doubters need to take a small amount of lsd to clear that depression and doubt, open your heart to the universe, it is calling your name.
Anyone suffering a lack of critical thinking needs to ingest a small amount of cannabis, the mind will clear, you will regain them thoughts.
There is a reason both those so called drugs, that grow freely in nature are banned, it keeps one locked into the reality you have been told to accept.
For thousands of years both have been used by people, generation after generation, although those stuck inside the created illusion of alleged democracy denounce nature, and the ability to self heal, immune systems are just that, the many have mocked natures remedies, whilst popping prescribed white pills, being injected with toxins too, with a bit of paper inside the box that comes with them that lists the 100's if not thousands of possible side effects. Mother nature gives not a single one such list.
Indeed the wind is blowing, although you may not think so, because you think the majority who lack critical thinking will not think for themselves, although if you think about it, you and I that have said ability are then charged to be leaders.
Some call them sheep, I find it better not to insult the intended audience, but if that is the way you think, then you must be a Sheppard, with no malice in your heart, with only good intentions.
Be that teacher, not that lecturer.
There is always the aim to divide us, this scamdemic has done that more than any other single thing those that want to deceive have thought up, pro vax, anti vax and all that jazz.
Indeed the winds a blowing, I can almost smell it and touch it, be that leader yourself. The change starts with you, the change starts with us, shoulder to shoulder, no matter the color/colour, race nor creed, no matter sexuality or religion, as one we will change the world, a new world without fear, as one we can change the world forever.
In you I trust, be that champion, be that leader, I send this message with love, to my brothers and sisters of the world, united we win, divided we fall.
Peace and out, one love to all.
P.S please watch the video above.