Angelica7 some time back began an initiative called New Vision Life. It serves as both a celebration and remembrance of the experiences we carry with us as we walk further on the roads of our lives.
In her most recent prompt her focus is on her grandmothers. At the end of her vivid descriptions of these figures who played such a central role in her life, she invites all interested to share their memories of their grandparents.
I felt somewhat of a kinship with her as happens sometimes with those we are drawn to, as this very idea was one I had for my next challenge. So I'll come up with something different, and invite all who read this to give her post a visit (and upvote) and participate in this remembrance of our own grandparents and the impact they had on our lives. The lessons they learned through their own struggles that made them who they were.
My grandparents
Due to the relationship between my parents, I had more access to my mothers parents than my fathers. Mostly due to interference from the so called authorities.
Surprisingly despite this, I have no pictures of my grandparents on my mothers side readily available on my computer. They are all packed away in a box somewhere.
My maternal grandmother was an amazing woman. She had such a wonderful sense of humor despite the struggle of her life. I can remember visiting when I was young quite often. I resented my grandfather back then, as he wasn't very friendly. I remember how she would cater to him as he sat in his chair watching TV, and resenting him for it. I felt he was disrespecting her, like she was beneath him when in fact she was the primary breadwinner and was so personable.
One of my earliest memories was of visiting while my mom and aunt were helping clean their house. Grandma was giving me junk food in the kitchen and my mom came in and got mad. Telling grandma that she told her she wasn't to give me such stuff. My grandma looked at her seriously, and with a stern voice told my mom she wasn't to old to get a spanking. Turning to me she winked and began laughing contagiously. My mom just shook her head in resignation and left us.
I have a ton of stories of my grandma similar. Of her appreciation of indulgence. I will share but one more. We took turns on my moms side of whose house we held Christmas Eve celebration. I can remember year after year my grandparents showing up, my grandfather carrying a huge trash bag of presents for everyone over his shoulder. The closeness of my grandma and mom and aunt always evoked a sense of security, an appreciation for the bonds that they held sacred with one another.
One last thing on my grandfather. In the later years of my grandmothers life, when I was entering my teens, she grew really sick. Sick enough to need cared for. My grandfather was unable due to stroke. So he signed their house over to the government in exchange for them paying for her to be at the nursing home.
My grandfather redeemed himself in my eyes during these years. Until she passed, he was at that nursing home every day, most of the day. Catering to her, his need to be at her side to be for her what she had for him all those years showed he wasn't as callous as I had supposed. Once the chips were down for her, he finally showed he really did love her. It helped restore some of my faith.
My paternal grandparents were a similar dynamic. My grandmother was very fun loving. My grandfather was very serious, a man who most of the time had few words.
He was possibly the most intelligent man I've ever known. Despite having to drop out of school in the third grade to help work on the family farm, he could learn and fix anything. His approach was one of studying and then perfecting.
He worked for himself his whole life. Usually doing radio and TV repair, although at one point I watched as he taught himself gun smithing. I remember marveling when I was young and we would all go bowling together. He was so good he could have been a professional bowler. My dad said grandma had told him to get a hobby, so he checked out every book on bowling and taught himself. So he was even this way with is hobbies.
In his latter years, he decided to take up woodwork. As with everything, he learned it well, producing some of the most beautiful pieces one could imagine. Always crafty, he complained even then on the price of wood. So he would drive around in his van to yard sales looking for cheap busted up furniture he could tear apart and strip down to work with.
He was the same way with fishing. He made his own bait, and the few times I went with him I watched as others would have no luck and he would be reeling them in. It was through one of these trips with him I decided I disliked fishing. He took me out early in his boat, and we sat there for the better part of the day in silence. He said it would scare the fish. I also remember being horrified when inquiring about needing to use the restroom and his reply was you go over the side of the boat, lol.
His quiet reserve as a child was quite unnerving to me. It wasn't until I grew older our bond got closer, my appreciation for his quiet appraisal and self control becoming an aspect of great admiration from me.
I remember a time when my aunts husband struck her in the driveway. Her husband was huge even by my family standards (height runs in my family). My grandfather looked at him, and in almost a whisper told him that if he ever struck her again, he would kill him. That giant of a man began crying like a baby as my grandfathers energy and stare cut through him. It was a pure display of will, a demonstration that real strength is focused and under control.
Back in WW2, he was in the Navy, assigned to one of the submarines. When I got older he would tell some stories of his time there. Sometimes about their shore leave. But the one that really caught my attention the most was he said there were times they weren't allowed to talk as the enemy might pick it up and know they were there.
My grandmother was such a fun woman. I can remember her calling my mom to see about my spending the night at her house on my birthdays. We would go see a movie usually, and then shopping. That night she would play records and watching her dance always made me feel happy, her fun loving nature contagious.
One year we went to the movies with her sister, my great aunt. Those two were inseparable and a blast to watch together as they both had an impeccable sense of humor. This particular year, after the movie had started grandma had to go to the restroom. After she was gone a few seconds, my great aunt told me to come with her, and she had us move a few aisles up to the other side of the aisle.
When grandma came back, she was searching for us, her dismay great until my aunts laughter gave us away. Grandma was such a fun spirit that as she sat next to me, we all howled together in laughter. She wasn't mad at all, telling my aunt she was bad as we all laughed hard.
I need to cut this short now. I could go on with many thousands of words on them, and still not capture the magic that their lives contained, the impact watching their lives had on myself.
I'm going to close this part out now with a photo of my paternal grandparents when they were young. They were a fetching couple, and my grandfather considered quite the ladies man back before grandma reeled him in.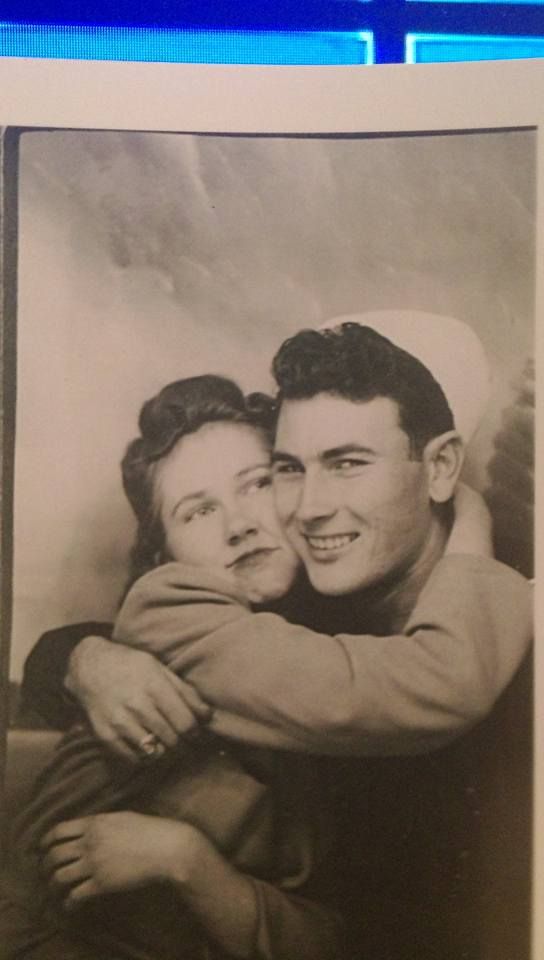 ##
A Post Recommendation
Another of the bright minds here at Blurt has asked my help in sharing with you his latest post. His account name here is steemitbu351, and I'm so glad I found him. A devout Muslim, his knowledge of history is a reflection on his thirst for knowledge. I enjoy immensely when one can hold conversations of a deep nature with another and they don't wield their information as a weapon as so many do. He is one of these few who can hold such conversations without feeling defensive regarding their knowledge and views.
Anyway, the post in question can be found here.
https://blurt.blog/beingsocial/@steemibu351/can-you-give-me-a-proper-answer-of-this-question
I haven't voted or answered it yet myself at the time I write this, but will be shortly. I often search through Blurt when I'm not logged in to give me an idea of what I'm voting and conversating on when I do log on.
Scrolling through posts to find interesting posts can be quite time consuming. A huge thanks goes out to Rycharde, who shared about the mute feature with me here
Thank you so much for reading, and I hope you may find the topic one you might wish to share with the rest of us. Grandparents are so cool. They have hindsight from the mistakes they made with our parents, and so often they love us in a way that parents can't afford to.