---
La Nostalgia como elemento de superación
---
Es la nostalgia, De fin de siglo
Y se vuelven a oír las rolas
De Los Beatles, De Elvis
De Janis, De Hendrix
De Morrison, Y de Lenon
Y es que es la nostalgia, De fin de siglo
Y todo el mundo quisiera el tiempo poder regresar
Y revivir los recuerdos
Y los buenos tiempos
Porque recordar es vivir
Y todos queremos vivir mas
(El Tri- La Nostalgia de fin de Siglo)
---
Un viaje a la playa, una comida deliciosa, nuestro primer beso, nuestro primer amor; la nostalgia puede llegar a ser una felicidad llena de amarguras. Muchas personas opinan que recordar es solo una pérdida de tiempo, consideran que es vivir en una etapa de negación recurrente añorando buenos momentos. Sin embargo, ¿cuantos de nosotros nos anhelamos volver a vivir momentos pasados? como esos momentos pueden llegar a impulsarnos para un mejor vivir? ¿es saludable recordar estos momentos o solo enfocarnos en el presente? Como todo en esta vida el exceso puede ser malo, por lo cual lo ideal no es anclarnos en todos aquellos momentos pasados, vivir pensando de forma obsesiva que vivimos momentos mejores a los que podemos disfrutar en este momento. La nostalgia es necesaria para reconectarnos con nuestro pasado, buscar en las herramientas que nos permitan solucionar nuestros problemas presentes, también para revivir experiencias gratificantes y devolvernos momentos de alegría. Todo esto nos lleva a decirnos cuanto hemos avanzado de un punto a otro en nuestras vidas. La nostalgia es un encuentro recurrente con nosotros mismos en diferentes etapas de nuestras vidas, Steve Jobs en uno de sus discursos decía que debíamos re conectar los puntos de nuestra vida haciendo un ejercicio de recordar los eventos relevantes de nuestra vida y como estos nos han llevado a ser quien somos actualmente; el ejercicio nos permitiría alcanzar la iluminación acerca del camino recorrido y sobre todo entendernos mejor a nosotros mismos para poder vivir de una forma más saludable emocionalmente.
---
Respondiendo a @practicalthought
---
Hola mi estimado amigo, afortunadamente me encuentro a salvo a pesar de vivir momentos complicados en mi vida 1.0, aunque no he publicado de forma recurrente sigo leyendo publicaciones en Blurt, otorgando votos positivos. Gracias por escribirme el día de hoy, ha sido el motor que me ha impulsado a escribir esta pequeña publicación para intercambiar opiniones y sobre todo para decirte que todo está bien.
---
ENG
---
---
Nostalgia as an element of overcoming
---
It is the nostalgia, of the end of the century
And we hear again the songs of The Beatles
Of The Beatles, Of Elvis
Of Janis, Of Hendrix
Of Morrison, And Lenon
And it is that it is the nostalgia, Of end of century
And everybody wishes the time could come back
And relive the memories
And the good times
Because to remember is to live
And we all want to live more
(El Tri- La Nostalgia de fin de Siglo)
---
A trip to the beach, a delicious meal, our first kiss, our first love; nostalgia can become a happiness full of bitterness. Many people think that remembering is just a waste of time, they consider that it is living in a stage of recurrent denial longing for good times. However, how many of us long to relive past moments? How can those moments propel us to a better life? Is it healthy to remember these moments or just focus on the present? As everything in this life, excess can be bad, so the ideal is not to anchor ourselves in all those past moments, to live obsessively thinking that we lived better moments than the ones we can enjoy at this moment. Nostalgia is necessary to reconnect us with our past, to look for tools that allow us to solve our present problems, also to relive rewarding experiences and give us back moments of joy. All this leads us to tell ourselves how much we have advanced from one point to another in our lives. Nostalgia is a recurring encounter with ourselves at different stages of our lives, Steve Jobs in one of his speeches said that we should reconnect the dots of our life by doing an exercise of remembering the relevant events of our life and how these have led us to be who we are today; the exercise would allow us to reach enlightenment about the road we have traveled and above all to better understand ourselves in order to live in a more emotionally healthy way.
---
Replying to @practicalthought.
---
Hello my dear friend, fortunately I am safe despite living complicated moments in my life 1.0, although I have not published recurrently I continue reading publications in Blurt, giving positive votes. Thank you for writing me today, it has been the engine that has prompted me to write this small publication to exchange opinions and above all to tell you that everything is fine.
---
Vota por mi como Witness Link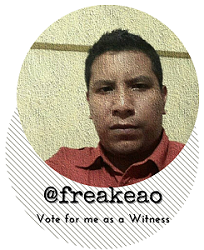 ---