Abuelas /
Grandmothers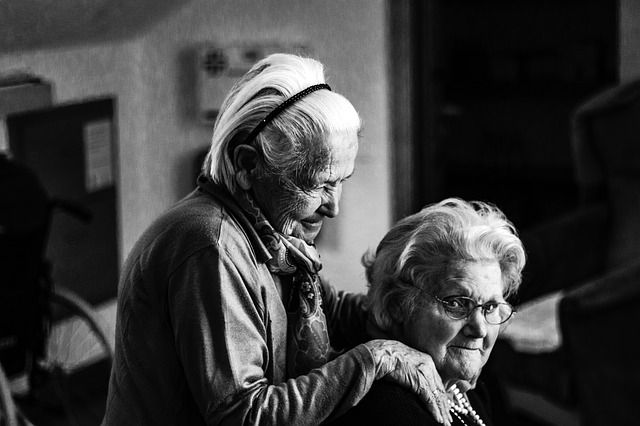 ---
Hace poco tuve la oportunidad de participar en una actividad organizada por un buen amigo @Practicaltyhough y me hizo recordar algunas cosas importantes sobre mis abuelas materna y paterna, dos mujeres muy diferentes de caracteres y físicamente, mi abuela paterna era de piel negra y mi abuela materna de piel blanca, cada una con formas diferentes de sonreír y de hacerle frente a la vida.
Mi abuela paterna era una mujer fuerte, dedicada a la tierra y a su familia, solía caminar todos los días muchos kilómetros para ir por agua que podía tomar de un pozo que se encontraba lejos del hogar, pero que era necesario ir a buscar el gua para poder cocinar, mi papá era el menor de 8 hermanos y me cuenta que sus hermanos mayores presenciaron una vez como la abuela sacaba fuerzas para hacer esa tarea de buscar el agua todos los días.
En una de esas caminatas mi abuela estaba embarazada de tu tercer hijo y cuando tuvo que levantar el gran embase de agua y colocarlo en su cabeza, pudo sentir que algo salía de su entre piernas y cuando revisó que pasaba, resulta que era una pierna de su tercer hijo que ya venía en camino.
Se pueden imaginar tal escena, me cuenta mi padre que su mamá caminó con el agua en la cabeza de regreso a casa y acompañada de sus dos primeros hijos, al llegar a casa le dijo a sus hijos que fueran por ayuda para poder inciar la labor de parto. Esta es una de las grandes historias de mi papá. Cuando me enteré de esto que había pasado miré a mi abuela de otra forma, pude entender que su caracter fuerte y aveces tosco era necesario para poder asumir la vida que le tocó vivir.
Al recordar a mi abuela, puedo cerrar mis ojos y verla en su silla de ruedas y también puedo recordar el amor que mi padre le demostraba, de allí nosotros sus hijos aprendimos que a las personas mayores había que respetarlas, amarlas y ayudarlas como pudieramos, porque ellos lo dieron todo por nosotros y ahora era nuestra tarea regresar con amor y acciones positivas todo lo que ellos merecían y necesitaban.
De mi abuela paterna aprendí a ser fuerte, a no tener miedos y luchar por lo que yo quisiera, porque ella siempre decía que todo se puede lograr con esfuerzo.
---
Los recuerdos de mi abuela materna son un poco más cercanos porque a ella pude conocerla un poco más y pude estar mucho más tiempo con ella.
Tengo muy buenos recuerdos de mis dos abuelas pero con mi abuela materna es muy especial, porque creo tuve y tengo una conexión. Cuando pienso en ella lo primero que viene a mi mente es su sonrisa y su buen humor, siempre tenía una ocurrencia y era tan alegre que parecía que nunca tenía problemas.
Mi abuela materna tenía un gran corazón, era una mujer valiente, bonita y con una corazón de hora, fue madre de 8 hijos y siempre tuvo mucho amor para compartir. También recuerdo que su energía era muy agradable porque era dócil y carismática, siempre ayudando a otros.
Su amor por sus hijos y mi abuelo era inmenso, ella amaba a mi abuelo con tanta devoción que era un espéctaculos mirarlos juntos, ella siempre pendiente de atenderlo, la comida, su cama, la ropa era una mujer muy dedicada a su esposo.
La abuela, fue maestra por ello el amor que le demostraba a los niños era genuino, toda la vida trabajó y era independiente porque generaba sus propios ingresos y de esta manera ayudaba en la casa.
De mi abuela materna aprendí que la vida es hermosa y que una sonrisa siempre es importante para adornar un día. También me enseñó a compartir y a ser humilde porque respetar la vida de otros era importante.
Tengo tantos valores aprendidos de mis abuelas que solo puedo agradecerle a la vida por ellas, además me dieron unos padres maravillosos que aún puedo disfrutar y de los cuales continúo aprendiendo.
---
Me encantaría poder dejar una invitación abierta a los usuarios que me leen para que compartan en #newvisionlife sus experiencia y el aprendizaje que tuvieron con sus abuelos.
También los invito a visitar y participar en las actividades organizadas por @Practicaltyhough y su comunidad #beingsocial.
Aquí comparto un poquito más de mi, con mucho cariño, te espero en los comentarios.
---
[ENG]
I recently had the opportunity to participate in an activity organized by a good friend @Practicaltyhough and it reminded me of some important things about my maternal and paternal grandmothers, two very different women in character and physically, my paternal grandmother was black-skinned and my grandmother white-skinned maternal, each with different ways of smiling and coping with life.

My paternal grandmother was a strong woman, dedicated to the land and to her family, she used to walk many kilometers every day to fetch water that she could drink from a well that was far from home, but it was necessary to go find the guide to be able to cook, my father was the youngest of 8 siblings and he tells me that his older brothers once witnessed how grandmother got the strength to do that task of fetching water every day.

On one of those walks, my grandmother was pregnant with her third child and when she had to lift the large container of water and place it on her head, she could feel that something was coming out of her between her legs, and when she checked what was happening, it turned out that it was a leg of her third child who was already on the way.

You can imagine such a scene, my father tells me that his mother walked with the water on her head back home and accompanied by her first two children, when she got home she told her children to go for help to start the work Of childbirth. This is one of my dad's great stories. When I found out about this that had happened, I looked at my grandmother in a different way, I could understand that her strong and sometimes rough character was necessary to be able to assume the life that she had to live.

By remembering my grandmother, I can close my eyes and see her in her wheelchair and I can also remember the love that my father showed her, from there we, his children, learned that older people had to be respected, loved, and helped as much as we could because they gave everything for us and now it was our task to return with love and positive actions all that they deserved and needed.

From my paternal grandmother, I learned to be strong, not to be afraid, and to fight for what I wanted, because she always said that everything can be achieved with effort.

---

The memories of my maternal grandmother are a little closer because I got to know her a little more and I was able to spend much more time with her.

I have very good memories of my two grandmothers but with my maternal grandmother, it is very special because I believe I had and have a connection. When I think of her the first thing that comes to my mind is her smile and her good mood, she always had a thought and was so cheerful that it seemed like she never had problems.

My maternal grandmother had a big heart, she was a brave, beautiful woman with an hour heart, she was the mother of 8 children and she always had a lot of love to share. I also remember that her energy was very nice because she was docile and charismatic, always helping others.

Her love for her children and my grandfather was immense, she loved my grandfather with such devotion that it was a spectacle to look at them together, she was always looking after him, the food, her bed, the clothes, she was a woman very dedicated to her husband.

The grandmother, was a teacher so the love she showed to the children was genuine, she worked all her life and was independent because she generated her own income and in this way, she helped around the house.

From my maternal grandmother, I learned that life is beautiful and that a smile is always important to decorate a day. She also taught me to share and to be humble because respecting the lives of others was important.

I have so many values ​​learned from my grandmothers that I can only thank life for them, and they also gave me wonderful parents that I can still enjoy and from whom I continue to learn.

---

I would love to be able to leave an open invitation to users who read me to share in #newvisionlife their experiences and the learning they had with their grandparents.

I also invite you to visit and participate in the activities organized by @Practicaltyhough and its #beingsocial community.

Here I share a little more about me, with much affection, I wait for you in the comments.
Let no one turn off your inner light
---
---
Blurt continues to grow // Blurt continúa creciendo
---
---
Que nadie apague tu luz interior // Let no one turn off your inner light
Información Importante: