Feliz año 2022 para toda la familia Blurt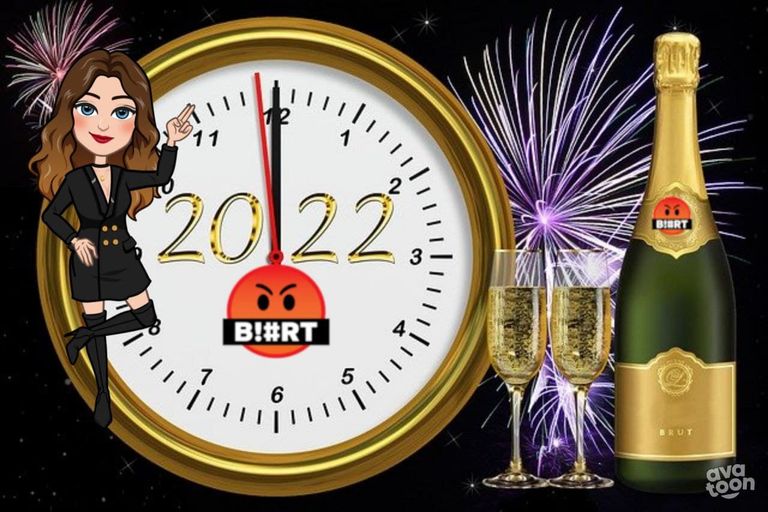 ---
---
El año 2021 para la familia Blurt, fue un año muy bueno. Hemos aprendido y adquirido nuevas experiencias de vida, que nos ha permitido evolucionar.
"Blurt, más que una cadena de bloques, es una cadena de seres humanos", esta oración la he compartido de forma recurrente en diferentes momentos, y es una emoción que pienso nos identifica y nos hace diferentes. Somos como un niño aprendiendo de todo lo que pasa y creciendo poco a poco.
Hemos podido solventar muchas cosas de las cuales nos ha tocado aprender, pero lo mejor de todo es que hemos fortalecido lazos de amistad muy hermosos, con personas que ni conocemos sus rostros, pero su esencia en cada palabra ha sido significativa.
Blurt, esta de todos los que desean y creen que podemos hacer las cosas bien, por ello, el valor de ser honestos, para nosotros es importante, y tú que me lees eres protagonista de hacer lo correcto y de dar tu aporte, por ello, nuestra invitación siempre será en motivar a los usuarios a escribir contenido propio, que venga de tus propios pensamientos, para que seas parte de cada célula que conforma el ADN de Blurt y valides con tu contenido cada bloque, pero además, generando interés a otros por venir a leer y participar de lo que aquí hacemos.
Todos podemos hacer de Blurt una cadena donde todos deseen participar, y tú puedes hacer que eso pase. Prepárate para mostrar lo mejor de tu contenido en este nuevo año 2022.
---
Al mal tiempo buena cara
Estamos más cerca del nuevo año, para algunos ya lo están celebrando, otros lo estamos esperando.
Tenía todo planificado para pasarlo con mi familia, pero hoy me toca por primera vez quedarme en casa sola con mis 2 mascotas. Porque he agarrado un resfriado fuerte y no deseo contagiar a la familia, así que me toca celebrar con té caliente de limón y creando publicaciones, porque es mi manera de mover energías.
Esta situación es totalmente inesperada para mí, pero ya tendré oportunidad de celebrar con mi familia, por ahora debo fortalecer mi sistema inmunológico y estar de reposo. Pero no podía dejar de compartir un mensaje con todos ustedes, que son muy especiales para mí.
Dicen que al mal tiempo buena cara, a los problemas hay que darle soluciones, para la tristeza le ponemos alegrías, y para la soledad está blurt, porque aquí nunca estamos solos.
Buena vibra mis queridos amigos, no los conozco, pero siento que los aprecio y respeto a todos, porque cada uno coloca su cariño, dedicación y esfuerzo por hacer de Blurt una gran cadena de bloques.
---
---
Sinceramente Gracias
Iniciar un nuevo año agradecidos por lo que hemos vivido y por lo que vendrá, es una gran oportunidad para avanzar y llegar a transformar lo que somos, porque nos permite estar sensibles a lo que nos rodea.
Abraza, a tus amigos, a la familia exprésale tu amor, da las gracias por tus alimentos y por la vida, porque siempre aprendemos algo nuevo y tenemos la oportunidad de avanzar. No te quedes anclado en el pasado, permite que la alegría te acompañe y prepárate para ser feliz.
Gracias a todo el equipo de testigos, inversores, administradores, usuarios, desarrolladores, amigos y soñadores que forman parte de la familia Blurt, porque, su energía positiva hace que está cadena se fortalezca y esto nos permite mantenernos en equilibrio y con voluntad de hierro. Para todos ustedes gracias y buena vibra.
---
Para todo los que me leen, les enviamos en nombre de todo el equipo que conforma a Blurt el mejor de los deseos para este año 2022.
Thanks Blurt, I love you all.
Angelica7
Good vibes.
English Version
Happy year 2022 to the whole Blurt family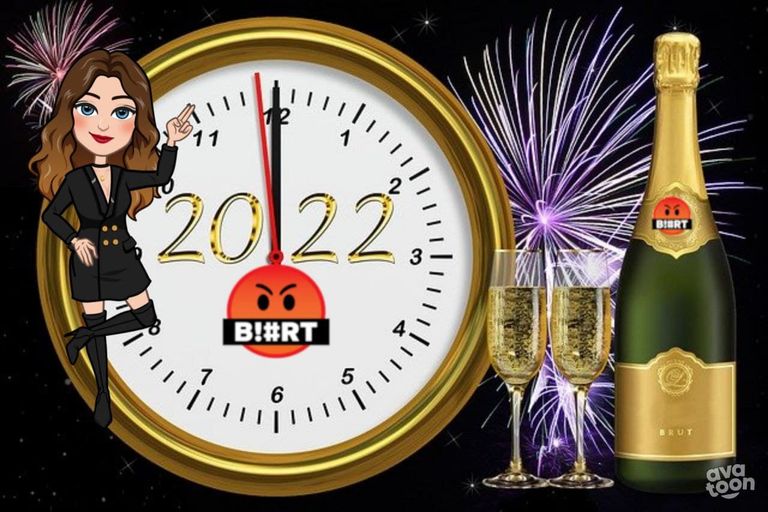 )
---
---
The year 2021 for the Blurt family was a very good year. We have learned and acquired new life experiences, which has allowed us to evolve.
"Blurt, more than a chain of blocks, is a chain of human beings", I have shared this sentence recurrently at different times, and it is an emotion that I think identifies us and makes us different. We are like a child learning from everything that happens and growing little by little.
We have been able to solve many things from which we have had to learn, but the best of all is that we have strengthened very beautiful ties of friendship, with people who do not even know their faces, but their essence in each word has been significant.
Blurt, is one of all those who want and believe that we can do things well, therefore, the value of being honest is important for us, and you who read me are the protagonist of doing the right thing and giving your contribution, therefore , our invitation will always be to motivate users to write their own content, which comes from your own thoughts, so that you are part of each cell that makes up Blurt's DNA and validate each block with your content, but also, generating interest in others for coming to read and participate in what we do here.
We can all make Blurt a network where everyone wants to participate, and you can make that happen. Get ready to show the best of your content in this new year 2022.
---
In bad weather good face
We are closer to the new year, for some they are already celebrating it, others we are waiting for it.
I had everything planned to spend with my family, but today I have to stay home alone with my 2 pets for the first time. Because I have caught a bad cold and I do not want to infect the family, so I have to celebrate with hot lemon tea and creating publications, because it is my way of moving energy.
This situation is totally unexpected for me, but at another time I will have the opportunity to celebrate with my family, for now I must strengthen my immune system and be at rest. But I couldn't stop sharing a message with all of you, who are very special to me.
They say that bad weather is faced with a good face, problems must be given solutions, for sadness we put happiness, and for loneliness it is blurt, because here we are never alone.
Good vibes my dear friends, I do not know you, but I feel that I appreciate and respect you all, because each one places their love, dedication and effort to make Blurt a great blockchain.
---
---
Sincerely Thank you
Starting a new year grateful for what we have lived and for what is to come is a great opportunity to move forward and transform who we are, because it allows us to be sensitive to what surrounds us.
Hug, your friends, express your love to the family, give thanks for your food and for life, because we always learn something new, and we have the opportunity to advance. Do not stay anchored in the past, allow joy to accompany you and prepare to be happy.
Thanks to all the team of witnesses, investors, administrators, users, developers, friends and dreamers that are part of the Blurt family, because their positive energy makes this chain stronger and this allows us to stay in balance and with an iron will. To all of you, thanks and good vibes.
---
For all those who read me, we send you on behalf of the entire team that makes up Blurt our best wishes for this year 2022.
Thanks Blurt, I love you all.
Angelica7
Good vibes.
---
Imagen: Pixabay
APP: Avatoon
---
Invitación
En mis publicaciones estoy dejando un boleto especial para participar en el PUB de unos buenos amigos aquí en En Blurt .
Invitation
In my publications, I am leaving a special ticket to participate in the pub of some good friends here in in blurt .
---
Toma tu boleto de Entrada para el PUB todos los domingos
Esta entrada si la deseas debes compartir un comentario en esta publicación y participar los domingos en el PUB, para hacer amigos, conocer de actividades que se hacen en Blurt y en otras redes y estar dispuesto a pasar un momento diferente entre amigos.
Te comparto aquí el PUB de esta semana, para que leas de que se trata:
Take your ticket for the pub every Sunday

This entry If you want to share a comment on this publication and participate on Sundays in the pub, to make friends, know about activities that are made in Blurt and in other networks, and be willing to spend a different moment between friends.

I share this week's pub here, so you can read that it is: 2021-KW 51 ~ Kneipe 24/7 ~ Treffpunkt ~ Dauer-Kneipe ~ Ohne Zusammenhang / Without Any Context ~ [GER/ENG]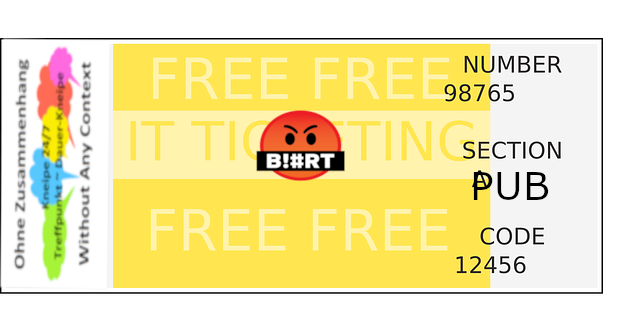 imagen
---
---
---
Historia original // Original story
---
Blurt eres tú, soy yo, blurt somos todos // Blurt is you, it is me, blurt we are all
Que nadie apague tu luz interior // Let no one turn off your inner light
Información Importante:
---