Preparativos de 50 aniversarios de amores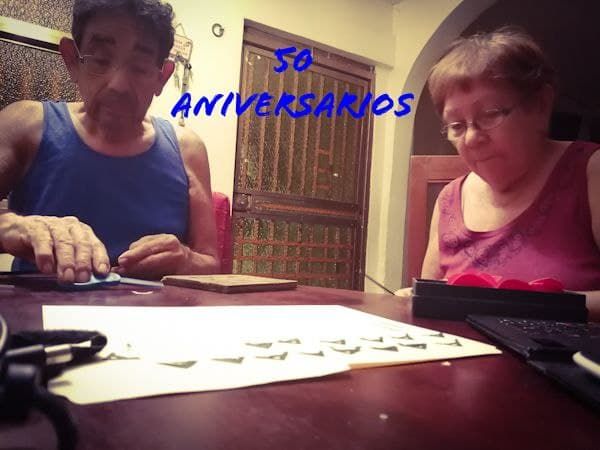 ---
---
Esta publicación es muy especial para mí, ya que, luego de haber vivido 28 días de preocupación y angustia, hoy luego de unos días nos preparamos para poder celebrar en familia.
Mis dos amores se preparan para celebrar sus 50 aniversarios el 24 de diciembre y con mucho amor, se dispusieron a diseñar, dibujar, cortar, pegar y hacer los recuerdos que van a compartir con solo algunos amigos que estarán presentes, no son muchos, ya que algunos ya no están aquí. Las familias se han dividido porque emigraron y muchos amigos se fueron o han muerto debido a esta enfermedad.
Para este 24 de diciembre mi padre me dijo, "hija vamos a celebrar la vida" tengo otra oportunidad y me quiero volver a casar con tu mamá y renovar nuestros votos de amor, porque nuevamente tengo otra oportunidad, así que vamos a planificar. Es así de medir el oxígeno todos los días, estando atentos a cómo se desenvolvía la enfermedad, llenos de miedos por todo lo que el covid trajo a nuestro hogar, pasamos de comprar medicina todos los días, de llamadas al médico y viajes a la clínica, pasamos de todo eso a ahora estar organizando un matrimonio.
Este matrimonio no será con ropa nueva o muchos regalos, y qué esta enfermedad del covid es muy costosa, pero si no faltará la compañía del amor de ese que dura toda la vida, del amor de la familia, del amor y fidelidad de la pareja.
50 años, se dice fácil, pero se tienen que vivir muchas experiencias entres buenas y malas que cada una deja su aprendizaje, hoy en día mis padres aún se toman de la mano al salir a la calle, y se dan su clásico beso de buenos días y buenas noches, o se abrazan de forma sorpresiva. El amor se siente entre ellos y en todo lo que hacen.
Mis padres no han enseñado a respetar a los demás por igual, a crecer como seres humanos, a ayudar a quien lo necesite, a respetar a los adultos mayores, a hablar siempre con la verdad por dura que sea, a ser fiel con lo que somos y también nos enseñaron a defendernos y ser fuertes ante cualquier adversidad, amparados en el amor.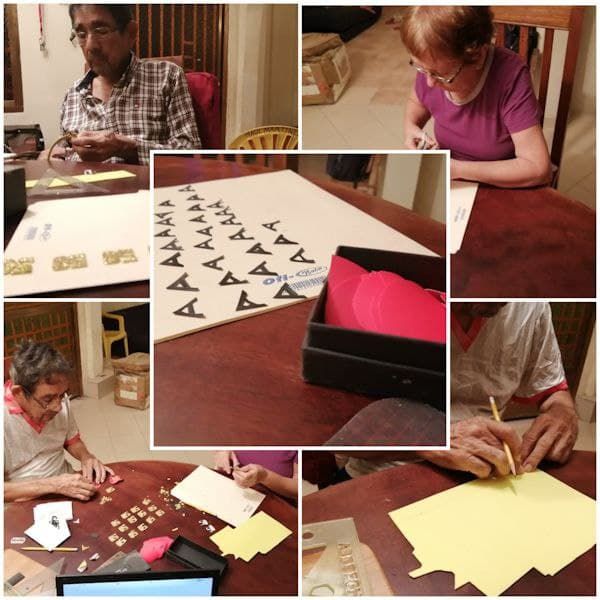 Esta fotografía están los dos trabajando como el equipo que son, se ven tan bellos, que le agradezco a Dios por tenerlos juntos y sanos. Qué feliz estoy, por ello aprovecho esta oportunidad para compartir con todo este gran destello de luz de alegría para que llegue a todos ustedes los que me leen.
Mi madre me dijo hoy, "hija comparte en Blurt esta alegría" porque ellos saben de los buenos deseos que han venido desde esta plataforma, disfrutaron de la celebración de mi cumpleaños con mis amigos virtuales del PUB y Blurt, y todos los días me escuchan que hablo de todos lo que conozco, por ellos para ellos Blurt es parte de su día a día.
Aquí, estamos próximos a recibir el día 24 de diciembre y por ello quise pasar a compartir buena energía con todos, recordando que todos podemos hacer la diferencia, escribiendo contenido genial que te haga feliz.
Espero que en estas fechas de navidad te acompañes de buena energía, si atraviesas por una difícil situación te invito a pensar que todos los días sale el sol. Si tienes familiares lejanos, llámalos y hazle saber cuanto los amas, si tienes rencor por alguna persona, perdónalo, porque más te haces daño tú asumiendo esas emociones negativas.
Ten la disposición de organizar tus pensamientos con una carga positiva de ideas y podrás sentir como todo empieza a cambiar para ti, de una forma increíble y nunca dejes de creer en ti mismo, porque tú eres especial.
Con mucho cariño
Angelica7
Preparations of 50 Anniversaries of Amores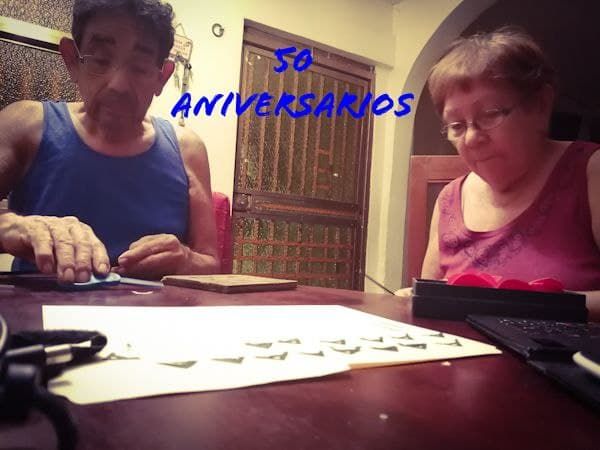 ---
---
This publication is very special for me, since, after having lived 28 days of concern and anguish, today after a few days we prepare ourselves to be able to celebrate as a family.
My two loves prepare to celebrate their 50th anniversaries on December 24 and with a lot of love, they set out to design, draw, cut, paste and make memories that they will share with only some friends who will be present, are not many, already That some are no longer here. Families have been divided because they emigrated and many friends left or died due to this disease.
For this December 24 my father told me, "Daughter we are going to celebrate life" I have another chance and I want to get married with your mom and renew our love vows, because I again have another chance, so let's plan. It is thus measuring oxygen every day, being attentive to how the disease developed, full of fears for everything the Covid brought to our home, we went from buying medicine every day, call to the doctor and travel to the clinic, We went from all that to now be organizing a marriage.
This marriage will not be with new clothes or many gifts, and what this Covid disease is very expensive, but if you will not lack the love of the love of that that lasts all the life, the love of the family, of the love and fidelity of the couple.
50 years, it is said easy, but many experiences have to be lived good and bad that each one leaves their learning, nowadays my parents still take hands in the street, and they give their classic good kiss Days and good night, or they embrace surprisely. Love feels between them and everything they do.
My parents have not taught to respect others alike, to grow as human beings, to help those who need it, to respect older adults, to always speak with the truth for hard that it is, to be faithful with what We are and also taught us to defend ourselves and be strong against any adversity, covered in love.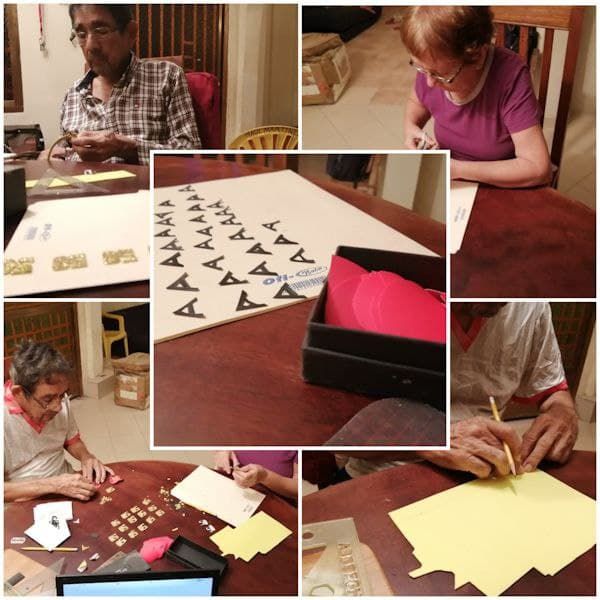 This photograph is both working as the team they are, they look so beautiful, I thank God for having them together and healthy. How happy I am, for that reason I take this opportunity to share with all this great flash of light of joy so that you can see all of you who read me.
My mother told me today, "Daughter shares in Blurt this joy" because they know about the good wishes that have come from this platform, enjoyed the celebration of my birthday with my virtual friends of the pub and blurt, and every day they listen to me, I talk about all I know, for them Blurt is part of his day to day.
Here, we are close to receiving December 24 and for that reason I wanted to share good energy with everyone, remembering that we can all make a difference, writing a great content that makes you happy.
I hope that at this Christmas dates you accompany you of good energy, if you go through a difficult situation I invite you to think that every day the sun comes out. If you have distant family members, call them and let you know how much you love, if you have a grudge for someone, forgive him, because more you hurt you, assuming those negative emotions.
Have the willingness to organize your thoughts with a positive burden of ideas, and you can feel like everything starts to change for you, in an incredible way and never stop believing in yourself, because you are special.
Con mucho cariño
Angelica7
---
Foto: Propia tomada de mi dispositivo de teléfono
---
Invitación
En mis publicaciones estoy dejando un boleto especial para participar en el PUB de unos buenos amigos aquí en En Blurt .
Invitation
In my publications, I am leaving a special ticket to participate in the pub of some good friends here in in blurt .
---
Toma tu boleto de Entrada para el PUB todos los domingos
Esta entrada si la deseas debes compartir un comentario en esta publicación y participar los domingos en el PUB, para hacer amigos, conocer de actividades que se hacen en Blurt y en otras redes y estar dispuesto a pasar un momento diferente entre amigos.
Te comparto aquí el PUB de esta semana, para que leas de que se trata:
Take your ticket for the pub every Sunday

This entry If you want to share a comment on this publication and participate on Sundays in the pub, to make friends, know about activities that are made in Blurt and in other networks, and be willing to spend a different moment between friends.

I share this week's pub here, so you can read that it is: 2021-KW 51 ~ Kneipe 24/7 ~ Treffpunkt ~ Dauer-Kneipe ~ Ohne Zusammenhang / Without Any Context ~ [GER/ENG]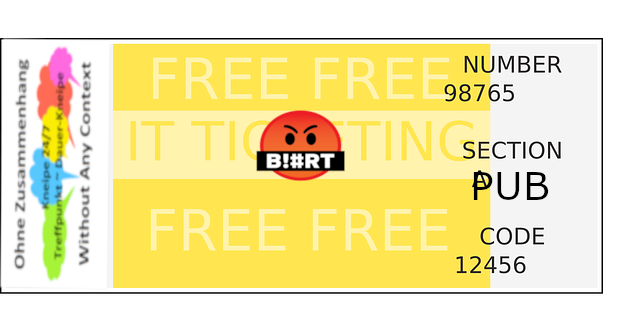 imagen
---
---
---
Historia original // Original story
---
Blurt eres tú, soy yo, blurt somos todos // Blurt is you, it is me, blurt we are all
Que nadie apague tu luz interior // Let no one turn off your inner light
Información Importante:
---