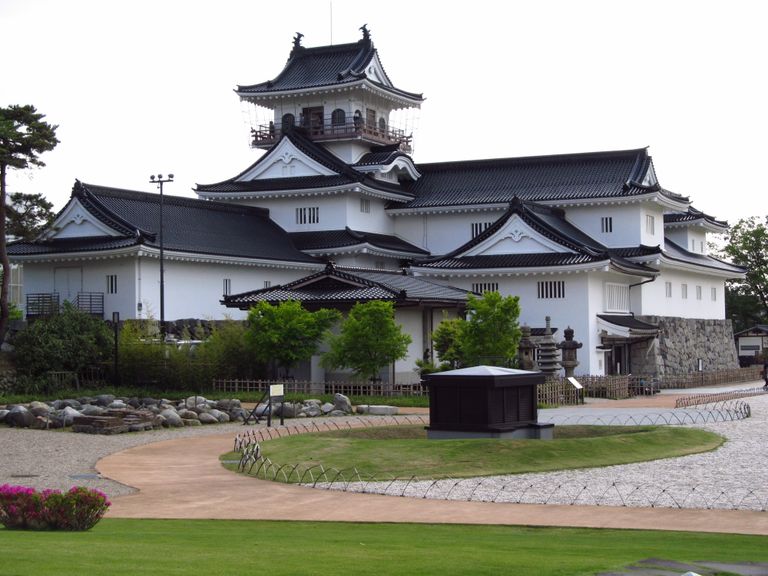 Recently we have been looking around extensively throughout the Ishikawa Prefecture, checking out Kanazawa-shiand then making a big loop around the Noto Peninsula, and now we are making our way back home. But since we weren't in a hurry going back, we were taking our time to check out to two more places that were on the way.
It doesn't always have to be the big drama, like in cities as Kyoto or Tokyo, even small provincial towns have their charm and want to be visited at least once. And driving across the countryside always has its own special fascination, and I love driving through unfamiliar areas and taking a look around.
After leaving Ishikawa Prefecture, we were now in Toyama, which connects directly to the north. Known for its extreme snow masses in the mountains, Toyama is rather sleepy and off the beaten track, even though since a few years the Shinkansen has been passing through and stopping here as well. We had two towns picked out for a short stop, Takaoka-shi and Toyama-shi.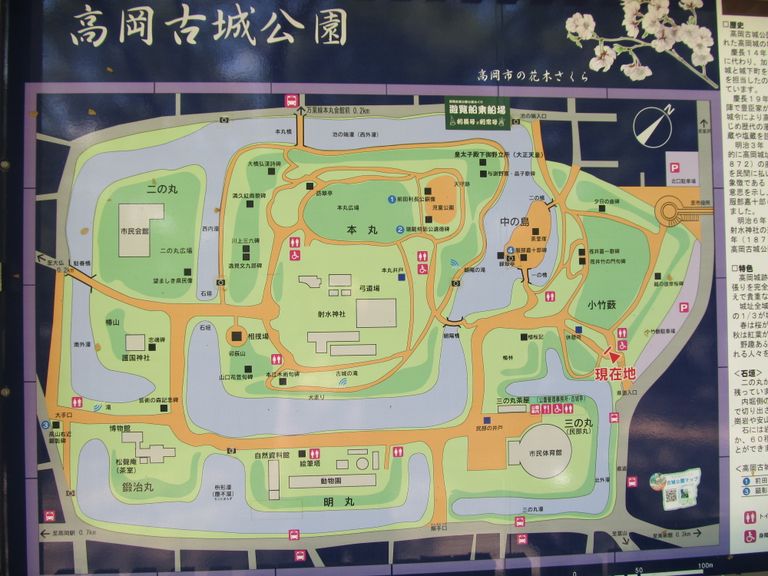 Our first stop was in Takaoka-shi, whose history dates back to the first millennium. Actually a castle town, however the castle of Takaoka-jō has been non-existent for several centuries. In 1609, a fire destroyed the site, but the Tokugawa shogun ordered that the castle wasn't allowed to be built again.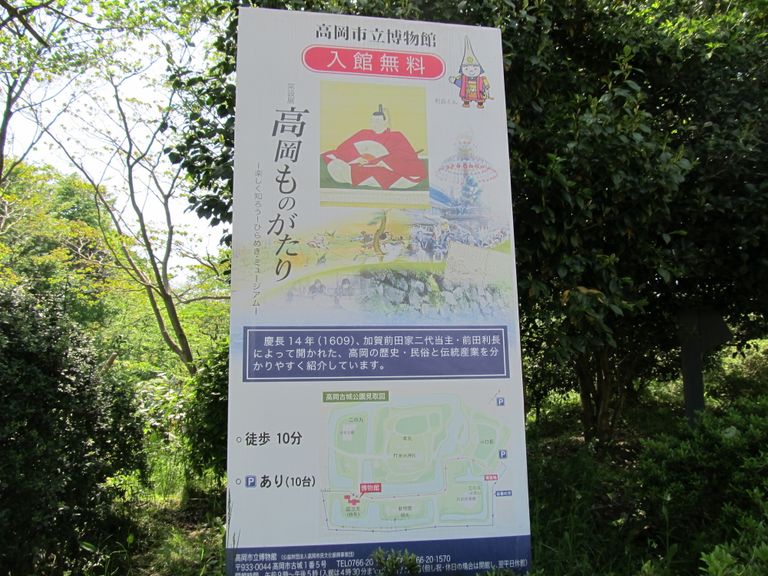 However some buildings that were later rebuilt also fell victim to another fire, and also the Maeda clan, which used to reside here, gave up power a long time ago. Today, all that is left of the former Takaoka-jō castle complex is a park with some moats and wall remains, but these are also inviting for a pleasant stroll and have a charm all their own.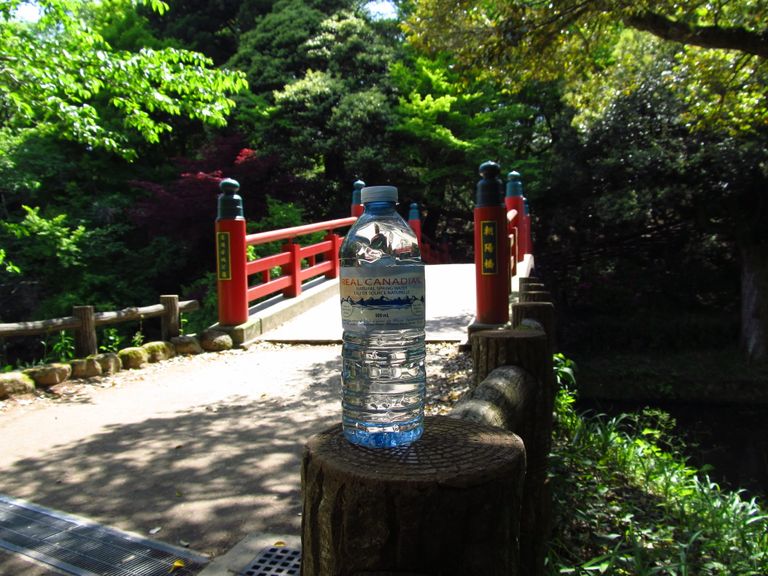 At the beginning of May it was already lush green here, and nature had already reclaimed its reign. And even though it was already quite warm that day, we still had a pleasant fresh breeze here in the park, and could switch off and relax a bit.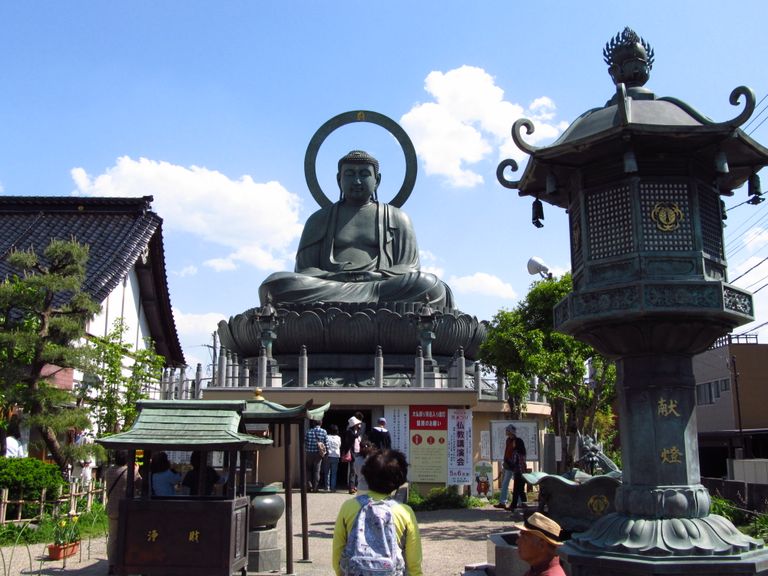 Because after that we went on to the big Buddha (Daibutsu) of Takaoka, which is the third largest Daibutsu in Japan with a height of almost 16 m and is located in the middle of a residential area in the city center. After the previous wooden statue burned down, this bronze Buddha was completed in 1933. After walking through the streets of Takaoka, it was a funny sight when suddenly and almost unexpectedly the fat Buddha appeared in front of us, making it clear who is in charge of this district. We silently accepted and paid our respects.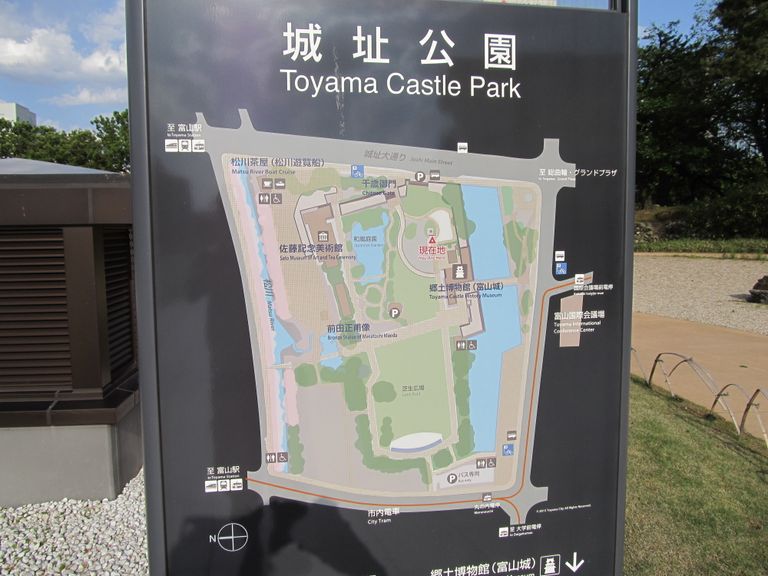 We then moved on to Toyama-shi, the capital of the prefecture of the same name, which is also located on the Sea of Japan. For its efforts to reduce greenhouse gas emissions, Toyama-shi was named an environmental model city by the Japanese government.
Toyama also had and still has a castle to check out, and Toyama-jō was therefore the destination of our visit.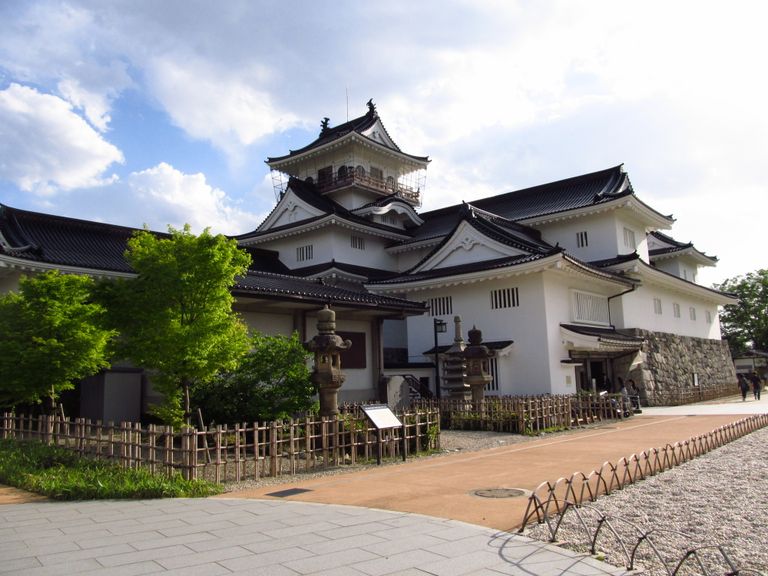 Toyama-jō Castle is located right in the middle of the city, and right next to a major main road. From the streetcar passing by there, you seem to have a super view of the castle, but since we had arrived by car, we took a closer look and walked around the castle.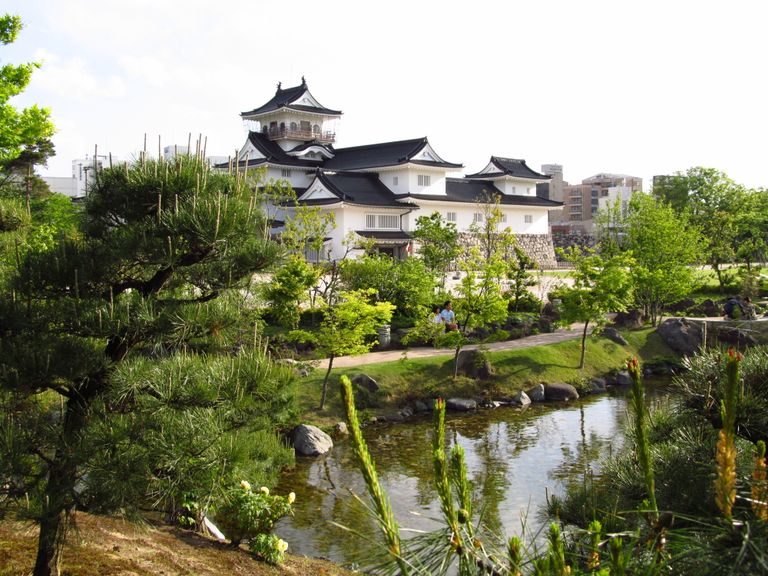 Like Kanazawa-jo and Takaoka-jo, Toyama-jo was last owned by the Maeda clan, which controlled Kaga Province at that time. The first castle was built here as early as 1543, but it was destroyed in the turmoil of the civil war that was taking place at that time and ravaging through most of the country. After the Maeda took over the province, the castle was rebuilt and until 1868 it was used as a residence. But even during this period, parts of the castle were repeatedly destroyed by fire and had to be abandoned.
In the subsequent Meiji period, Toyama-jō, like many other castles in Japan, was razed and the area of the castle was largely incorporated into the urban area. In the 1950's, the concrete castle tower was rebuilt and now serves as a museum.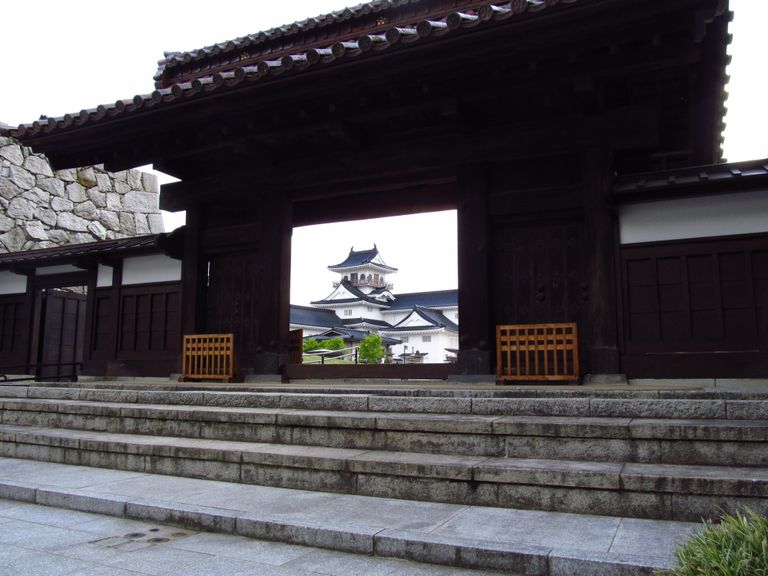 The remains of Toyama-jō Castle are quite compact and, together with the surrounding park, fit well into the Toyama cityscape. And when you sit there, with your back to the main street and looking through the gate at the castle complex, you can almost forget about the humming city behind you. It is nice to see that many cities have remembered their history and try to preserve at least parts of their historic buildings.
The short visit to the Toyama-jō was a nice ending to our trip back then, and I hope to visit here again someday. In my years here in Japan, I have seen several castles, and visited some of them from the inside. Especially the big and famous castles, like Osaka-jo or Tsuruga-jo are always worth a trip, but also the smaller castles like Toyama-jō have a special charm that always seems to work, at least on me. And that's why I am planning to visit one or two more castles here in Japan in the future.
That was our trip to Toyama today. I'll be back soon with new pictures and impressions from the land of the rising sun, so please check back soon.
またね matane