This is a guide on buying Blurt token on Hive-Engine quick, fast and easy.
Depositing Hive to Hive-Engine
For the purpose of trading on Hive-Engine, you'd need to create an account on the Hive platform.

Once you have your account and password, visit www.hive-engine.com to sign in.

Input your username and your private posting key in the box provided to sign in.

Once in, you need to have some Hive token on the market place in order to trade as that is the native token of the Hive-Engine marketplace.

You can easily purchase the Hive token on Binance, or Ionomy and send it to your hive wallet via your username.

With your Hive token in your wallet, click on the Deposit tab on Hive-Engine.

The next page will ask you to choose the coin you want to deposit. Since you already have Hive, in your wallet, simply choose Hive and click on the "Get Deposit Info" button below.

As far as you are logged in with you correct Hive account, you should see two balances. One is your current Hive balance, while the second is your Hive-Engine Hive token balance. On Hive-engine, Hive is known as Swap.Hive.

Input the amount you wish to deposit. Take into consideration the 1% fee that you'd have to pay when inputting the amount you wish to deposit.
Once you have inputted the amount, click on "Deposit Hive" and you'd be automatically redirected to the Hivesigner.

All you need to do there is too confirm the transaction by clicking on the Approve button.
Once approved, you'd get the page below. Click on the "back to signer" to go back.

After that, click on the "Transaction Sent" button to conclude your deposit. If you go to your wallet, you should see your Hive token sitting pretty there.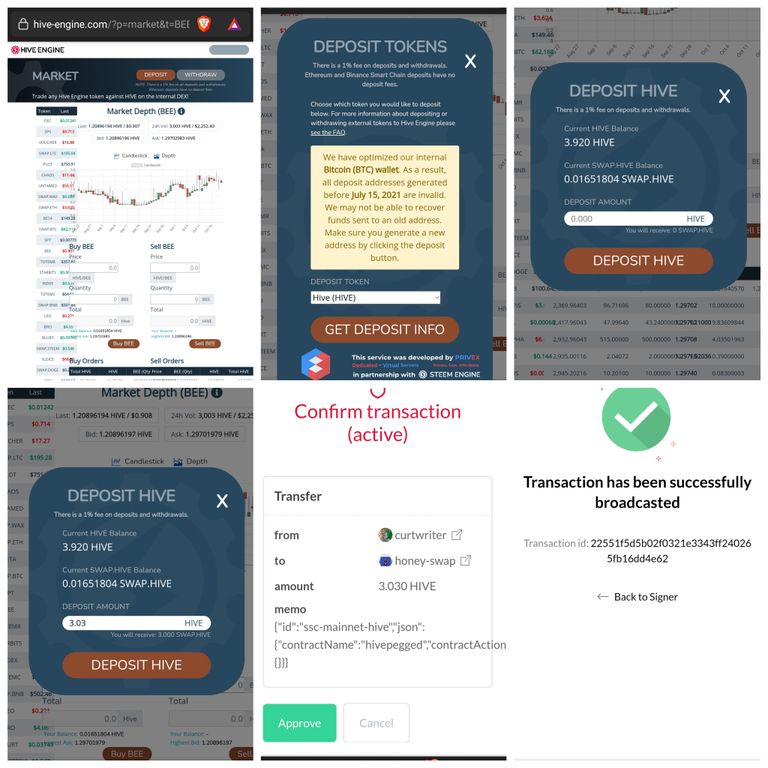 Buying Blurt token
Once you have your Hive token on the Hive-engine.com platform, it's time to exchange it for Blurt. To get to the Blurt market, simply click on the tokens tab and search for Blurt in the search box above.
Once you see it, click on the exchange button at the right side of the Blurt token. It will take you to the Blurt Market.

Since you're buying, select the price you are comfortable with buying at, or choose the lowest ask price.

Input the amount of blurt you want to buy, while taking your Hive balance into consideration.

Click on the Buy Blurt button which will take you to the page where you review your order.

If you are okay with it, click on the Buy button. You are immediately shipped off to the hivesigner page where you have to approve the transaction.

Click on the approve button and go back to the transaction page where you'd click on the "transaction sent" button to conclude the transaction.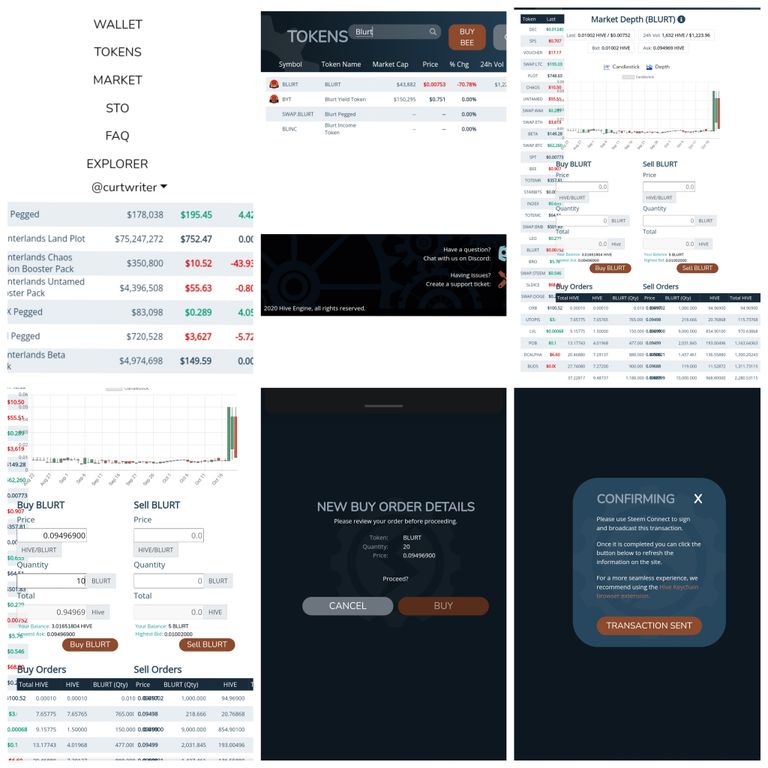 As soon as you are done, you should see your Blurt token in your wallet.
Sending Blurt to your Blurt.blog wallet
If you are buying Blurt in order to power-up so as to increase your stake, or delegate to someone, then you need to send your Blurt token from Hive-Engine to your Blurt.blog wallet.
This is pretty easy to do. Unfortunately, you can't simply click on the withdraw button and take out your Blurt token, you need to go via the sending route. There is a bot that takes care of withdrawals and deposits. To send, all you need do is
Visit your Hive Engine wallet page

Click on the Transfer button at the right side of your Blurt wallet.

A page would come up where you are to fill in certain information such as the username you are transferring to, the amount and the memo.

The bot's name is "blurtlink" so in the space for username, input blurtlink

Type in the amount you want to send.

The memo input bar is where you'd input your blurt username without the @.

Once you're done, click on the "send blurt" button and approve your transaction on Hivesigner.

Once you visit your Blurt.blog wallet, you should be able to see a receipt of some blurt from blurtlink.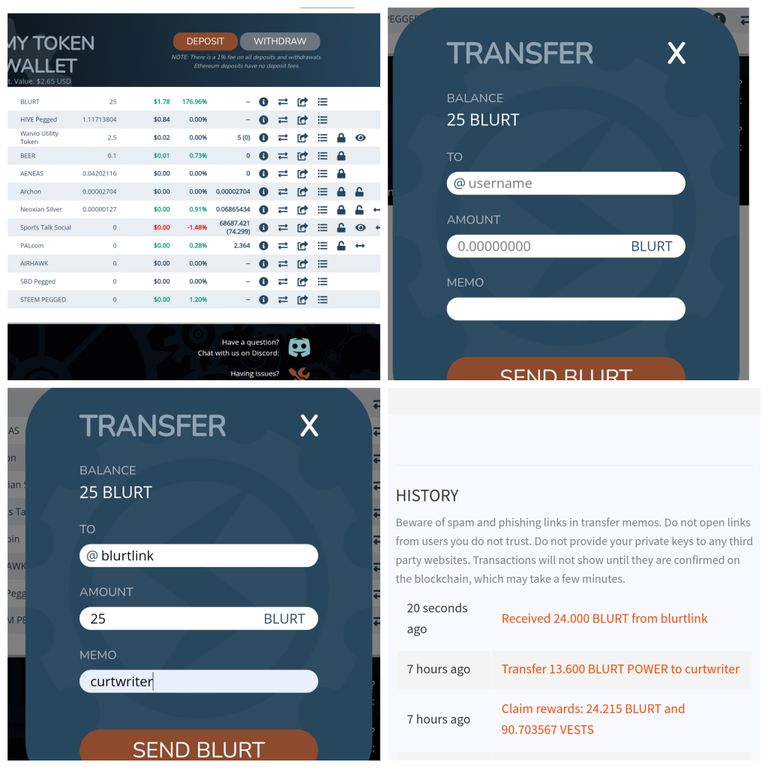 For withdrawals below 100 blurt, the fee is 1 blurt. Once it exceeds that, a fee of 1% is charged.
That concludes it for our tutorial on how to purchase Blurt from Hive-Engine.com and send to your Blurt.blog wallet. Thank you for reading.