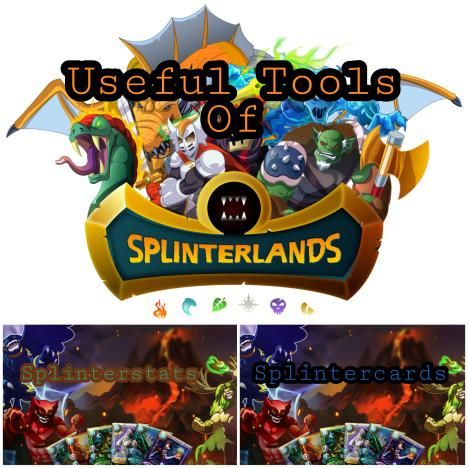 What's up splinters? Today I bring an interesting post about some useful splinterlands tools.
One thing I find with crypto and hell even the whole internet is the number of tools around we have no clue about.
With splinterlands we got to make use of the tools that we all know about like peakmonster and monstermarket but there are so many other useful tools.

Splintercards
The first I am going to look at is splintercards. This site is one I actually just found last night, It has tools from account info to explaining about all the abilities.
I may make a post just about this site in the future but for now, I'll just leave a couple of the sweet things about it.
The account info section can be super useful, it has information about the current season and past like win%, streak, and amount of battles.

2 . The abilities section, is great for all players new and old but even better for new. To have a spot that is easy to view and read about all the different abilities.

hos sie has so many useful tools I am going to write up a guide and review of it.

splinterstats
The second tool I have found that is insanely useful is the splinterstats website.
This site has useful information about the reward cards but more so has a spot to build a perfect stat and layout for the end of the season.
You can see my last season here.
The idea is to write up a good post and they add all your stats in tables and banners to a perfect layout.


you can use keychain to add your account, on the side you will add comments for each section. you can write these up on peakd and save the draft, then copy over on splinterstats. it doesn't show a preview and that's why a say use peakd.
one other thing please if you use this service or tool leave this at least at 10% to help the dev keep his tool running



!

Buy crypto in Canada with e-transfer Shake Pay