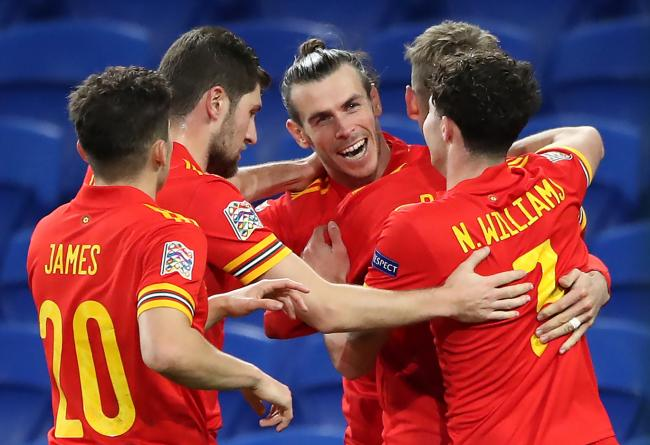 Source of Image
Still on the nations league matches. Wales vs Ireland was an interesting fixture and even though the scoreline wasn't a high scoring match, it was still a very good game. The stats were very close between both teams, showing how close the match was. Wales finally found the breakthough to score all thanks to David Brooks 66th minute goal. A good game and a solid win for Wales.
Georgia (2) vs Armenia (1) – A lot of these fixtures were not really stand out fixtures, but they were really good matches played. Gevorg G. scored the first goal for Armenia on the 33rd minute. Valeri Q. scored the equalizer for Georgia on the 65th minute. Late goal by Sargis Adamyan on the 86th minute was the deciding factor and match winner for Armenia.
North Macedonia (2) vs Estonia (1) – This was a match I enjoyed as well. It was a very good game and from the stats, you can see it was and also a deserved win for North Macedonia. Ivan T. scored the first goal for North Macedonia on the 29th minute. Rauno Sappinen sscored the equalizer for Estonia on the 52nd minute. Vlatko S. scored the match winner for North Macedonia on the 68th minute. At the end, it was a deserved and solid win for North Macedonia.
Albania (3) vs Kazakhstan (1) – This was another interesting fixture. A lot of actions in the game in terms of stats. Sokol scored the early goal for Albania on the 16th minute. Ardian Ismajil doubled the lead for Albania on the 23rd minute. Aybol Abiken responded with an instant reply on the 24th minute to score pull a goal back for Kazakhstan. Rey Manaj scored the third goal for Albania on the 62nd minute to cushion the lead. A very good win for Albania.
Hungary (1) vs Serbia (1) – Nothing much to say on this fixture other than it was a very tight and tough match for both teams. The stats says it all. Nemanja R. gave Serbia the lead on the 17th minute. Zsolt K. canceled the lead to equalize for Hungary on the 39th minute. At the end, the match ended in a 1-1 draw.
Moldova (0) vs Greece (2) – Greece beat Moldova by a solid 2 nil win. This was a pretty comfortable win for Greece as all goals were scored in the first half. Kostas F. and Anastasios B. were the goal scorers on the 32nd and 41st minutes respectively.
Slovenia (2) vs Kosovo (1) – This was a tight game as well as it required goal in added time of 90 minutes to decide the winner. Vedat M scored gave Kosovo the lead on the 58th minute. Jasmin K equalized for Slovenia on the 62nd minute. Josip I was the match winner, scoring on the 90+4 minutes to win the game for Slovenia.