I make this post today because Yesterday BLURT was under $0.04, now it is over $0.04, and this should be announced so everyone understands. There may be moments where big BLURT Holders Sell, but see that as your Opportunity to Buy, we are on an Upwards Trajectory with more Unique Visitors and Members joining BLURT than ever in its year of existence, and it will be growing very quickly, this is just the beginning.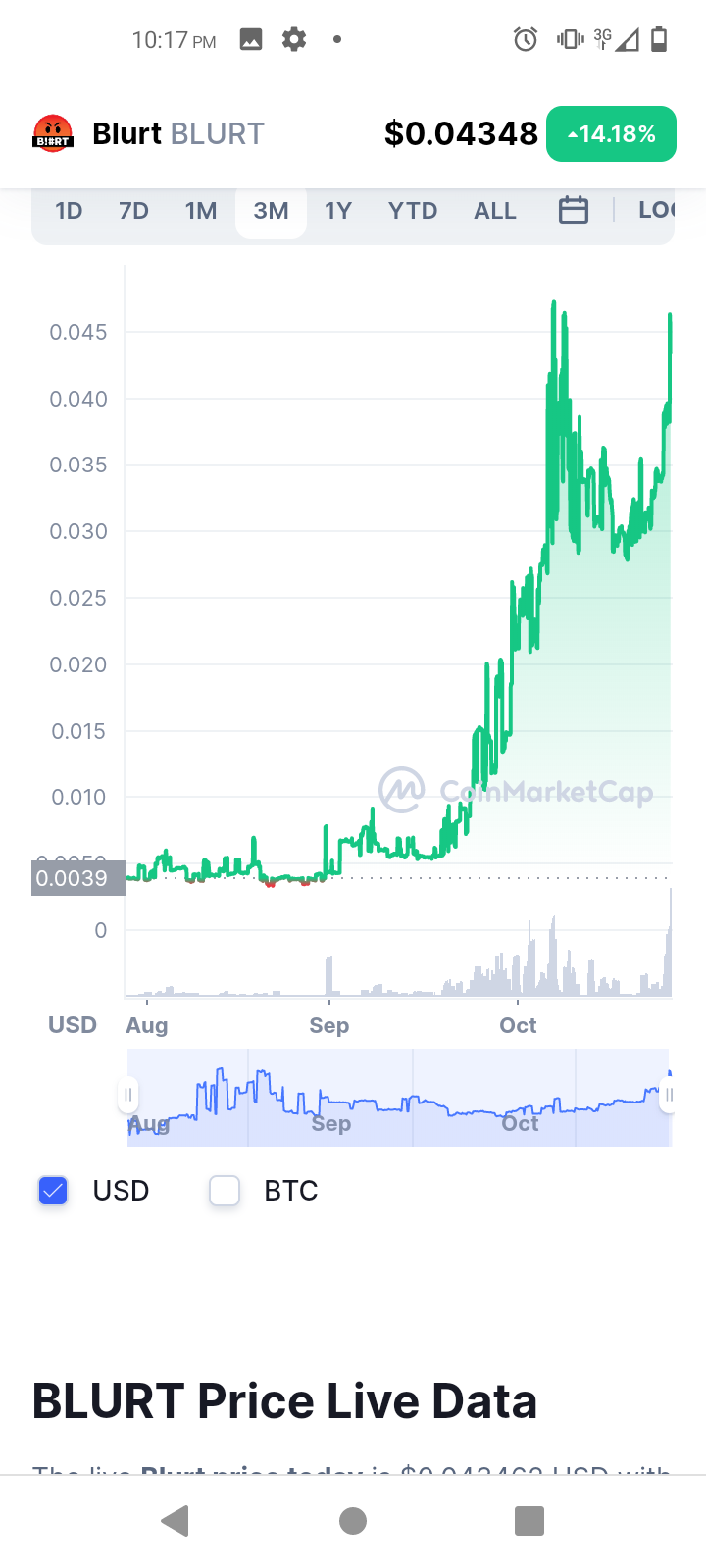 From this 2nd Screenshot you can see $6,000 of BLURT has been bought and Sold, $6,000 is not all that much in the larger picture, but we should be very thankful to whoever it is, and as more and more people do this, joining our Community and becoming big BLURT Holders, we should Welcome them and make them feel Welcomed. Soon we should be seeing much larger numbers, but often that will just mean more people spending because there can only be so many Massive BLURT Holders, there are only 450,000,000 coins right now, which to 10,000 users in October 2021 that may not seem like an easy number to Eat, but when we have 1,000,000 members that 450,000,000 is a lot harder to share. Very soon as we greet these new Members, and they Lock up their BLURT Power for Voting, we will see all the Markets get skimpier, which means a higher Value. So generally when Trade Volume goes to $100,000 it's not because of 1 person, but many. Though 1 person could come and basically create a new Direction on the Platform if they wanted.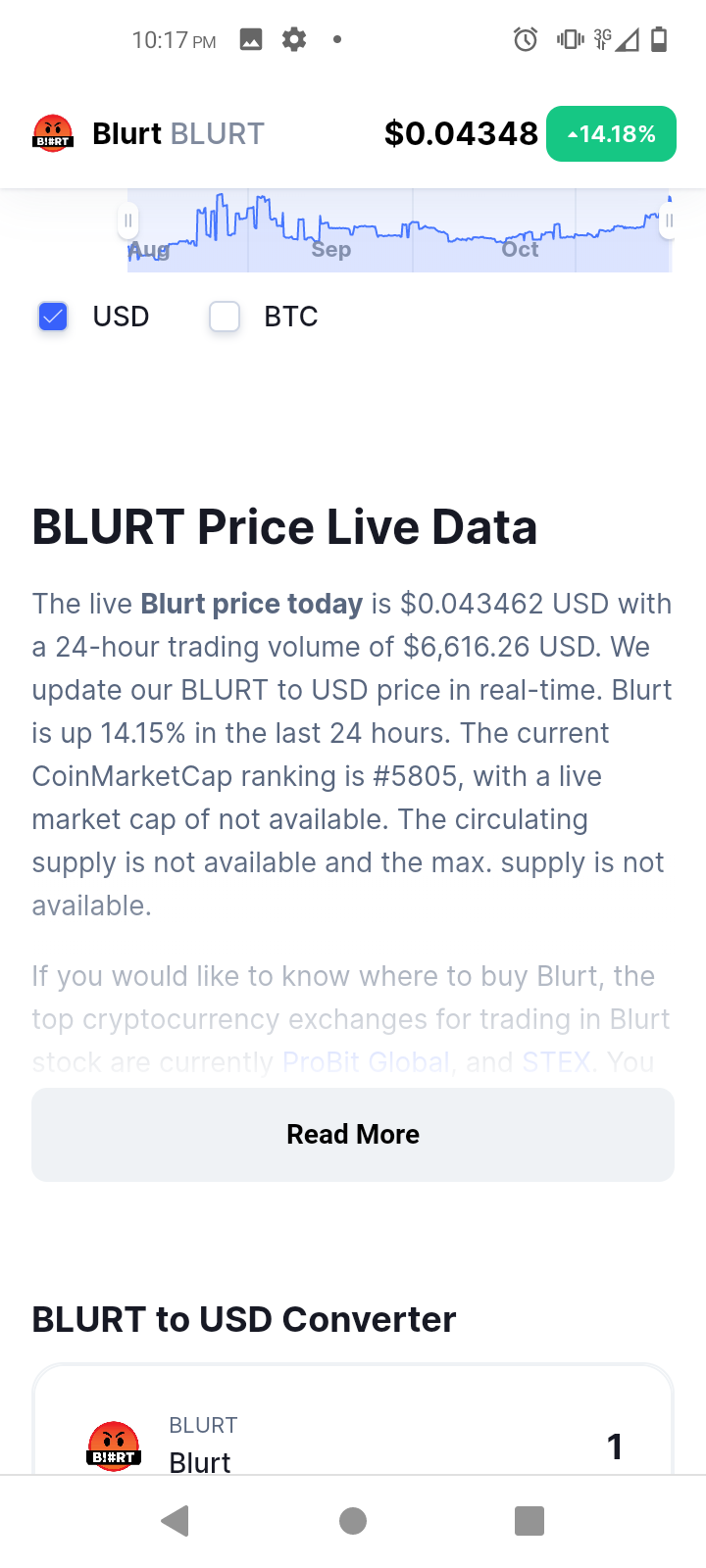 Next is the Rank, we are over 5,000 for now, but this is important. The fact BLURT is even on CoinMarketCap means it has met the criteria of being on a few Trusted exchanges, in 2020, we weren't even a Currency on CoinMarketCap, BLURT was only found on Ionomy and only tracked by another less trusted outlet. But once BLURT got on ProBit, STEX, and CoinGeko it then became eligible for CoinMarketCap. So our Rank on CoinMarketCap then itself becomes like an Award, where we can go and tell new people "We are Ranked...", or they can themselves find us easier because of our Rank or find security in Discovering our Rank themselves.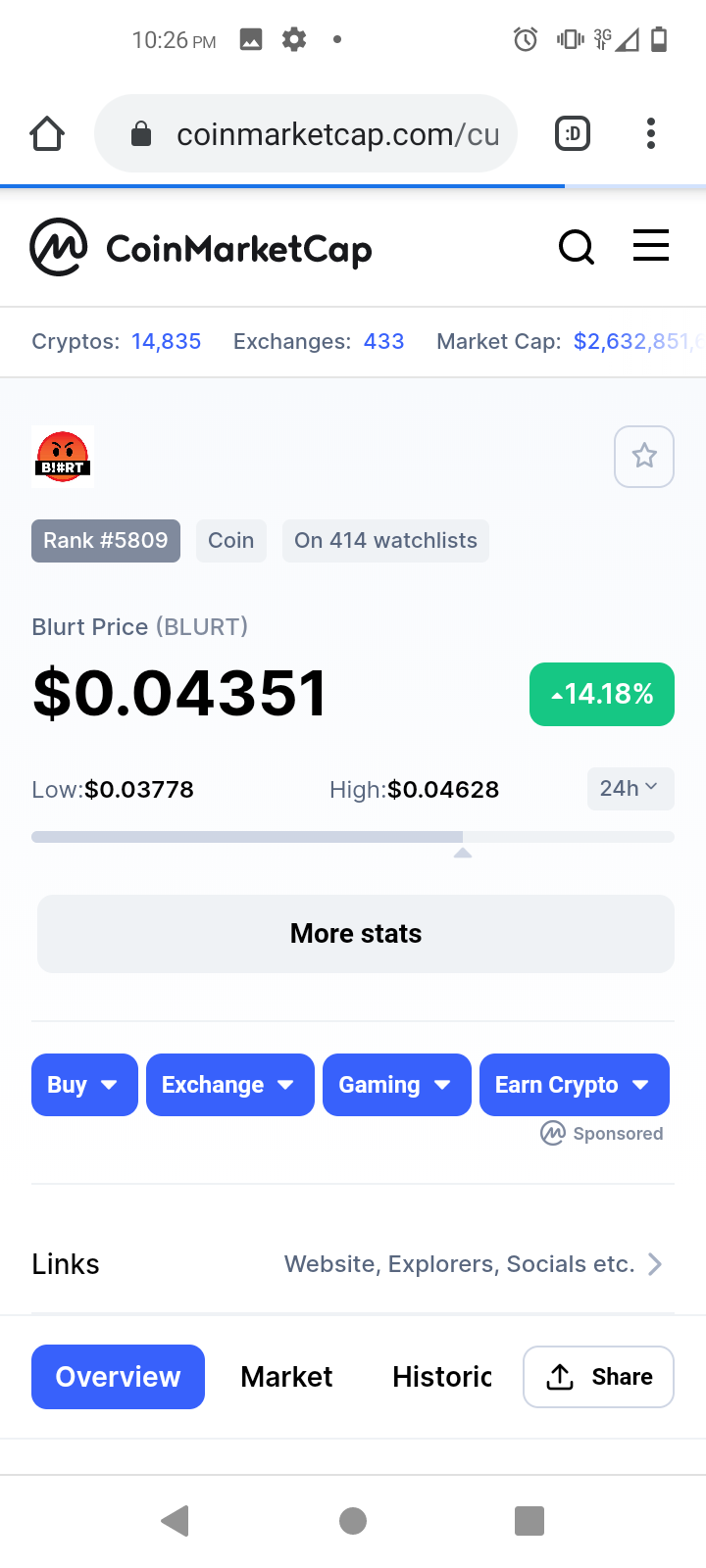 To go through all the Ranked Coins, check this link.
https://coinmarketcap.com/
Reviewing that list you can see a number of Projects, Investment Opportunities, etc, etc. And if you are reading this, thinking, "I'd like to invest, but I don't think I'm interesting enough to host a Blog", you can easily make it your Niche to be a BLURT center for finding the best New Tokens, or the best Ranked Tokens, or the Highest Valued Tokens, etc. The Coin Market Cap Home page is a Door to Endless Content to put together for everyone, and now you have an example in your head from reading these BLURT posts. You could write about every other Currency in the World, post about it on BLURT, earn BLURT, and maybe be the spark of an entire community for that Token on BLURT. Many Coins and Tokens are centered on Discord, or Facebook, etc, or Medium, the later being the best for SEO and the other 2 being hard to Google Search. BLURT could easily be a new Crypto Medium, and really all Graphene should. Graphene Blockchains should each have at least 1 Member hosting an Ethereum Clone, Steemit has this covered with Justin Sun and TRX, HIVE has Aggroed and HIVE-Engine, BLURT has tangentially been using Cosmos and HIVE-Engine but does not yet have anyone hosting their own Chain on the Blog. The #VanKushFamily will be soon, and we invite others to do the same.