Tawi-Tawi, a land with rich culture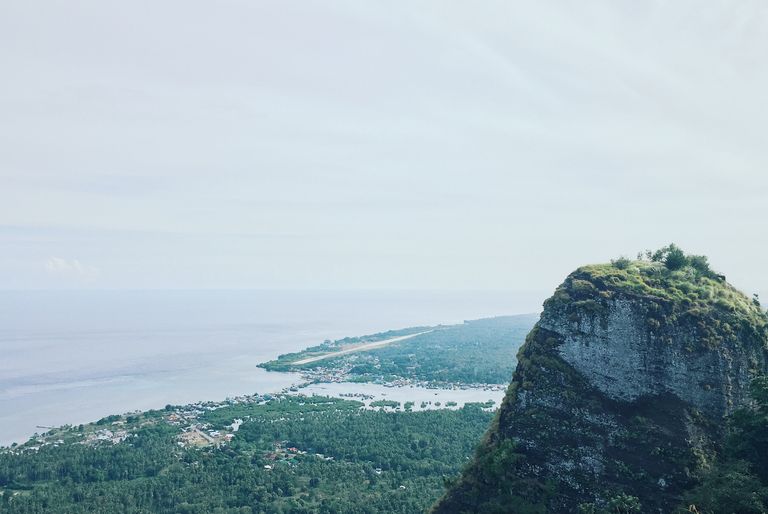 Traveling is such a wonderful gift to oneself. When I started working, I made sure to spare time and money so that I can travel to places that I've been dreaming of since I was a kid. It's such an irony to have found Tawi-Tawi, to be a place that would hold a huge space in my heart; this place was never part of my travel list. It was two weeks prior our leave when I was informed that I'd be joining the team who will go to Tawi-Tawi for a seminar, I'll be one of the trainers. All preparations for the seminar was added to my workload but I remember being excited during that time too.
Our home for a week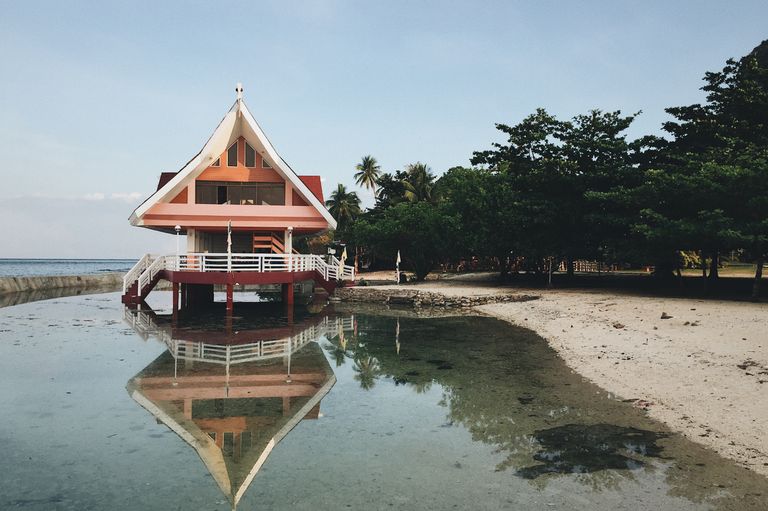 ---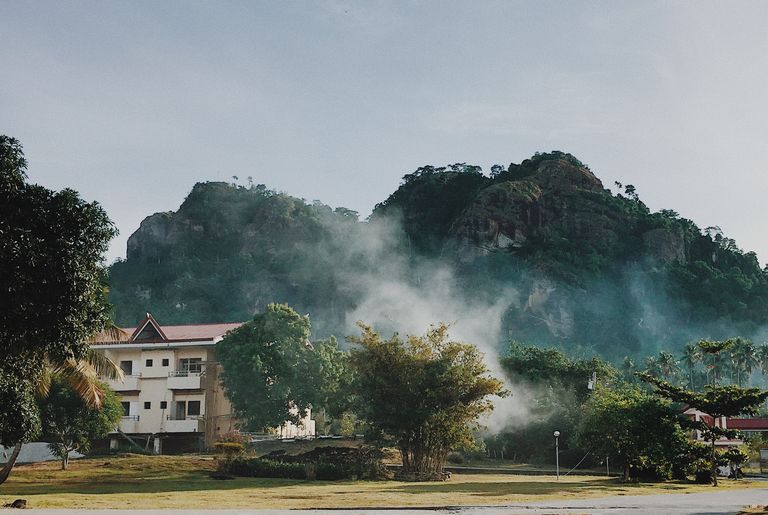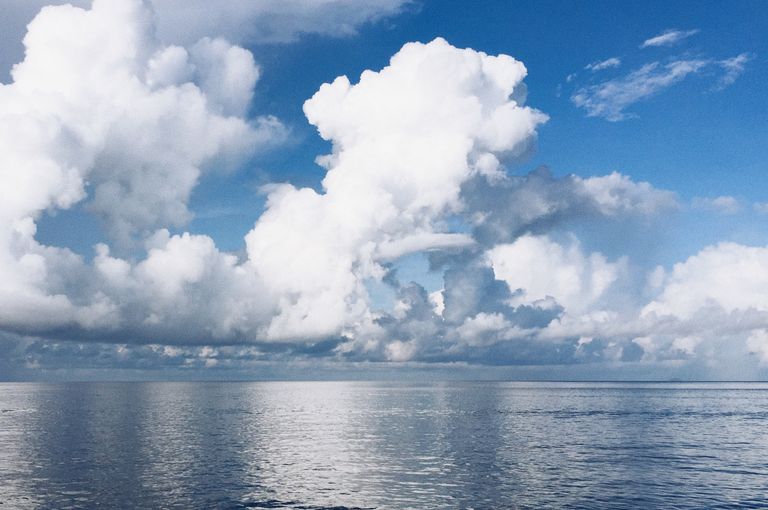 ---
For some reason, we booked flights from Manila to Zamboanga and then Zamboanga to Tawi-Tawi. It took us a whole day to arrive in Bongao, Tawi-Tawi. From the airport, we were welcomed warmly by the organizers of the event. The place where we stayed for a whole week was this resort by the beach. It was my first time staying alone in a cottage with a whole wall made of window glass! 😅Nevertheless, I was able to sleep comfortably despite my imaginations of possibly seeing a ghost outside.
The place was very relaxing and scenic, we had the view of the peak of Bud Bongao and the stretch of the wide sea where we ate our breakfasts and sometimes, dinner too. After having been settled and meeting the organizers for discussions, we had the three days of our week to do the work we were called to do —conduct a workshop for the teachers in the place.
The people I've met and shared stories with
I love how beautiful the place is, but I loved the people more. Our team was partly outnumbered by the number of participants so we opted to break them out in smaller groups. The approach we went for was extremely tiring because we had to repeat the sessions to all the groups but we saw it more effective than having it on a large crowd.
I've met different grade school and high school teachers in those three days. Some even spoke different languages when they would converse with me, my clueless face would remind them of our language barrier. Somehow we got through our discussions even with the limited time and resources we had during the event. The teachers had a lot of questions for us that we tried to answer with details that would be of great help. And they also had a lot of stories of the years they've been teaching children. I've met general science and physics teachers but most of them don't just teach science subjects, they also teach their students how to read and write. Unfortunately, resources for good education is geographically-dependent too. Nonetheless, the teachers I've met were so willing to go beyond their work and bridge gap for their students. The people were not just with warm hearts but filled with passion too.
The peak of Bud Bongao, an unexpected hike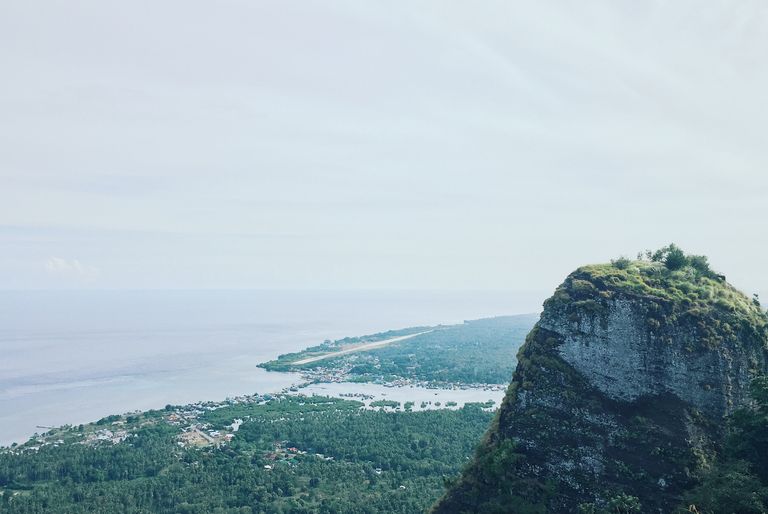 After the 3-day workshop, we spent the rest of our week exploring the beautiful island of Tawi-Tawi. Our first stop was to hike the peak of Bud Bongao, the one we see everyday from our lodging. I was not prepared for a hike and my most acceptable footwear were my slippers. Gladly, it was mostly just walking on paved walkways and going up on numerous stairs. As our reward, we got to see an aerial view of Tawi-Tawi at the peak.
Traveling to Simunul island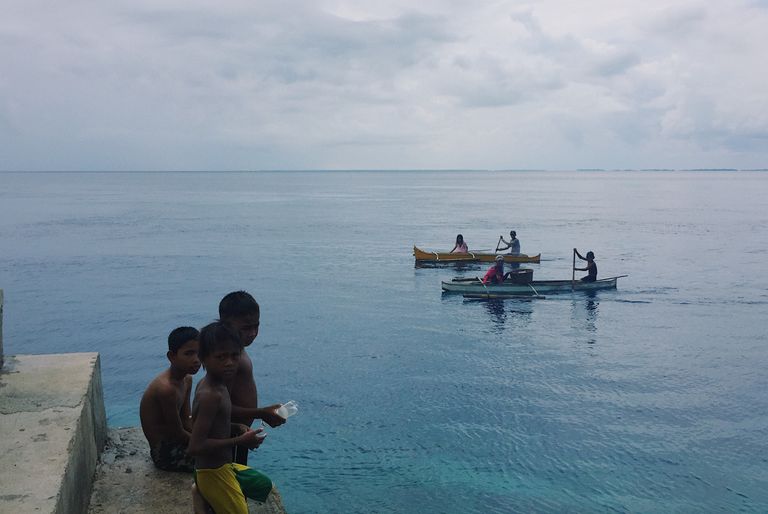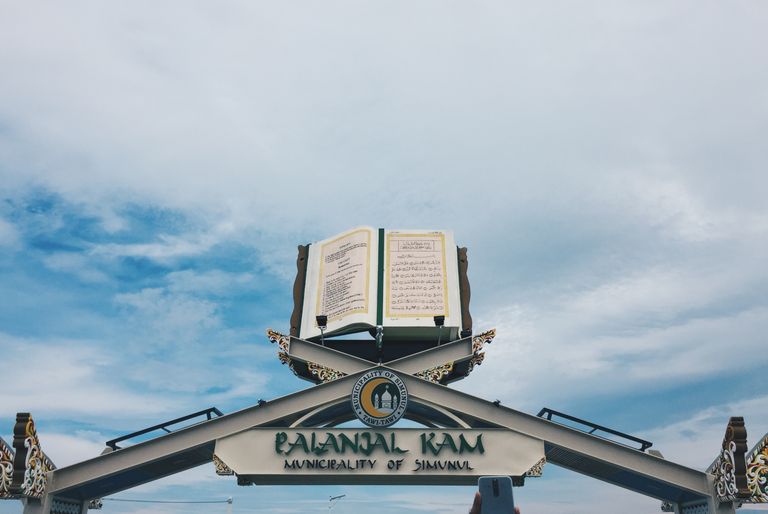 ---
Day before our flight back to Manila, our hosts invited us to visit Simunul island —another island of Tawi-Tawi. They arranged a boat for our ride and accompanied us to the island where we again met with some of the teachers who participated in the workshop. At the port where we alight, I saw these houses built and lined on the sea. The village is known for dwelling on houses built above the waters.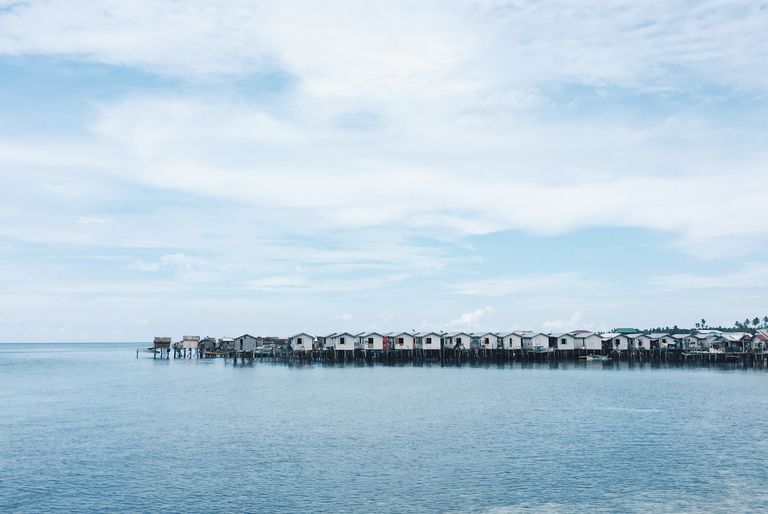 The first mosque in the Philippines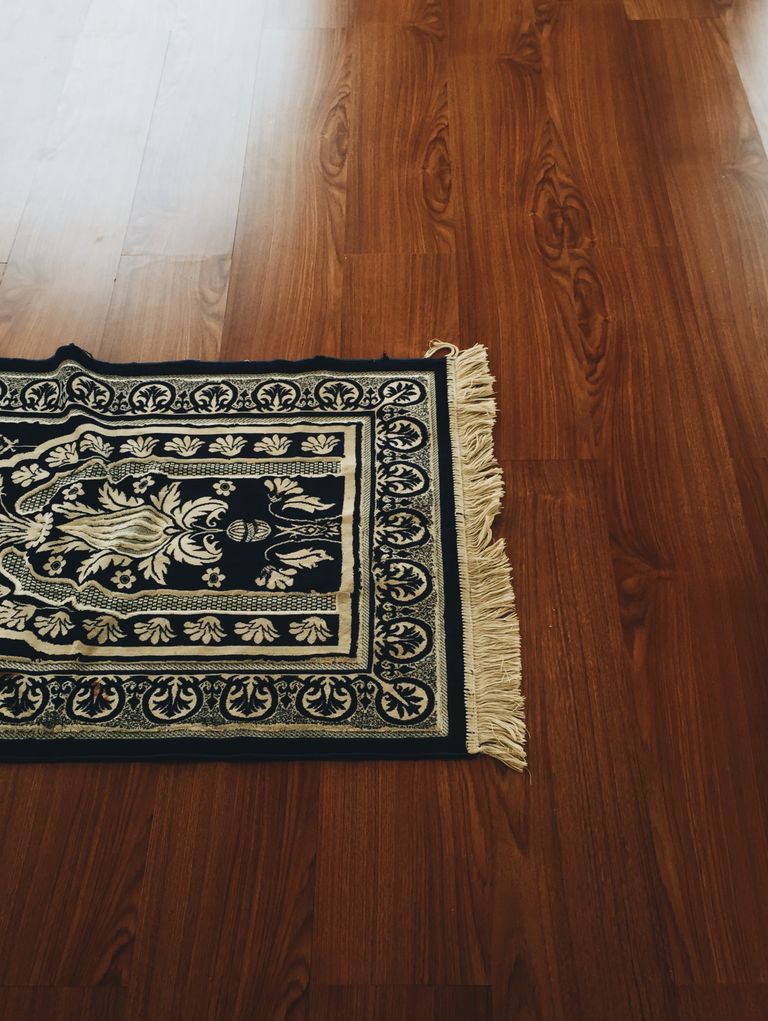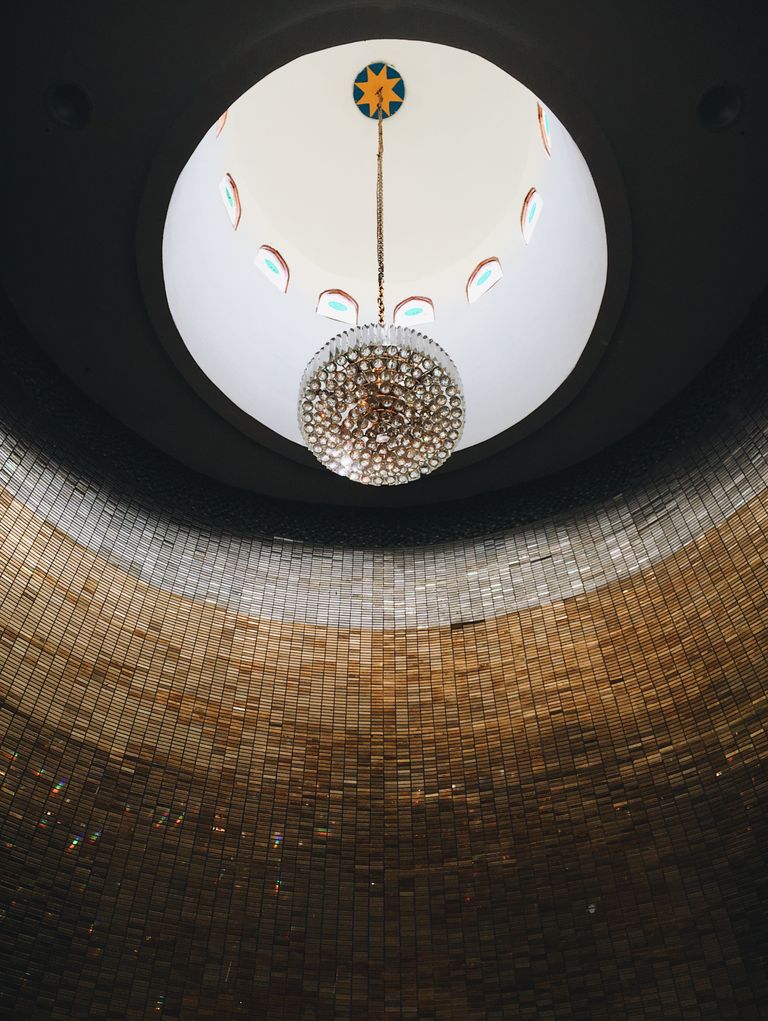 ---
We walked around the island and visited the first mosque built in the Philippines. An Arabian missionary by the name Sheik Makdum built this mosque in the island. I was not able to find the photos I took of the four pillars that served as the foundation of the mosque, restoration of the place was being done at the time of our visit. I remember being awed at the exquisite details of the walls inside the mosque.
The clear waters of Tawi-Tawi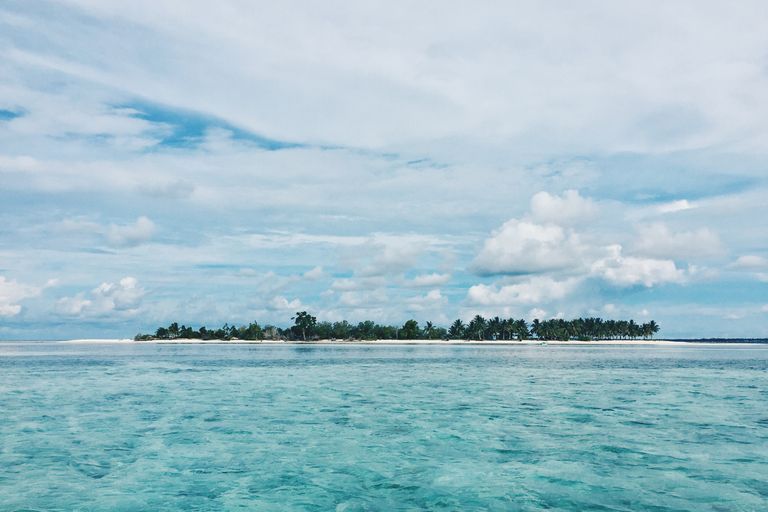 When we went back to Bongao, our route changed a bit so we could look at this lone island graced with white sands. The sea was so clear and admired how pristine the place looks like. There were no other people aside from us, the spot where we stopped to view this was filled with sea urchins and I did not dare risk walking or swimming around our boat.
At that time, I just know that I'll be leaving a chunk of my heart in this beautiful place and with the beautiful people I've met. It's been three years since our travel and I'm still eagerly waiting for another chance go back, maybe for leisure or for work.