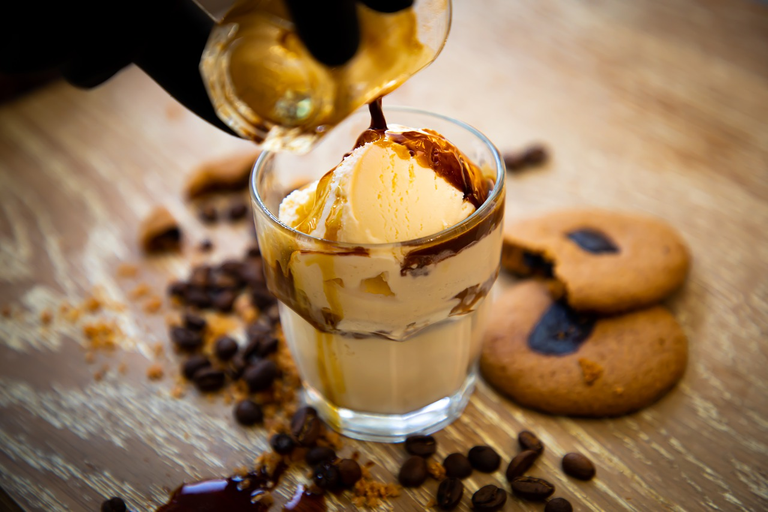 National Ice Cream and Coffee Day
Those two words combined beings back memories of my dad singing:
"I scream. You scream. We all scream for ice cream!"
My dad would sing this again and again like a broken record. He had everything in his record collection and this ice cream song was in it. Here it is performed by the Old Merrytale Jazzband from Germany.
The lyrics are from Howard Johnson in the 1920s and they get stuck in your head pretty easily. Maybe that's why my dad sang it over and over again to me when I asked him for ice cream.
Oh!
I scream, you scream, we all scream for ice cream!
In the land of ice and snows
Up among the Eskimos,
There's a college known as Ogiwawa!
You should hear those college boys,
Gee, they make an awful noise
When they sing an Eskimo tra-la-la!
They've got a leader, big cheer leader,
Oh, what a guy!
He's got a frozen face just like an Eskimo Pie!
When he says, "Come on, let's go!"
Though it's forty-five below,
This is what the Eskimos all holler:
I scream, you scream, we all scream for ice cream!
Rah! Rah! Rah!
Tuesdays, Mondays, we all scream for sundaes,
Sis-boom-bah!
Boola-boola, sarsaparoolla,
If you got chocolate, we'll take vanoola!
I scream, you scream, we all scream for ice cream!
Rah! Rah! Rah!
I scream, you scream, we all scream for ice cream!
Rah! Rah! Rah!
Frosts and malts that are peppered and salted,
Sis-boom-bah!
Oh, spumoni, oh, cartoni,
And confidentially, we'll take baloney,
I scream, you scream, we all scream for ice cream!
Rah! Rah! Rah!
Rah! Rah! Rah! Rah! Rah!
We all scream for ice cream
Now the storm passed in Korea and it is hot and humid again. I don't think there is any kind of weather you can call "ice cream weather" because ice cream even tastes good in the middle of winter.
Let's look at another version closer to the original from 1927 by Harry Reser's Syncopators for Columbia records. The song is very jazzy and for being almost a hundred years old it really sounds good.
Ice cream can even save a riot
This song was again used in the 1980s in a black and white film produced by independent film director Jim Jarmusch called "Down by Law".
It's about three men who were arrested and plan their escape into the Louisiana bayou form a New Orleans prison. At one point they start singing this ice cream song until it provokes a riot.
Forever Young
The latest gem I found was a 2018 performance of the ice cream song in Holland. Here Chris Barber on the trombone is 87 years old but he still rocks. When I look at this performance I see that these guys are a lot younger in heart than I am.
I have a lot to learn from these guys but I am doing my best. I want to be in the classroom singing until I am at least 60 years old. Today I sang the color song to 100 Korean third grade elementary school students one class at a time.
I had fun and I am still young, but never as young as these jazz musicians are. When we get to the chapter about food I am definitely singing songs about ice cream.
Did you know there are no decent songs about ice cream coffee on youtube? I think you could rank on youtube if you made one. Although you would have to compete with "How to make affogato" videos.
What song would you make if you could?