A winter without icy cold wind, dark days, swollen hands, frosty lips, and snowflakes are not a winter after all. Honestly speaking winter days are depressing and there is nothing much you can do. I feel lazy and I just go out when necessary, I like to stay warm at home. When the temperature goes below -15 degrees celsius, I don't usually go out.
Winter is beautiful to look at, if you have enough warm clothes, you will enjoy winter, especially the fresh snow. Maybe you won't see a glimpse of the sun for a while but you will admire the beauty of the sun and the light in winter. Trust me, I don't like summer hot sunny weather but when I see the glimpse of sunrays in winter, I realize how much I have missed the sun. During winter, the sun always stays hidden behind the thick clouds. A sunny day in winter is like a blessing, it looks so wonderful when the first ray of the sun fall on the freshly fallen snow.
Summer is going to end here and I am eagerly waiting for Autumn. I usually don't like dark days but I also stay positive in winter. Maybe I don't get much chance to go outside, my energy level drains so quickly. My hands become frozen, red without gloves, I walk slowly in the winter but that's fine. I don't like black ice but I love fresh white snow. Maybe I can't travel far away or can't go out of the city for a long drive but I can go to the nearest locations.
Winter is beautiful even it's dark and gloomy. The snowy landscape and thick cloudy sky make the world mysterious and magical. Sometimes the sky looks clean and you might see the colors of sunrays, sometimes you will see the reflective blue light from the ice. Everything is part of the frozen world.
I remember my story of surviving at -20 degrees celsius. I was outside, went to the botanical garden of Kharkiv. If you ask me my honest opinion, then I would say the garden looks incredible during snowy winter. Well, nature looks dead but it looks deadly mysterious as well.
Sarzhyn Yar Park is located inside the Botanical garden, basically in the middle of the entire area according to the map. Native people consider Sarzhyn yar as the source of natural mineral water in the city. The water of Kharkiv is very bad so from here anyone can get fresh drinking water for free.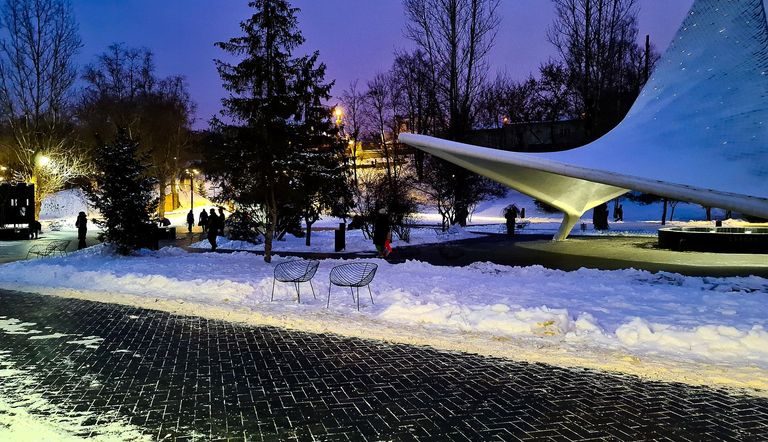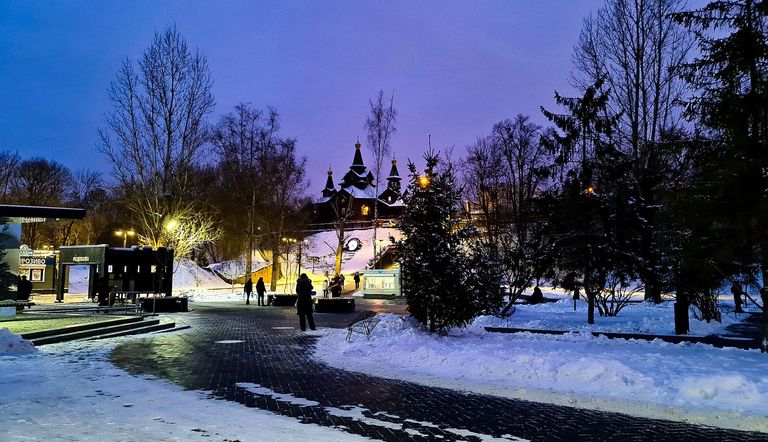 This structure was created in the 18th century considering the collection of water from underground springs. People of the city come here to take the drinking water. Later reconstruction happened and this futuristic concrete Pavillion had been created. There is also a small place to take bath, many people take ice baths here and some believe that this is the purest water in Kharkiv.
Near Sarzhyn Yar Pavillion, an old wooden church is located which always remains closed. That is the church of Baptism... People come here with their newborns for baptism.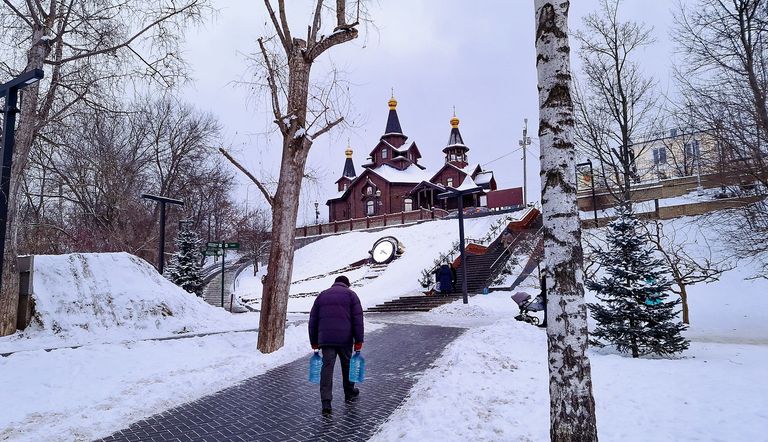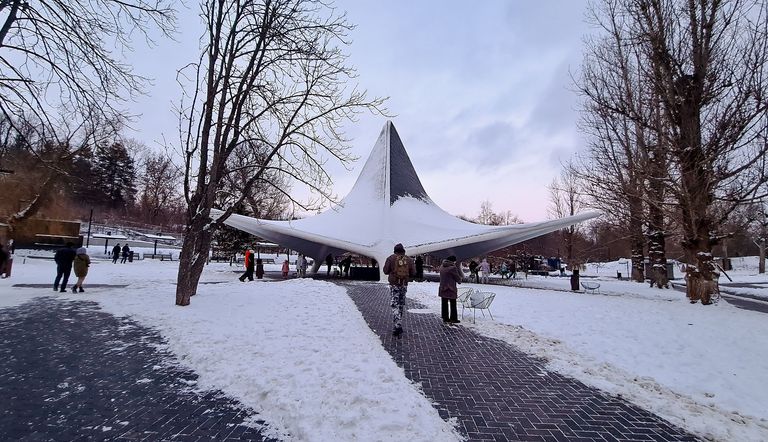 During summer, people come here to get tanned and to take sunbathe. There are no freshwater lakes or rivers in this part of the city, Sarzhynka River is situated far away so local people from the surrounding come here during summer. In the picture, you can see a man is carrying two 6 litre bottles in his hands, those are fresh drinking water from Sarzhyn Yar. Kharkiv is a city where you have to pay for water so who doesn't love to take fresh drinking water for free.
The history of this park began in the 18th century...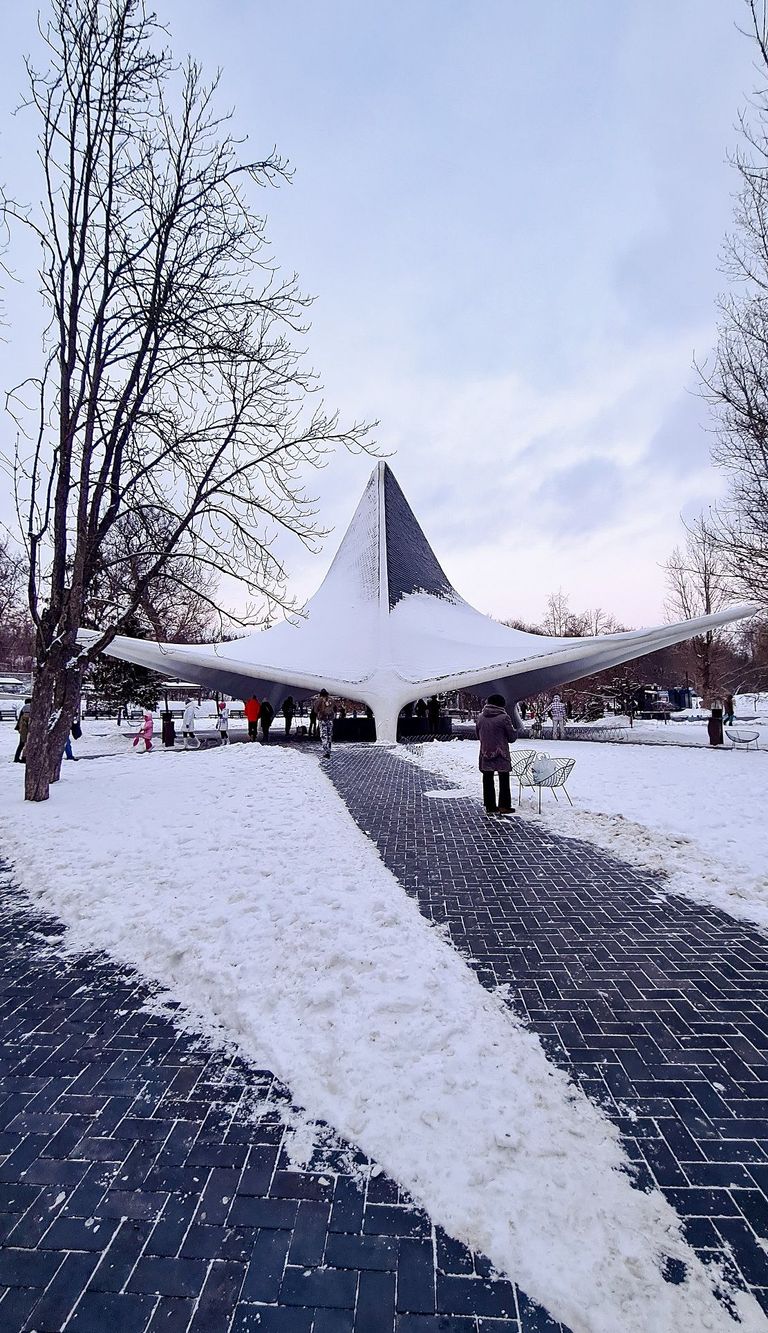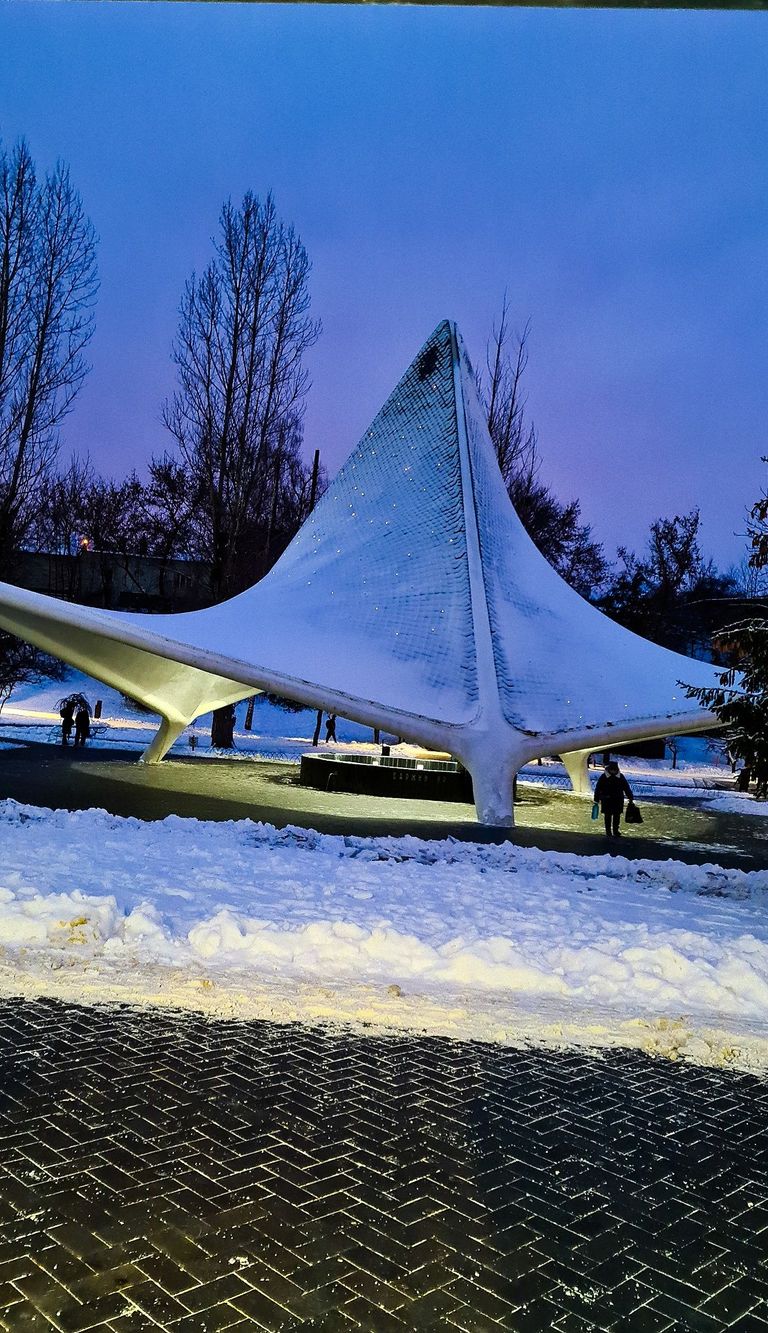 The park was situated on the intersection of Zolochivska st. (now: Klochkivska) and Sarzhynka river. On the 1788 year's map this place was called Sarzhyn Hutir (hutir is a kind of hamlet in Ukraine). Today Sarzhyn Yar takes its beginning on the Forest Park near Pyatihatky and goes deep down to the Lopan river. Before 2006 Satzhyn Stream was flowing by the ravine's bottom, but that year it was mostly covered with soil.
Let me tell you few things about this park. The park is really big, there are so many things to see and do but the area of this park is huge. You can't finish walking there and during winter it's impossible to walk the whole garden. That's why the botanical park is divided into 3 zones. I still didn't finish watching the whole park. Sometimes it feels boring but now they have introduced a cycling track so it's a bit easier to move from one point to another.
The pavilion itself is a unique structure, from far away it looks like a tent. But in person when you will be in front of it, you will understand the scale of the structure. Daytime the pavilion looks different but it also looks incredible at night too...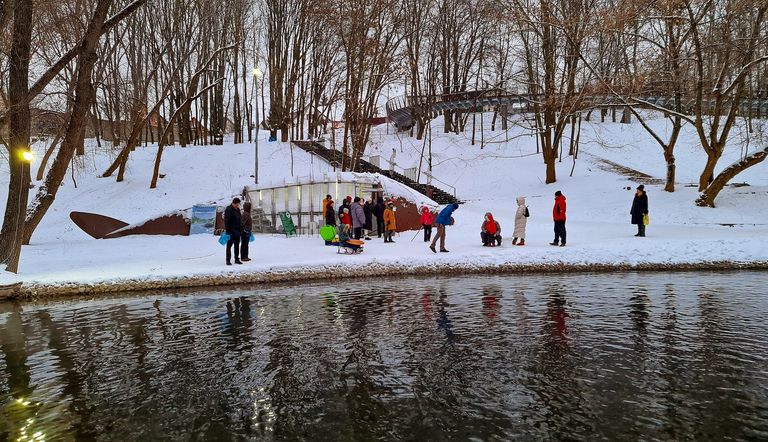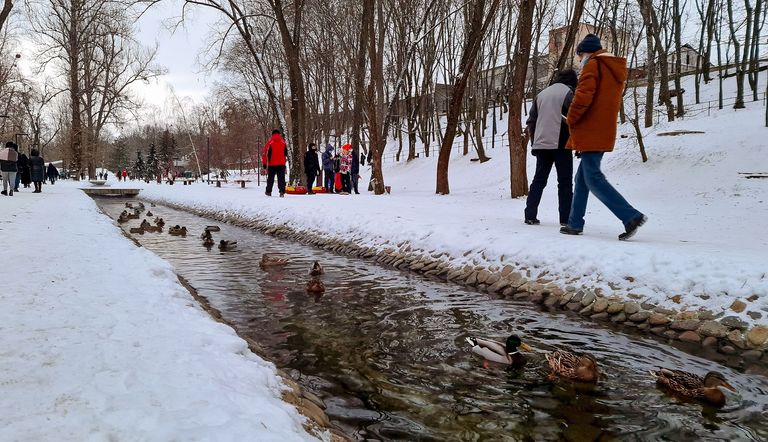 After huge reconstruction and renovation, people mostly call this park Sarzhyn Yar Park instead of the botanical garden. This park introduced some concepts for the first time in Kharkiv. A lot of activities can be done here and especially this Sarzhyn Yar Park area is very popular among the native people. Even in snowy winter, people come here for fishing and kids enjoy the playground zone.
This park is suitable for both young and old generations.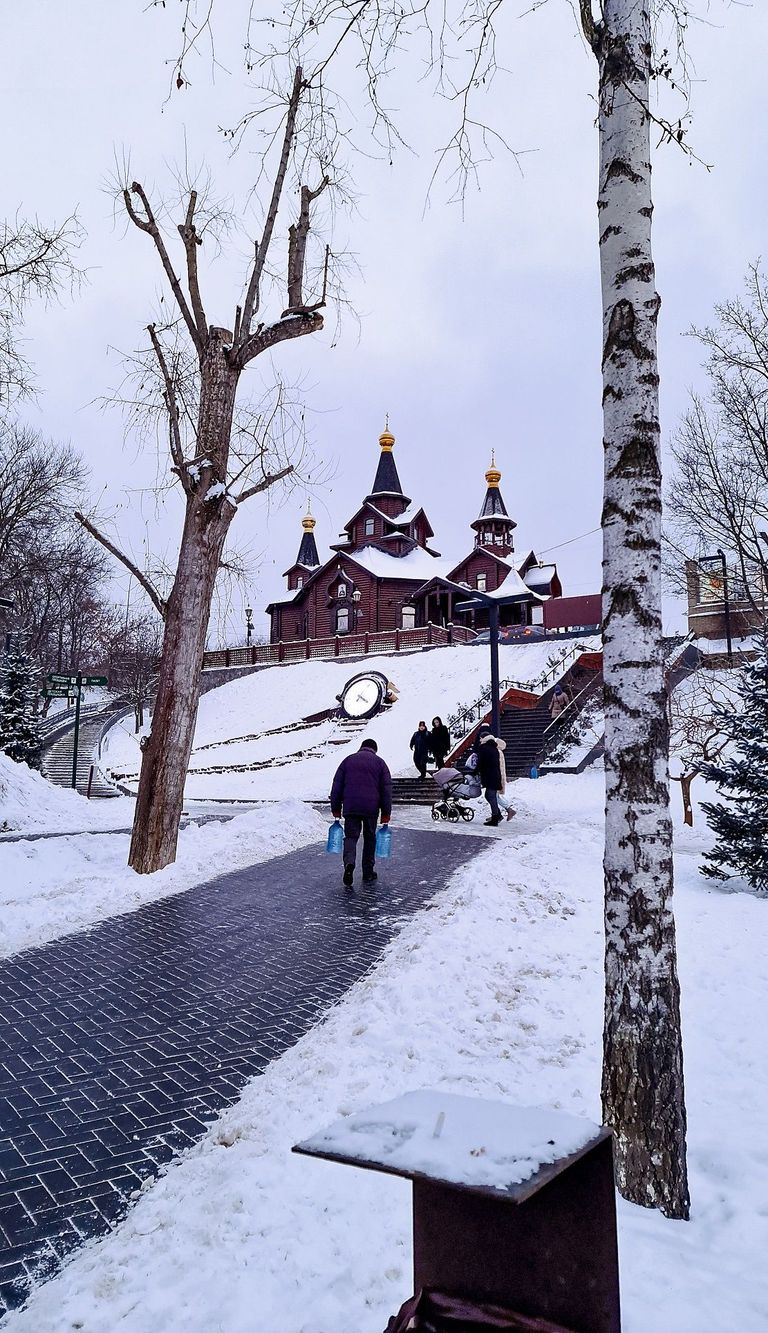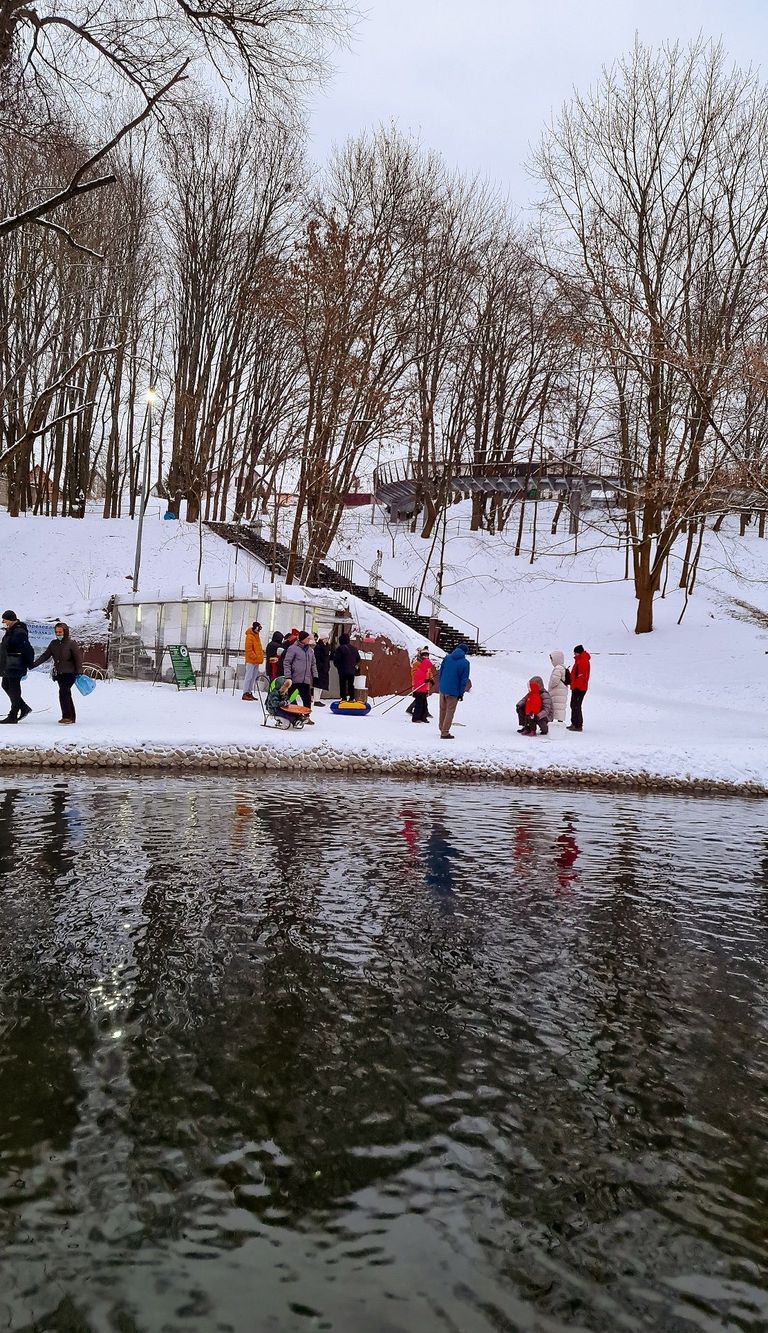 If you see the pictures, you will understand that the cold freezing winter doesn't matter at all for local people. It doesn't matter whether it is 10 degrees Celsius or - 20 degrees celsius, people come here always...Frosty lips and the frozen wind doesn't matter at all...
Watch my video here :
Pictures were taken last winter, the temperature was -20 degrees celsius. My hand was cold, red and swollen and my whole body was covered with frost. While filming this video I realized not only the beauty of winter but also saw the hardest part of surviving in such temperature...
Until next time... Have a nice day everyone...
Thanks for reading my blog...
---
Love
Priyan
---