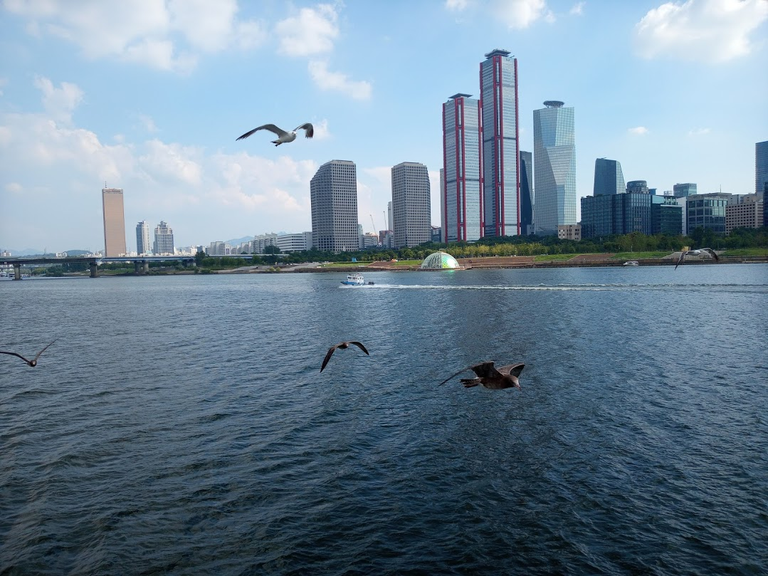 There is a small pier on a riverside island in Seoul called Yeouido. This island is home to the capitol building and headquarters to a few Korean companies. It is also the place to party on a hot summer day.
For a couple weeks my son has been complaining that we can't do anything because of social distancing laws in Seoul. Usually around this time of year we at least stay at a Hotel swimming pool or go to the beach, but this year we spent the whole summer at home.
Most of the time we were sitting on the balcony watching the sunset or playing Minecraft or watching a movie. We made some time for playing Beethoven's Für Elise on the piano. But the kids complained it was a chore and decided to just play hip hop on the key board. They haven't gotten far on Für Elise.
The youngest one insisted we do something else besides stay home. We took the subway about 30 minutes away to Yeouido and got a boat. This play lets you rent boats, jet skies, wave boards or banana boats for around 50 dollars.
We decided to take the safe way out and take the river cruise. There is a romantic cruise with fireworks and a music cruise and a family cruise. The kids decided to take the family cruise. This is a pretty simple 40 minute tour of the river up to the next bridge and turn around.
We had about a thirty minute wait before the boat took off and we really didn't know which boat we would be taking. We just hoped it wasn't that little yacht.
The last time I took my wife on a boat like that she told me she was never going on a boat again. My brother was driving and making it skip on the waves. She has been scared of water ever since then.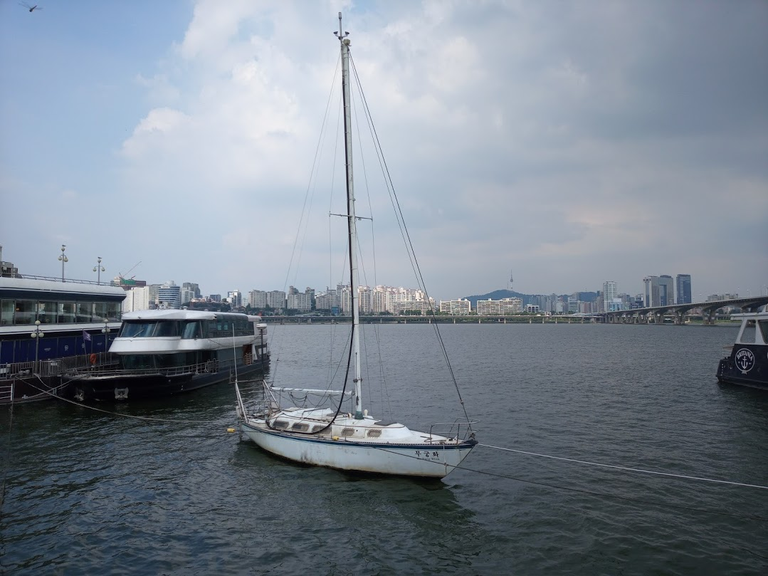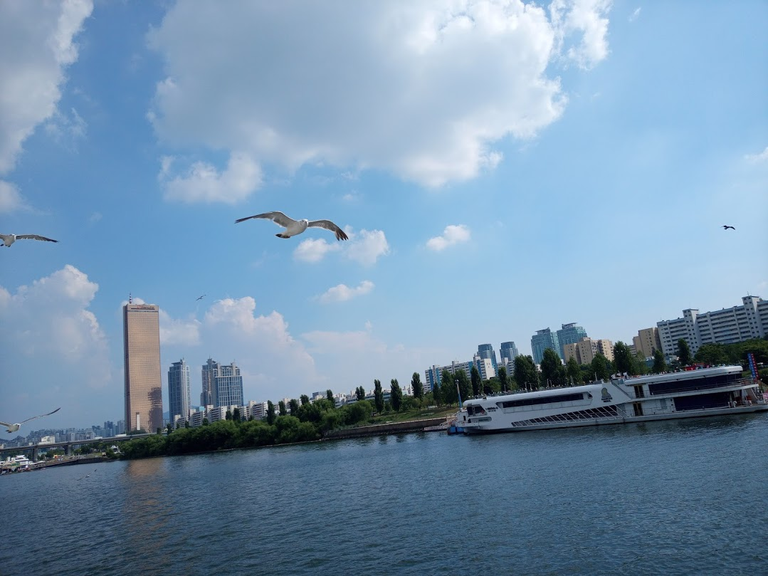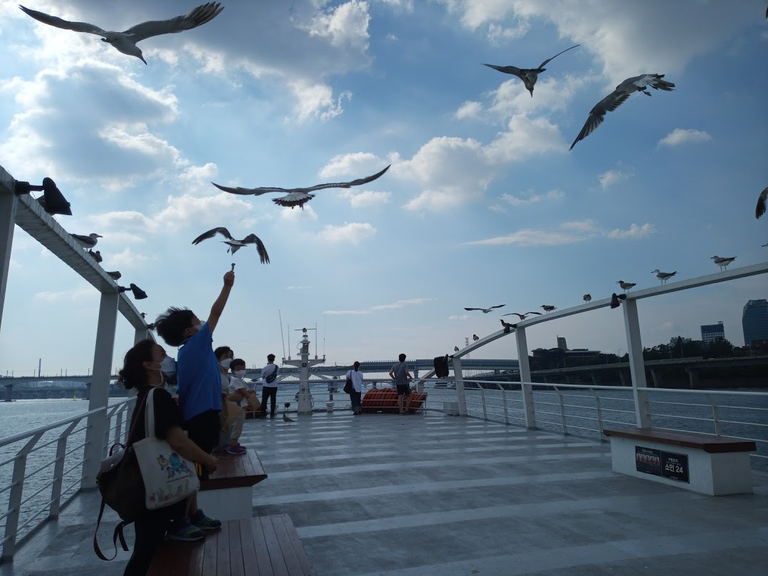 Fortunately for my wife the boat was a lot larger than the little yacht there. It was a medium sized ferry boat with a large deck on top. A group of seagulls followed us the whole way of the journey.
Kids buy anchovies for 3 dollars a bag and feed the seagulls by hand. One kid got bored and just threw the anchovies on the deck. The result was all the seagulls started fighting.
It's better to feed them one by one in the air. The seagulls are really kind to humans but when it comes to food they will start fighting with each other.
The gold building in the background has been in Yeouido for a long time. Korean people just call it the 63 building. It's 63 stories high. At one time that was the tallest building in Seoul. Now there are buildings twice that height.
Still it's a pretty cool building. The first floor has an aquarium and a theater. The top floor has an art gallery and a viewing deck. I think it is off limits during pandemic social distancing times.
The building in the distance is the national parliment building. Segulls like to go there to take a dump. Ironically it's the one place in Seoul where shit doesn't happen. Maybe that's why they go there.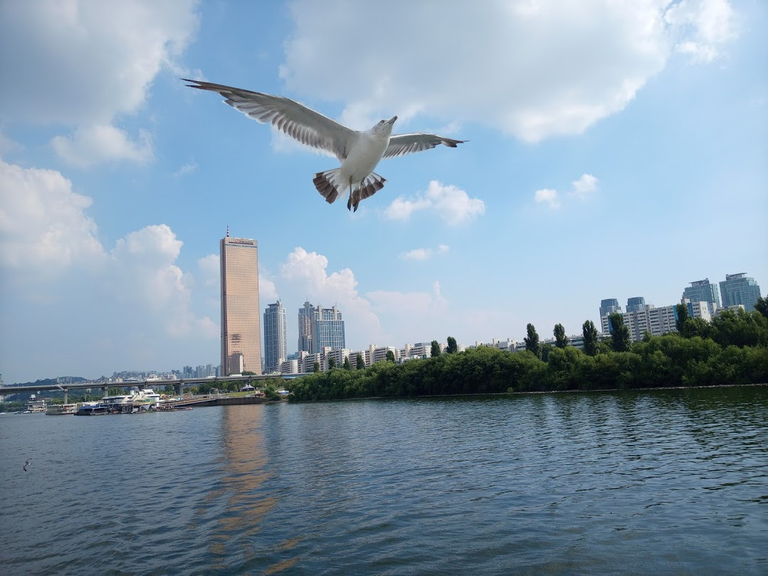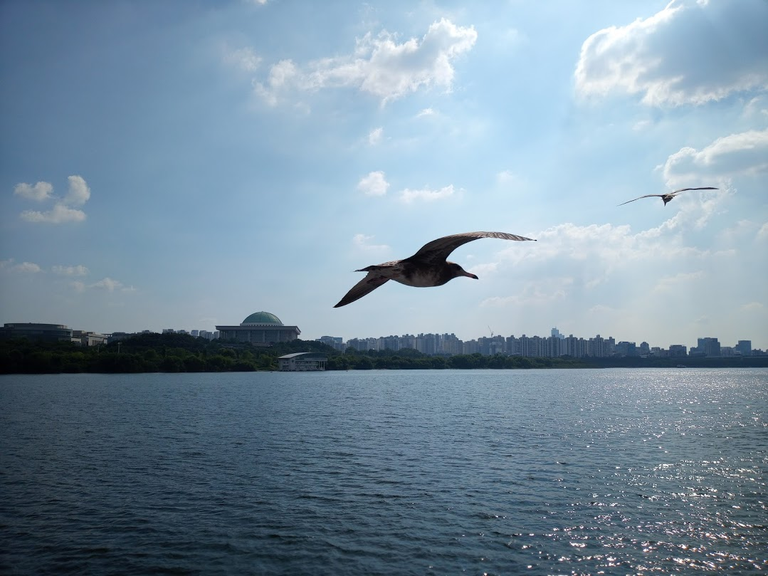 It has been way too hot this whole summer and it was good to get out and get some fresh air. We were a little envious of those out on the river on surfboards and water skiing but we came home without any broken bones.
My boys said next time they want to rent the jet skies. Of course I said, "fine whatever you want." I know they will probably keep me to my word next year or the year after. I will figure out something then. In the meantime I just bought them some ice cream to cool them down.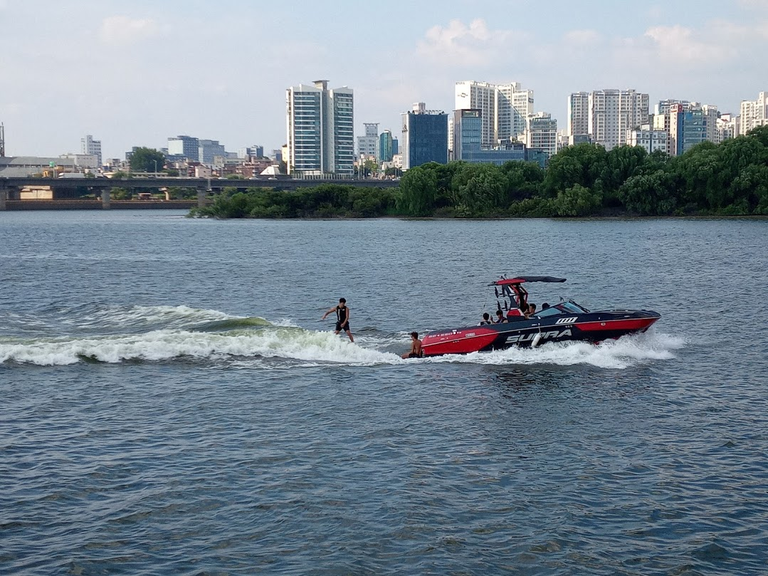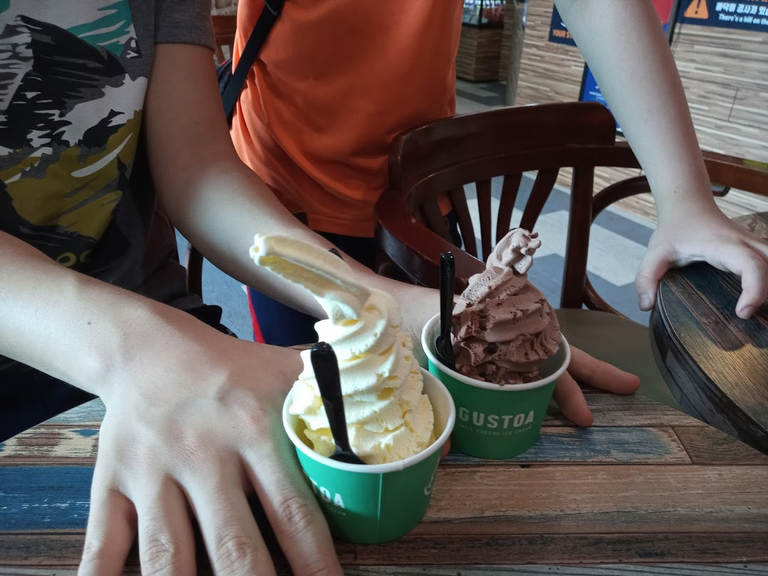 Stay cool