Greetings my dear friends,
Saludos mis queridos amigos.


Last week we went to a shopping center near where I live in order to visit several opticians to buy glasses for my daughter since she needs them, there was a lot of variety in prices, two opticians had offers and there the glasses with frame and glass came out at $ 50, in other opticians on the contrary the prices were expensive, from $ 80 to $ 120. Next week we will finally be buying her glasses from her.
La semana pasada fuimos a un centro comercial ´cercano a donde yo vivo con la finalidad de recorrer varias ópticas para comprar los lentes para mi hija ya que le hacen falta, hubo mucha variedad en los precios, dos ópticas tenían ofertas y allí los lentes con montura y cristal salían en 50$, en otras ópticas por el contrarios los precios eran caros, desde 80$ hasta 120$. La semana que viene finalmente estaremos comprándole los lentes a ella.


After visiting all the shops in the shopping center, we decided to walk for a while for no specific reason, just to walk around since we had not visited the shopping center for about a year due to the pandemic.
Después de visitar todas las ópticas del centro comercial, decidimos caminar un rato ya sin ningún motivo específico, simplemente pasear ya que teníamos aproximadamente un año sin visitar el centro comercial debido a la pandemia.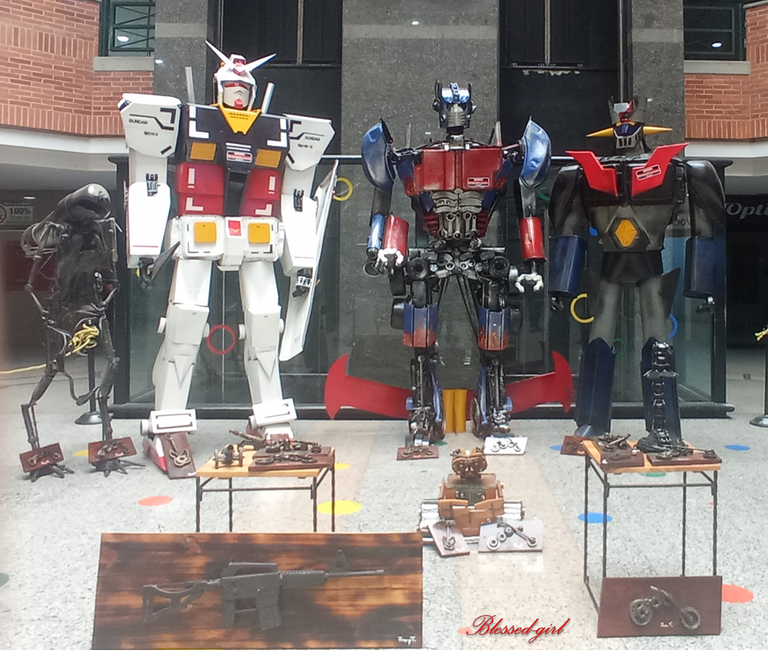 One of the things that I liked to see was the exhibition of an artist, who makes these robots, which made me remember my childhood, I really liked seeing "Mazinger Z", but because I was madly in love with the robot... I don't know how a girl can fall in love with a robot, but hahaha, that was me !!! and I remember that my Christmas gift at that time was a mazinger Z... while my friends received baby dolls or kitchen games hahaha.
Una de las cosas que me gustó ver fue la exposición de un artista, que hace estos robots, los cuales me hicieron recordar mi infancia, me gustaba mucho ver "Mazinger Z", pero porque yo estaba perdidamente enamorada del robot.... no sé como una niña puede enamorarse de un robot, pero jajaja, esa fui yo!!! y recuerdo que mi regalo de navidad en esa oportunidad fue un mazinger Z... mientras mis amigas recibieron muñeca bebés o juegos de cocina jajaja.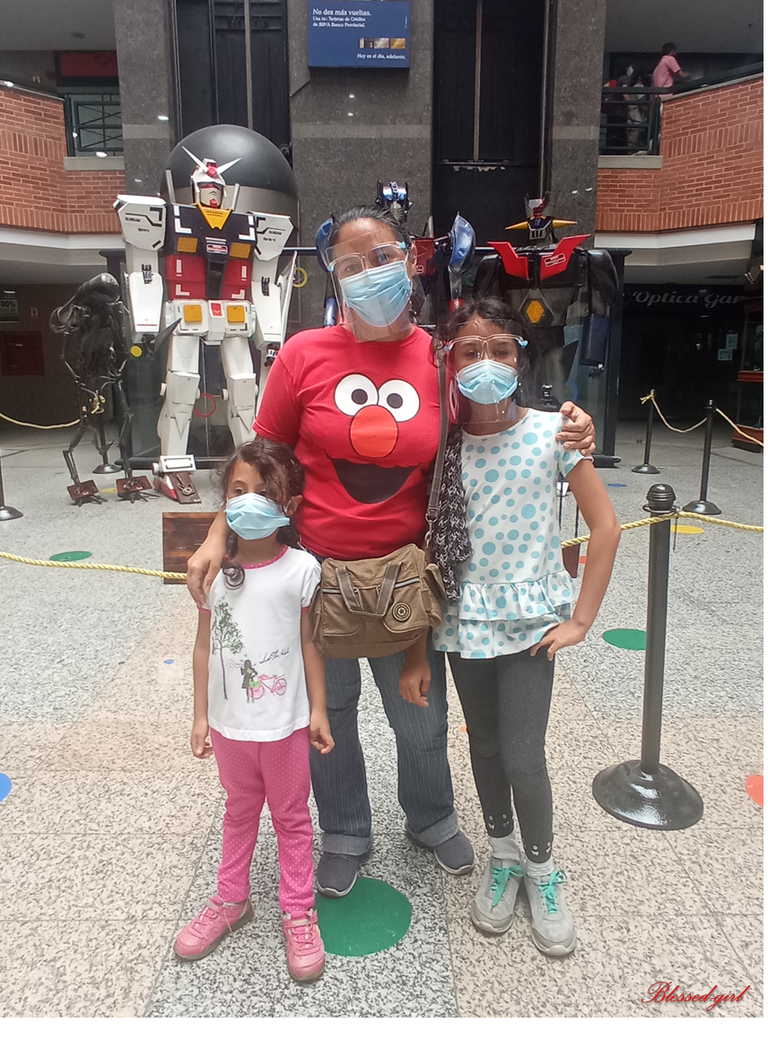 When we were leaving the mall, we put the girls on a train to have fun for a while and then we left the place...
Cuando nos íbamos del centro comercial, montamos a las niñas en un tren para que se divirtieran un rato y luego nos fuimos del lugar...
but when we got to the parking lot the car would not start, the battery had discharged and we had to wait half an hour so that my brother would come to help us. Thank God we were inside the mall and while my husband solved with my brother, my daughters and I took another walk around the mall.
pero al llegar al estacionamiento el carro no encendía, se había descargado la batería y tuvimos que esperar media hora para que mi hermano fuese a auxiliarnos. Gracias a Dios estábamos dentro del centro comercial y mientras mi esposo resolvía con mi hermano, mis hijas y yo dimos otra vuelta por el centro comercial.


Thanks for coming to read my post.
Gracias por venir a leer mi publicación.
---
---
Todas las fotos fueron tomadas con mi teléfono LG Risio
All the photos were taken with my Cell phone LG Risio.
My language is Spanish and I used the google translator to participate in this contest.
---
---