Diese Seite soll die Möglichkeit bieten, Fragen und Nachrichten zu hinterlassen, die sonst nirgendwo gut hinpassen würden.
This Page Shall Provide the Opportunity to Leave Questions and Messages which Would Not Fit Well in Any Other Context.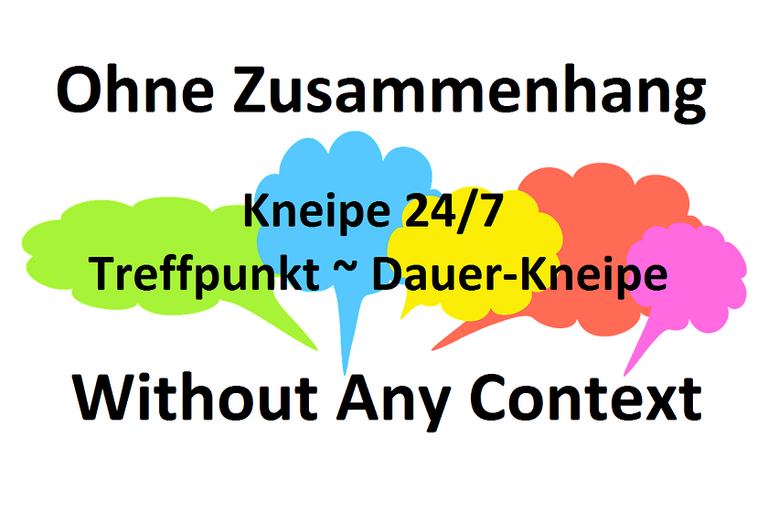 English: Please scroll down.
 
Liebe Gäste,
hier folgt erst mal ein kurzer Einleitungstext, der jede Woche von mir neu verfasst wird. Weiter unten mache ich in roter Schrift kenntlich, ab welcher Stelle sich der Text jede Woche wiederholt.
---
Das Handling der Corona-Pandemie ist einfach nur zum Kotzen!
Mehr möchte ich heute dazu gar nicht sagen. Ich rege mich sonst nur auf.
---
Mir ist aufgefallen, dass sehr viele User ihre Blurt-Power an den Upvote-Servive tomoyan delegieren.
Was ist denn davon zu halten?
Vom Prinzip her finde ich das nicht sehr nett. Man delegiert seine Blurt-Power, um selbst Votes zu erhalten, hat aber keine oder kaum noch Blurt-Power, um andere User zu voten.
Oder sehe ich das falsch?
---
Immer noch wichtig, da die Bettelei auf Blurt immer schlimmer wird:
Unsere liebe Angelica @angelica7 hat einen wichtigen Post veröffentlicht, den ich vor allem neuen Usern empfehle:
https://blurt.blog/blurt/@angelica7/social-etiquette-and-how-to-succeed-on-blurt
---
Aktuelle und wichtige Infos:
Für den Fall, dass sich jemand nicht direkt auf blurt.blog einloggen kann ... das Löschen der Cookies hilft.
Wenn sich ein Paar in unserem Single-Treff findet, heiratet oder sonst irgendwie rum schnaggelt, spendet Jacob diesem Paar 100.000 BLURT.
---
Viel Spaß heute Abend!
---
Ab hier wiederholt sich der Text jede Woche. Höchstens kleine Änderungen, Aktualisierungen oder Hinzufügungen werden vorgenommen.
Da wir ja so große Zeitunterscheide haben, habe ich für die Teilnehmerinnen an unserem Quiz hier mal ein paar Uhren rein gebastelt. Mit Klick auf ein Bild wird der Zeitunterschied angezeigt.
Zu unserem Quiz habe ich mir etwas Neues überlegt. Da meine Vote-Power ja über den Abend hinweg immer recht beträchtlich abnimmt, werde ich ab jetzt die richtige Antwort auf meine erste Frage zweimal mit 100%, die richtige Antwort auf meine zweite Frage dreimal mit 100% und die richtige Antwort auf meine dritte Frage viermal mit 100% voten.
Herzlichen Dank für die vielen Witness-Votes, die ihr mir schon anvertraut habt! Ich habe mich sehr darüber gefreut.
Wenn ihr mich als Witness voten möchtet, geht's hier entlang: https://blurtwallet.com/~witnesses?highlight=double-u
Ihr wisst ja alle, dass ich absolut kein IT-Hengst bin. Ich werde bestimmt öfters Hilfe brauchen, wenn etwas zu verändern ist. Naja, anstelle dessen habe ich halt ein paar andere Qualitäten ;-)
Unser Quiz:
Die Regeln zum Quiz stehen weiter unten.
Damit auch englischsprachige Besucher eine reelle Chance haben, werde ich die Fragen zweisprachig stellen.
Die Geschichte dieser Kneipe hier:
Für den Fall, dass es euch interessiert, wie meine ursprüngliche Fragen- und Hilfe-Seite zur Kneipe wurde, könnt ihr diesen Artikel von mir lesen: "Die Geschichte, wie diese Seite zur Kneipe wurde"
Struktur und Bewegung in der Kneipe:
Falls sich viele Kommentare ansammeln, geht leicht die Übersicht verloren. Auch hatten einige Gäste schon Probleme, die Seite laden zu können. Daher gibt es unter meinem Post verschiedene Kategorien.
Damit ihr schnell zu den Kategorien gelangt, füge ich hier die Links ein:
2) Fragen und Antworten zu BLURT, HIVE, Steem, Kryptowährungen, Computer- und Software-Wissen
Ich empfehle euch, mit der rechten Maustaste auf den ersten Link zu klicken und diese Kategorie in einem neuen Tab zu öffnen. Das gleiche dann noch mal mit den weiteren Links. Nun habt ihr mehrere Tabs offen. Meinen Einleitungstext, die Kategorie Unterhaltung und die weiteren Kategorien. So könnt ihr ganz schnell zwischen den Kategorien wechseln.
Außerdem empfehle ich euch sehr, jeweils in der geöffneten Kategorie nach "Age" zu sortieren. So seht ihr nach jedem Refresh (F5) die neuen Kommentare immer ganz oben und müsst nicht erst durch etliche Kommentare scrollen. Zum Glück behält das Frontend die Einstellung "Age" auch nach einem Refresh bei.
Regeln zu unserem Quiz:
Zu gewinnen gibt es neun 100%-Votes von mir. Das funktioniert so:
Ich werde die richtige Antwort auf meine erste Frage zweimal mit 100%, die richtige Antwort auf meine zweite Frage dreimal mit 100% und die richtige Antwort auf meine dritte Frage viermal mit 100% voten.
Ich werde jeweils um 21:00 Uhr, um 22:00 Uhr und um 23:00 Uhr eine Frage stellen.
Meine Fragen erscheinen jeweils einzeln in einem Kommentar von mir unter der Kategorie "Unterhaltung".
Wer zuerst die richtige Antwort unter meinen Frage-Kommentar schreibt, hat diese eine Frage gewonnen und erhält die entsprechenden 100%-Votes von mir.
Antworten mehrere Gäste richtig, erhält der Erste die Votes.
Gibt es objektiv mehrere richtige Antworten auf meine Frage, zählt die Antwort als richtig, an die ich bei meiner Fragestellung gedacht hatte. Da müsst ihr mir vertrauen ;-)
Eine Person darf auch mehrmals gewinnen. Unerwünschte Accounts sind von der Teilnahme und den Gewinnen ausgeschlossen.
So lange die jeweilige Frage nur falsch beantwortet ist, reagiere ich erst mal gar nicht. Ist sie richtig beantwortet, schreibe ich einen Kommentar darunter und werde nach 5 Minuten voten.
Auf jeden Fall hoffe ich, dass es euch viel Spaß macht! Und ich hoffe natürlich auch, dass noch viele Stammgäste von früher den Weg hier her finden werden! Noch kann man auf BLURT zu 0,3 Cent pro BLURT zum Wal werden ;-)
Hier noch ein paar Links, die bestimmt jeder User brauchen kann:
Folgende Frontends gibt es:
https://blurt.blog/@username ist das offizielle Frontend von BLURT.
Von diesem Frontend aus gelangt ihr auch in eure Wallet.
https://blurtworld.com/ ist von @yehey zur Verfügung gestellt.
https://ecosynthesizer.com/blurt/@double-u ist ein ganz toller Explorer von @symbionts.
In diesem Ecosynthesizer seht ihr oben links auch euren Votewert in $. Oben rechts die vielen Filtermöglichkeiten sind auch ganz hervorragend. Selbstverständlich müsst ihr meinen Namen durch euren ersetzen.
https://blocks.blurtwallet.com/#/@double-u ist ein etwas schlichterer Explorer.
https://joinblurt.com ist auch von @symbionts. Damit könnt ihr Accounts erstellen.
https://steem.uber.space/blurt1/ Wenn du sehen möchtest, wer welchen Witness mit wieviel BLURT-Power gevotet hat, dann klickst du auf dieses Tool von @michelangelo3. Du kannst auch anhaken, dass du die Proxy-Votes auch sehen möchtest.
@michelangelo3 sammelt wertvolle Links und aktualisiert seinen letzten Post nun immer wieder.
@michelangelo3 hat einen ganz tollen Hilfe-Post für Neulinge veröffentlicht. Ich finde, wir sollten den Link zu diesem Post bei Neulingen in einem Begrüßungs-Kommentar hinterlassen.
Ich wünsch' euch einen schönen Abend mit hoffentlich vielen netten und angenehmen Gästen und interessanten Unterhaltungen!
Und alles Gute wünsch' ich euch auch! Bleibt gesund!
Liebe Grüße, euer @double-u


PS: Noch ein Zitat von Karl Kagerfeld, nach dem ich mein Leben lang gehandelt habe:
"Man muss das Geld zum Fenster rauswerfen, damit es zur Tür wieder reinkommt."
PPS: Ich möchte nicht, dass mein deutscher oder mein englischer Text von einer anderen Person in eine andere Sprache übersetzt oder kopiert wird.
 
English

Dear guests,
here follows first of all a short opening text, which is written every week by me anew. Further down I mark in red writing, from which place the text repeats itself each week.
---
The handling of the Corona pandemic simply sucks!
That's all I want to say about it today. I usually just get upset.
---
I noticed that a lot of users delegate their blurt power to the upvote-servive tomoyan.
What is to be thought of it then?
From the principle I find this not very nice. You delegate your blurt power to get votes yourself, but you have no or hardly any blurt power to vote for other users.
Or do I see this wrong?
---
Still important as the begging on Blurt is getting worse:
Our dear Angelica @angelica7 published an important post that I recommend especially to new users:
https://blurt.blog/blurt/@angelica7/social-etiquette-and-how-to-succeed-on-blurt
---
Current and important info:
In case someone can't log in directly to blurt.blog ... clearing cookies helps.
When a couple finds each other in our Single Meeting Point, gets married or otherwise makes love, Jacob will donate 100,000 BLURT to that couple.
---
Have fun tonight!
---
From here on, the text repeats itself every week. At most small changes, updates or additions will be made.
Because we have such big time differences, I have put some clocks in here for the participants of our quiz. Click on a picture to see the time difference.
I have thought of something new for our quiz. Because my vote power always decreases quite considerably over the evening, from now on I will vote the correct answer to my first question twice with 100%, the correct answer to my second question three times with 100% and the correct answer to my third question four times with 100%.
Thank you very much for the many Witness-Votes you already entrusted me with! I was very happy about it.
If you want to vote for me as a Witness, you can do so here: https://blurtwallet.com/~witnesses?highlight=double-u
You all know that I am absolutely no IT stallion. I will definitely need help more often when something needs to be changed. Well, instead of that I have some other qualities ;-)
Our Quiz:
The rules for the quiz are below.
To give English-speaking visitors a real chance, I'll make the questions bilingual.
The history of this pub here:
In case you are interested in how my original questions and help page became the pub, you can read this article of mine: "The Story of how this Site Became a Pub"
Structure and movement in the pub:
If a lot of comments accumulate, it's easy to lose track. Also some guests already had problems to load the page. Therefore there are different categories under my post.
So that you can quickly get to the categories, I add here the links:
2) Questions and answers about BLURT, HIVE, Steem, cryptocurrencies, computer and software knowledge
I recommend you right click on the first link and open that category in a new tab. Then do the same again with the other links. Now you have all tabs open. My opening text, the category conversation and the other categories. So you can quickly switch between the categories.
I also recommend to sort the opened category by "Age". This way you will always see the new comments at the top after each refresh (F5) and don't have to scroll through several comments first. Fortunately, the frontend keeps the "Age" setting even after a refresh.
Rules for our quiz:
There are nine 100% votes from me to win. It works like this:
I will vote the correct answer to my first question twice with 100%, the correct answer to my second question three times with 100% and the correct answer to my third question four times with 100%.
I will ask one question each at 9pm, 10pm and 11pm. (Time Germany - Berlin)
My questions appear in each case individually in a comment of me under the category " conversation ".
Who first writes the correct answer under my question comment, has won this one question and receives the 100% votes from me.
If more than one guest answers correctly, the first one gets the votes.
If there are objectively more than one correct answer to my question, the answer I had in mind when I asked the question counts as correct. You have to trust me on that ;-)
One person may win more than once. Unwanted accounts are excluded from participating and winning.
As long as the question is answered incorrectly, I will not react at all. If it is answered correctly, I will write a comment below and will vote after 5 minutes.
In any case, I hope you enjoy it! And of course I hope that many regular guests from the past will find their way here! You can still become a whale on BLURT for 0.3 cent per BLURT ;-)
Here are a few more links that I'm sure every user can use:
The following frontends exist:
https://blurt.blog/@username is the official frontend of BLURT.
You can also get into your wallet from this frontend.
https://blurtworld.com/ is provided by @yehey.
https://ecosynthesizer.com/blurt/@double-u is a great explorer from @symbionts.
In this Ecosynthesizer you can see your vote value in $ in the upper left corner. On the top right the many filter options are also quite excellent. Of course you have to replace my name with yours.
https://blocks.blurtwallet.com/#/@double-u is a more simple explorer.
https://joinblurt.com is also from @symbionts. You can use it to create accounts.
https://steem.uber.space/blurt1/ If you want to see who voted which Witness with how much BLURT power, click on this tool from @michelangelo3. You can also tick that you want to see the proxy votes too.
@michelangelo3 collects valuable links and now keeps updating his latest post.
@michelangelo3 has published a really great help-post for newbies. I think we should leave the link to this post in a welcome comment for newbies.
Have a great evening with hopefully lots of nice and pleasant guests and interesting conversations!
And all the best to you too! Stay healthy!
Love, your @double-u


The German text next to the kissing mouth means:
Red lips should be kissed, because they are there for kissing.
Voting power should be voted for, because it is there to vote for ;-)
Best regards, @double-u
(The first line is a text from a German pop song.)
PS: There is one quote from Karl Kagerfeld that I have lived by all my life:
"You have to throw the money out the window so that it comes back in the door."
PPS: I do not want my German or my English text to be translated by another person into another language or to be copied.