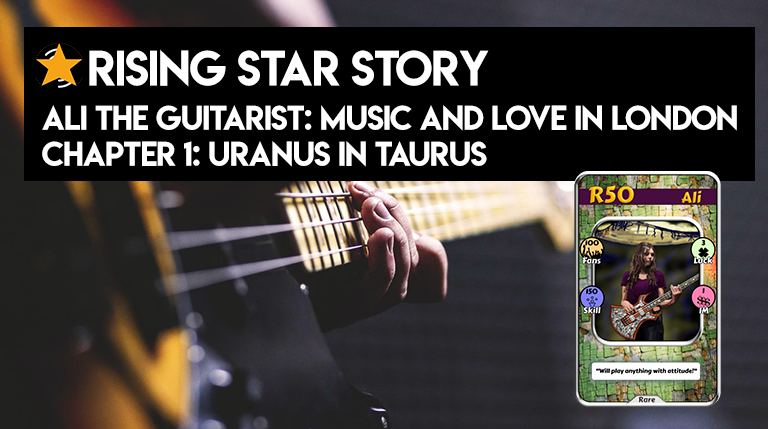 Rising Star Story
(English) Ali the guitarist: music and love in London
Chapter 1: Uranus in Taurus
Have you ever felt like your life has no meaning at all and that you just work, eat, sleep and it is like that all the time, well welcome to the world of adults. But I don't want to tell you about my daily routine, but how I found something that changed my life. I can't tell you that, for the better, it just just changed and that's it.
It all started with a song, well with a musician ... it is complicated as you read my story you will understand. My name is Alimar Hernandez but everyone calls me Ali, I am someone very punctual at work but I really felt horrible today, surely in the horoscope and all this astrology has an answer, as I woke up late due to my discomfort, I lost company transportation, so I had to use public transportation. While I was on my way to the company, the music on the radio had me trapped, it was in English and there was a phrase that caught my attention "takes risks".

Video courtesy of Pexels - [George Morina]



When I got to work and said hello to everyone as usual, I could see my boss as upset, in case it was her natural state, she was more usual, well she'll pass. I work as an administrative assistant, but basically my job is to make tables, records and Excel stuff, boring right? I wonder what the life of a musician will be like, the songs, the fame, the drama, it must be quite entertaining, thinking of musicians, the truth is that that song on the radio was really very good. Who will be the group that belongs to him? "Takes risks", "takes risks", "takes risks".




As Ali was distracted by humming the song on the radio, someone yelled ALI !! Causing this to be scared.




-Gosh you almost killed me- Ali complained




-Girl I've been calling you for 5 minutes, what world are you in, Narnia? Come to my office I need to talk to you now- Ali's boss said with an authoritative tone, which made Ali anxious.




In all this time here, my boss had never called me to talk to me in her office, I have always followed the rules, I have listened to the corrections to my work and I have complied, is it because I was late? But it was only once, because they would punish me for being late, it seems unfair, Yesenia is always late and makes up ridiculous excuses or is it damaging the copier? But I had a lot of work that day and Diego had finally commented on one of my photos with an emoji and I got distracted I spilled the coffee on the photocopier. Calm down Ali don't be negative maybe it's a promotion class or something, I hope that's it, I'm so terrified.




Ali did not control his emotions at the time and expressed his apologies for being late -If it was because of being late I swear, I will not do it again, seriously and the photocopier thing will not be repeated-




Video courtesy of Pexels - [mart-production]



-Girl calm down ... wait, what happened to the copier? It doesn't matter, just sit down and have some water- said his boss, handing him a glass of water to calm his anxiety. -Listen, we all know the situation in the country and that things are very complicated, you were a very good employee, distracted, but good. Unfortunately, this same situation is forcing the closure of all branches in the country, until this month we will all work here. Although everyone will know this news, I wanted to tell you directly because you are young and talented as a child, this country is suffocating your generation, I could make a letter of recommendation for you to work in another company, but as long as you remain in this country the situation will be the same. You have to emigrate, do not lose your youth and this I tell you more than as a boss but as a personal advice.




Ali was very shocked with the whole situation that her brain did not process it at all -Thank you for your words, I will take it into account- Ali without saying anything else, left the office sat at her desk and looked at the screen of her computer thinking Now what i will do?




Definitely something must be happening in the stars that my life is changing in this way, reflecting on what happened they fired me and also gave me a life advice "you should go to another country" and how do I achieve that, if you are firing me. I knew this day was not going to be okay.




Ali took her headphones and placed them in her ears hoping the day would go by quickly. Hours passed and Ali was only on that radio to find the catchy song he heard on his way to work, but they didn't play it. She was a somewhat introverted girl with her problems, she did not like to share them with people, that is why she liked music, it was her intimate corner where she connected with her emotions through songs. However, she needed to talk to someone because he was very tough so she wrote to her cousin and her best friend, to meet at a nearby pizzeria.




Video courtesy of Pexels - [cottonbro]



When it was time to leave his work and he was on his way to the pizzeria to meet his friends, Ali thought about what his former boss had told him, that he was wasting time here in his country Venezuela, although it was painful to accept it, it was totally certain. He had almost no friends left because they had emigrated, going to university was very expensive and a career was not going to guarantee him a good salary to make a living and leave his grandmother's house. A few months before he had taken out his passport, it cost him, but he succeeded, the idea was to emigrate with some friends, but the country where he was going to go had started a pandemic with a virus and he preferred to cancel his plans.




Video courtesy of Pexels - [PNW Production]



Most of us who emigrate to another country do it for a good life, to have a good job, to have a social life, to get married. Is that why it didn't happen? Because I don't have a specific reason to do it, it's scary to go somewhere to start from scratch, there has to be a good reason why someone has the courage to do it. I admit that the only reason why I would do it would be to find love, even if it sounds like a movie, here I have not done well in that area, it is as if I did not know the type of man I like, I have dated accountants, doctors , engineers, but I don't know, can't find someone to connect with.




Something interrupted the brainstorming in Ali's mind, it was the song again, where did it come from? She needed to know who they were, the sound was coming from an appliance store, a television was playing a music video of a group called the Williams, their music enveloped her and made all her problems go away, like the singing of a siren, she was hypnotized. Above all, a particular sound, that of the guitar, that sound caught her, made her happy, even made her dance, although she made a fool of herself. The musician who played the guitar in some way made her feel connected and it was at that moment when she saw him and heard his melody that she had to do.




Video courtesy of Pexels - [Valiantsin Konan]



While in a pizzeria a boy and a girl were waiting for their friend, the girl was impatient to eat.




-But you can hope maybe his transport was delayed- said Marco, Ali's cousin




-Oh, but I'm very hungry- said Ana, Ali's best friend




-Listen, my cousin only likes to come to this place in special situations, surely there is something she has to tell us that is very important, food is the least of it- Marco said, trying to reassure the girl. Annoyed Ana takes out her cell phone and checks her favorite astrologer to distract herself for a while and what she sees surprises her and she tells Marco.




-Look here it says that Uranus is in Taurus and that means abrupt changes, it talks about moments of opening of new things, Ali's zodiac sign is Taurus, will it have something to do with her?




-Ay Ana, don't be ridiculous, do you believe in those things? - In the distance a girl enters, with a big smile and sits in front of them. Things that seemed very strange to his friends.




-Ali friend, and that smile? - asks Ana, surprised




-I was fired- Ali said with a big smile, which made his friends wonder.




-It's going to wait, and are you happy about that? - asks his cousin




Video courtesy of Pexels - [fauxels]



-No, listen what happens is that I already know what I want to do with my life- says Ali, both Marco and Ana look at each other confused. Ali takes a breath and says with great enthusiasm –I have decided to emigrate to London, to look for the man of my life, a musician- The girl takes out her cell phone and shows him the photo of the guitarist of the band the Williams. Both Ana and Marco are confused and shout WHAT!




To be continued in the next chapter






Rising Star Story
(Spanish) Ali la guitarrista: musica y amor en Londres
Chapter 1: Urano en tauro
Alguna vez has sentido como que tu vida no tiene nada de sentido y que tan solo trabajas, comes, duermes y todo el tiempo es así, pues bienvenido al mundo de los adultos. Pero no te quiero contar sobre mi rutina diaria, sino como encontré algo que cambió mi vida. No te puedo decir que, para bien, solo simplemente cambió y ya.
Todo comenzó con una canción, bueno con un músico… es complicado a medida que leas mi historia entenderás. Mi nombre es Alimar Hernandez pero todos me dicen Ali, soy alguien muy puntual en el trabajo pero de verdad que hoy me sentía horrible, de seguro en el horóscopo y todo esto de la astrología tenga una respuesta, como desperté tarde por mi malestar, perdí el transporte de la empresa, así que tuve que usar el transporte público. Mientras iba a camino a la empresa, la música de la radio me tenía atrapado, estaba en inglés y había una frase que llamaba mi atención "takes risks".

Video courtesy of Pexels - [George Morina]



Al llegar al trabajo y saludar a todo el mundo como de costumbre, pude ver a mi jefa como alterada, ya de por si era su estado natural, estaba más de costumbre, bueno ya se le pasará. Trabajo como asistente administrativo, pero básicamente mi trabajo es hacer tablas, registros y cosas de Excel, aburrido ¿verdad? Me pregunto cómo será la vida de un músico, las canciones, la fama, el drama, debe ser bastante entretenido, pensando en músicos la verdad es que esa canción de la radio en verdad estaba muy buena ¿Quién será el grupo que le pertenece? "takes risks", "takes risks", "takes risks".




En el momento que Ali se distraía tarareando la canción de la radio, alguien le grita al oído ¡ALI!! Provocando que esta se asustara.




-Dios mío casi me matas- se quejó Ali




-Niña estoy llamándote desde hace 5 minutos ¿en qué mundo estas, Narnia? Ven a mi oficina necesito hablar contigo ahora- dijo la jefa de Ali con un tono autoritario, que puso ansiosa a Ali.




En todo este tiempo acá, jamás mi jefa me había llamado para hablar conmigo en su oficina, siempre he cumplido con las reglas, he escuchado las correcciones a mi trabajo y he cumplido ¿será porque llegué tarde? Pero solo fue una vez, porque me castigarían por llegar tarde me parece injusto, Yesenia siempre llega tarde e inventa excusas ridículas o ¿será dañar la fotocopiadora? Pero es que ese día tenía mucho trabajo y Diego por fin me había comentado uno de mis fotos con un emoji y me distraje derramé el café en la fotocopiadora. Cálmate Ali no seas negativa tal vez sea una clase de ascenso o algo así, espero que sea eso, estoy tan aterrada.




Ali no controlaba sus emociones en ese momento y expresó sus disculpas por llegar tarde –Si fue por lo de llegar tarde te lo juro, que no lo volveré hacer, en serio y lo de la fotocopiadora no se repetirá-




Video courtesy of Pexels - [mart-production]



-Niña cálmate… espera ¿que pasó con la fotocopiadora? No importa tan solo siéntate y toma un poco de agua- dijo su jefa entregándole un vaso de agua para que tranquilizara su ansiedad. -Escucha todos sabemos la situación de país y que las cosas están muy complicadas, eras una muy buena empleada, distraída, pero buena. Lamentablemente esta misma situación está obligando a cerrar todas las sucursales en el país, hasta este mes todos trabajaremos acá. Aunque esta noticia lo sabrán todos, quería decírtela directamente porque eres joven y tienes talento niña, este país está sofocando tu generación, podría hacerte una carta de recomendación para que trabajes en otra empresa, pero mientras sigas en este país la situación será la misma. Tienes que emigrar, no pierdas tu juventud y esto te lo digo más que como una jefa sino como un consejo personal, si tienes la oportunidad hazlo, toma el riesgo-




Ali estaba muy impactada con toda la situación que su cerebro no lo procesaba del todo –Gracias por tus palabras, lo tomaré en cuenta- Ali sin decir más nada, salió de la oficina se sentó en su escritorio y miró la pantalla de su computadora pensando ¿ahora qué haré?




Definitivamente algo debe estar pasando en los astros que mi vida está cambiando de esta manera, reflexionando sobre lo que pasó me despidieron y también me dieron un consejo de vida "deberías irte a otro país" y como logro eso, si me estas despidiendo. Sabía que este día no iba a estar bien.




Ali tomo sus auriculares y los colocó en sus oídos esperando que el día pasara rápido. Pasaron las horas y Ali solo estaba en esa radio con tal de encontrar la canción pegadiza que escuchó en su camino al trabajo, pero no la emitieron. Ella era una chica un tanto introvertida con sus problemas, no le gustaba compartirlos con la gente, por eso le gustaba la música, era su rincón intimo donde conectaba con sus emociones a través de las canciones. Sin embargo, necesitaba hablar con alguien porque era muy duro así que les escribió a su primo y a su mejor amiga, para verse en una pizzería cercana.




Video courtesy of Pexels - [cottonbro]



Cuando llegó la hora de salida de su trabajo e iba de camino a la pizzería para encontrarse con sus amigos, Ali pensó sobre lo que le había dicho su exjefa, que estaba perdiendo el tiempo acá en su país Venezuela, aunque era doloroso aceptarlo era totalmente cierto. Ya casi no le quedaban amigos porque habían emigrado, ir a la universidad era muy costoso y una carrera no le iba a garantizar un buen sueldo para hacer su vida y salir de la casa de su abuela. Unos meses antes había sacado su pasaporte, le costó, pero lo logró, la idea era emigrar con unos amigos, pero el país en donde iba a irse, había comenzado una pandemia con un virus y prefirió cancelar sus planes.




Video courtesy of Pexels - [PNW Production]



La mayoría que emigramos a otro país lo hacemos por una buena vida, tener un buen trabajo, tener vida social, casarse ¿será que por eso que no se dio? Porque no tengo una razón específica para hacerlo, da miedo ir a un lugar a comenzar de cero, tiene que existir una buena razón por la que alguien tenga el valor para hacerlo. Admito que la única razón porque la que lo haría sería para encontrar el amor, aunque suene de película, acá no me ha ido bien en ese ámbito, es como si no supiera el tipo de hombre que me gusta, he salido con contadores, médicos, ingenieros, pero no sé, no encuentra a alguien con quien conectar.




Algo interrumpió la tormenta de ideas en la mente de Ali, era la canción otra vez ¿de donde venía? necesitaba saber quiénes eran, el sonido provenía de una tienda de electrodomésticos, una televisión proyectaba un video musical de un grupo llamado the Williams, su música la envolvía y hacía que todos sus problemas se iban, como el canto de una sirena, estaba hipnotizada. Sobre todo, un sonido en particular, el de la guitarra, ese sonido la atrapaba la hacía feliz, hasta la hizo bailar, aunque hacía el ridículo. El músico que tocaba la guitarra de alguna forma la hacía sentir conectada y fue en ese momento al verlo y escuchar su melodía lo que debía hacer.




Video courtesy of Pexels - [Valiantsin Konan]



Mientras en una pizzería esperaba un chico y una chica a su amiga, la chica estaba impaciente por comer.




-Pero puedes esperar a lo mejor su transporte se retrasó- dijo Marco el primo de Ali




-Ay pero es que tengo mucha hambre- dijo Ana la mejor amiga de Ali




-Escucha mi prima solo le gusta venir a este sitio en situaciones especiales, de seguro hay algo que tiene que contarnos que es muy importante, la comida es lo de menos- dijo Marco tratando de tranquilizar a la chica. Ana molesta saca su celular y revisa a su astrólogo favorito para distraerse un rato y lo que ve le sorprende y le cuenta a Marco.




-Mira aquí dice que Urano está en tauro y eso significa cambios bruscos, habla sobre momentos de aperturas de cosas nuevas, el signo del zodiacal de Ali es tauro ¿tendrá algo que ver con ella?




-Ay Ana no seas ridícula ¿tú crees en esas cosas? - A lo lejos una chica entra, con una gran sonrisa y se sienta al frente de ellos. Cosas que le pareció muy extraño a sus amigos.




-Ali amiga ¿y esa sonrisa? - pregunta Ana extrañada




-Me despidieron- dijo Ali con una gran sonrisa, cosa que hizo que sus amigos se llenaran de duda




-Ya va espera ¿y estas feliz por eso? - pregunta su primo




Video courtesy of Pexels - [fauxels]



-No, escuchen lo que pasa es que ya sé lo que quiero hacer con mi vida- dice Ali, tanto Marco y Ana se miran a los ojos confundidos. Ali toma un respiro y dice con gran entusiasmo –He decidido emigrar a Londres, a buscar al hombre de mi vida, un músico- La chica saca su celular y le muestra la foto del guitarrista de la banda the Williams. Tanto Ana como Marco, quedan confundidos y gritan ¡QUE!




Continuará en el siguiente capítulo