ok, BTC is just so close to its ATH that everybody is just watching the chart expecting something to happen...
I'm going to tell you what I think right now...I have no fucking idea... having said that and warning you in advance, I'm going to give my opinion on what I see.
Btw,the most visited ticker currently at tradingview must be "BITO" which represents the newly created BITCOIN ETF... everyone expects a major capital inflow... meanwhile, two major indicators, the RSI and the OBV show signals very different depending on the timeframe:
4-h timeframe: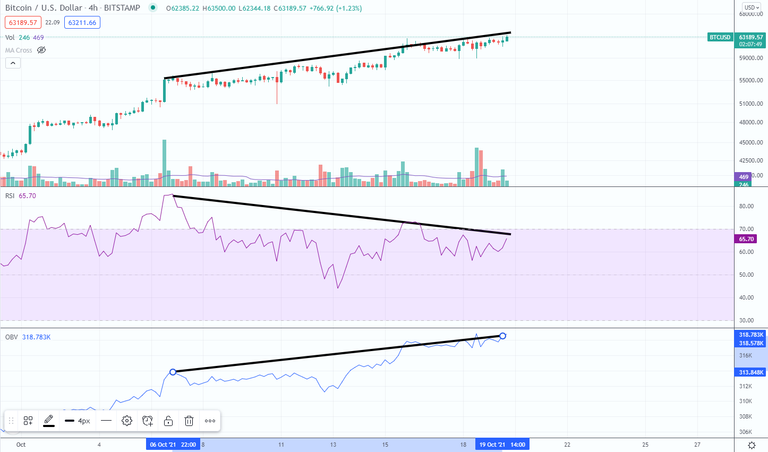 BEARISH DIVERGENCE against RSI
CONTINUATION against OBV
---
1-h timeframe: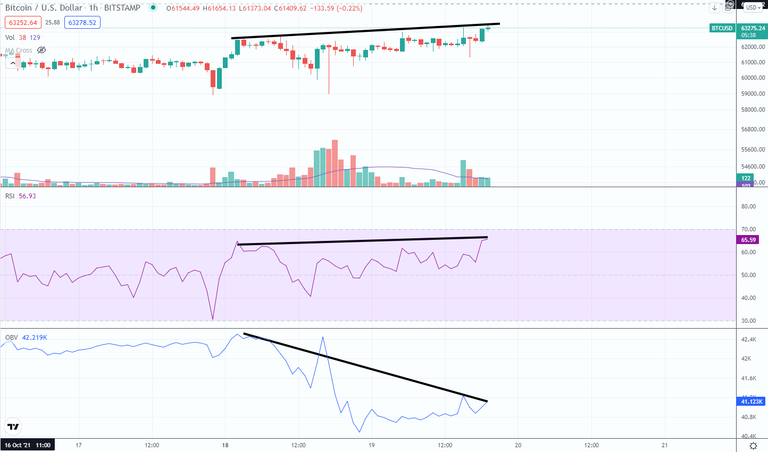 CONTINUATION against RSI
BEARISH DIVERGENCE against OBV
---
---
You see, 2 different timeframes with totally opposite signals...
An additional indicator for the two timeframes, the VOLUME, in 4h it shows as good, in 1h it shows me a marked decrease ...
My bet:
This is a problem since the ideal would be to see confirmation of continuity or divergence in both indicators.
Remember, if the divergence is shown using both then you don't have to think so much about it... but it's not the case.
However, I would prioritize using the OBV indicator as it tends to give less "false signals" and gives me an idea of ​​the flow of volume traded and also, usually confirms the direction of the trade.
In this case and according to the 1h timeframe, BITCOIN may correct in a very short term (hours) but in the medium term (days) OBV would indicate confirmation of the upward movement (4h timeframe)
Will see.
---
*Disclaimer: This is just my personal point of view, please, do your own assessment and act consequently. Neither this post nor myself is responsible of any of your profit/losses obtained as a result of this information.