Image Uploading Is Working On blurt.blog
I found out what happened that caused uploads to stop working.
Originally, Blurt had its own image uploader. Then about five months ago, one of the developers who was working on Blurt at the time forked the Hive version of the image uploader and modified Condenser to work with it. When his image server was shut down, that's when uploads got broken.
I spent the last few days studying how the frontend and the image uploader communicate with each other. Then I did some research to find out what libraries I would need in order to update the original Blurt uploader to work with the current version of the Condenser front end.
I spent a good part of the evening/night on rewriting the original Blurt image uploader and I finally got it to work this morning.
I uploaded a few images to test and once I was satisfied with the results, I deployed the server.

A screenshot of the resulting markup once an image was uploaded.
You can have a look at the code here.
I essentially took the code from the original Blurt image uploader and rewrote a big chunk of it. Some of it still needs some updating, such as the README.md file. It's still has the instructions for the old version, but that can all be updated later. The important part is that it works.
Some Other Minor Improvements
I wanted to mention that @michelangelo3 has been doing a bit of work on Condenser.
I pushed the latest version of it to production this morning and you can see some of the changes made by @michelangelo3, such as the addition of a link to the Blurt GitLab repo to the side panel as well as a rearrangement of the links so they make more sense.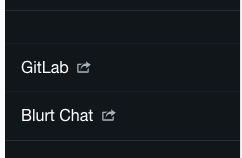 A screenshot of some of @michelangelo3's contributions to the side panel.
I have set him as 10% beneficiary on this post as a token of appreciation for his contributions.
Wallet Still Needs Updates
While you can now upload images on blurt.blog, the wallet still needs to be updated before it will work with the uploader. Most of what needs to be fixed in the wallet's code has been fixed. We're just having problems with building the app.
I'm going to try to tackle that next. Then I'll build a price info API so that the account value can be displayed correctly instead of showing "$NaN".
Contributors Wanted
If you are willing and able to contribute to the development of Blurt in any way, you're welcome to do so.
So far, it's mostly me and a bit from others like @michelangelo3.
Feel free to have a look at the issues on GitLab and pick one that you're comfortable with and have at 'er.
Or if you think of something else that needs to be fixed or you would like to do a feature request, feel free to open new issues.
If you're not inclined to work on GitLab and you would like us to open a new issue for you, you can let me or anyone else who has access to add the issue.
That's All, Folks!
That's pretty much all I had to say for this one.
Until next time, I hope you all have a great one!
---
Vote for my witness!
I run a witness node on the Blurt blockchain and I would really appreciate your witness vote.
You can vote for my witness by going here.