I have upgraded the Blurt RPC node run by the Blurt core team as well as my own to version 0.7.1, which is the version with the fix for reblurts.
I was able to reblurt a post by one of our witnesses, @alejos7ven.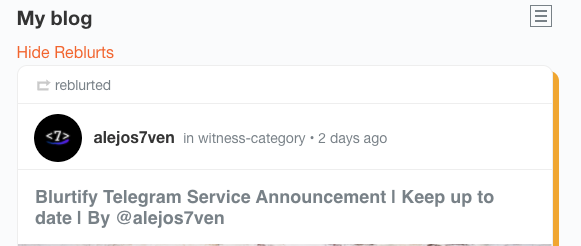 Screenshot of a reblurted post on my blog.
Right now the main node and my node are upgraded, and I have given instructions for other node operators so that they can upgrade their nodes as well.
If you want to know which nodes are updated, you can check the nodes list on the Ecosynthesizer website.
You can thank @jga for bringing you this fix.
That's it for this one.
Until next time, I hope you all have a great one!
---
Vote for my witness!
I run a witness node on the Blurt blockchain and I would really appreciate your witness vote.
You can vote for my witness by going here.