Okay, technically, I made two programs, but they work together as one.
Estimated Account Value in Blurt's Wallet App
A lot of you have probably noticed already that the wallet app shows the estimated account value again. If you have haven't, take notice the next time you go to the wallet app.

Estimated account value is shown again in Blurt's wallet app.
Before this, it was showing
NaN
, which stands for "not a number".
In order to show the account value, the wallet app needs to get the price from somewhere. It used to get it from an API privately operated by a former Blurt developer.
When that developer left Blurt and turned off his API, the wallet app could no longer reach it to get the price, so it showed NaN because it wasn't getting a number as it was expecting to get.
My Solution
To fix this, I created an API of my own that the wallet app can call to get the current price of Blurt.
I made it in two parts.
The first part is a Python program that gets the current price of BLURT from Hive-Engine, Ionomy, and CoinGecko (which only tracks ProBit at the moment), and it then calculates the average from these three sources and puts it in a JSON file to be accessed by the other program. It does this once every five minutes.
The second part is a program written in Go that listens for requests by the wallet app and returns the price that is stored in the aforementioned JSON file.
I chose to write the first part in Python because that is the programming language I am most familiar with. I wrote the second part in Go because it is super easy to write a webserver or API with Go, and Go programs run very fast, so it doesn't slow down the wallet app when it asks for the price. If you look at the program, you will see that it's very short and there is very little code needed to accomplish what I needed it to.
If you're interested, you can look at the code here.
Adding BLURT Price to Blurt Blog
Since it's possible for any app to get the price from this API, I'm going to add BLURT price in Condenser (that's the name of the program that runs on blurt.blog) as well in the near future.
I was thinking of adding it in the same card where it shows the chain's transaction fees.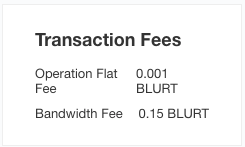 I will add BLURT price in this card, below the transaction fees, in both USD and BTC.
Open Source
I have made the program open source and I have put it in Blurt's GitLab repo, so it will always be available even in the case that I would leave Blurt for some reason. I'm not likely to leave Blurt any time soon, but I try to make sure that the project won't be left in a bind if something happens that I am no longer able to work on it.
I'm trying to make sure that Blurt never has a repeat of what happened early this year when the whole site went to the dumpster after a third party that was running a bunch of Blurt's infrastructure privately decided to leave and turned off his servers.
That's All, Folks!
That's pretty much it from me for now.
I just wanted to give you a little update on some of the things I was working on.
Until next time, I hope you all have a great one!
---
Vote for my witness!
I run a witness node on the Blurt blockchain and I would really appreciate your witness vote.
You can vote for my witness by going here.