Here's an update on what we've been working on in the past few days and what has been added or fixed on both Condenser and the wallet app.
Condenser frontend on blurt.blog has been updated. I'm still having trouble building the app for blurtwallet.com, but I will still describe what has been updated and you will see those updates as soon as I'm able to push the new version of the wallet to production.
Updated Side Panels
The side panel module has been updated on both Condenser and the wallet. The wallet's side panel was still outdated and had some broken links. I have updated them so they are both the same.
I also added Robinia Swap in the exchanges section.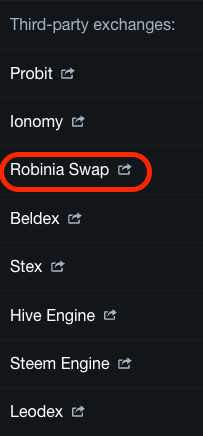 Robinia Swap added to side panel module.
Increased BLURT Price Precision in Wallet
I have increased the precision of the BLURT price to eight decimals in the wallet app. This will make the estimated account value more accurate.

Precision of BLURT price increased to eight decimal places.
Added BLURT Price to Condenser's Sidebar
I have also reformatted the sidebar module that shows the current fees to make it more pleasing to the eye and easier to read, and I added the BLURT price in USD to it.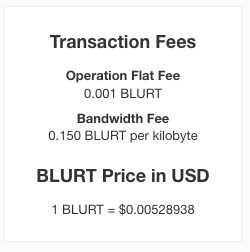 Sidebar stats module has been reformatted and BLURT price added.
Payout Options
The payout options have been updated to reflect the changes that were introduced during hardfork 6.
You can now choose from the following options:
25% BLURT / 75% Blurt Power (default)
100% Power Up
Decline Payout
These can be set separately for comments and blog posts.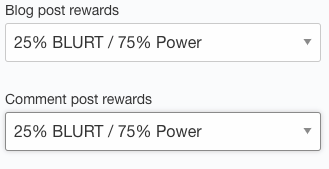 Please take note that currently, the option for 100% power up does not work if you are logged in with WhaleVault. We need to get them updated libraries so they can update the WhaleVault extension.
For now, you will have to use the default 25/75 payout option if you are using WhaleVault. We will work on getting this fixed ASAP.
Default Comment Sorting Option
If you're like me, you were probably annoyed about the comment section being sorted by trending and watching comments jump up when you voted on them.
A new option has been added to the settings page where you can choose in which order you prefer having the comments sorted.
My personal preference is to sort by age. That way the newer comments are on top and the older ones are below.
This is now the default behaviour, but you can change it to whichever way you prefer with this new setting, and it's still possible to change it for just one comment section if you desire. That setting is still there.

Tekraze's Contributions
These last two fixes/enhancements (the payout options and the comment sort order) have been brought to you by @tekraze. He has written his own posts regarding these updates.
You can go see these two posts here, and here.
Feel free to go look at these two posts and support him with your upvotes.
@tekraze has been a big help these past few weeks and it's really nice to have an actual dev on the team.
I have set him as 40% beneficiary on this post as a way of thanking him for his help.
FAQ Page
The FAQ page is currently being worked on. It needs updating. We have someone editing it and updating it for the current state of Blurt.
Thank you to @ond for bringing it to our attention.
That's All, Folks
There are more things that were done, but they are more of interest to the people actually working on the code. If you are curious to see what those are, you can always look at the commit history on GitLab.
That's all I have for this update.
Until next time, I hope you all have a great one!
---
Vote for my witness!
I run a witness node on the Blurt blockchain and I would really appreciate your witness vote.
You can vote for my witness by going here.