I've done some updates on the Blurt infrastructure and just wanted to make a quick post to inform everyone.
In my last post I said the notifications were going down for some upgrades. They are back up and running.
Private RPC Node for the Backend
While the notifications server was down, I installed a private RPC node that serves the notifications server as well as the backends for blurt.blog, blurtwallet.com, and the image uploader.
This should speed up certain things and also prevent the site from going down completely in the event that the main RPC nodes go down for whatever reason.
Since the RPC that I put up is not accessible to the public, it should be able to handle its job without a problem.
Public RPC Server Upgrades
I have upgraded the servers for the public RPC nodes. They should be able to handle more requests and I'm hoping that it won't go down like it did a few times in the past few days.
Draft Clearing Issue Resolved
@tekraze tackled the issue where the text for your previous post was still in the post editor even after you had posted it successfully.
It now correctly clears the draft once a post has successfully been posted.
Updated Hive-Engine Links in the Side Panel
The links in the side panel for Hive-Engine, LeoDex, and Tribaldex have been updated to point to the new SWAP.BLURT market.

Updated Known Exchanges
@eastmael has updated the list of known exchanges in the wallet app so that it gives a warning about including a memo when you send BLURT to known exchanges. This is to remind you that you need to include a memo whenever you send to an exchange. That way, your fund will go to the correct place and it will save you the trouble of contacting the exchange's tech support to track down your BLURT.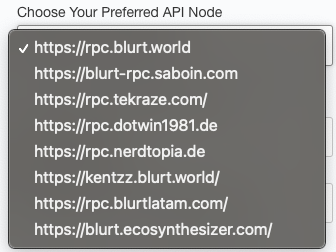 Screenshot of Updated Nodes List
Updated FAQ Page
@rycharde has updated the FAQ page. Now the information in there is accurate and you can read up if you have any questions.
Do let us know if you find any errors so we can fix it.
More Community Operated RPC Nodes
If you go to your settings page, you will notice that we have added more alternative nodes that you can choose from. These are nodes that are operated by community members to help make Blurt more resilient.
That's All, Folks!
That'll be it for this one.
Until next time, I hope you all have a great one!
---
Vote for my witness!
I run a witness node on the Blurt blockchain and I would really appreciate your witness vote.
You can vote for my witness by going here.