[English see below]
Heute stelle ich euch ein neues Tool vor, den Outgoing Vote Counter. Viel brauch ich dazu nicht schreiben, probiert es einfach aus.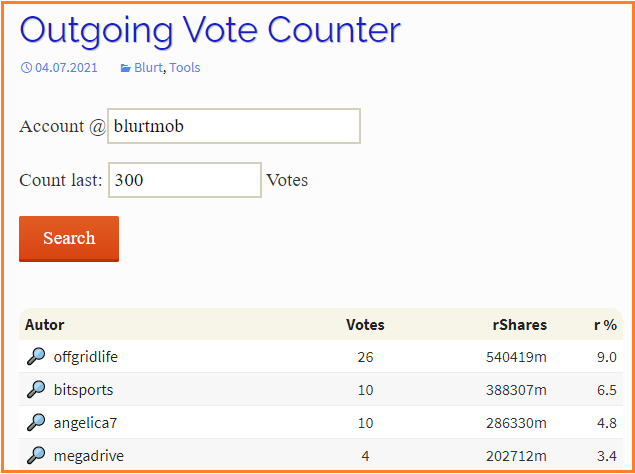 Die Lupe öffnet einen Tab mit den Votes des Users, ein Klick auf den Usernamen öffnet dessen Profil.
Die %-Spalte bezieht sich auf die rShares, also nicht die prozentuale Anzahl der Votes sondern wie viel "Knete" man jemand tatsächlich vergönnt hat.
Und hier der Link zum Outgoing Vote Counter.
Was kann man damit machen?
Eigene Votes checken
Klar, an erster Stelle kann man sich seine eigenen Votes genauer anschauen, ob das so passt.
Horizont erweitern
Jeder hat seinen Freundeskreis, bei anderen findet man vielleicht Accounts, die man bisher nicht auf dem Schirm hatte.
Absahner finden
Übles Thema, aber wenn Blurt eine Chance haben soll, dann müssen wir das irgendwie in den Griff bekommen.
Zum Beispiel tummelt sich auf #deutsch ziemlich viel Schrott, sogar Beiträge die nicht einmal in deutsch verfasst sind. Schaut man sich diese Accounts mit Hilfe des Tools etwas näher an, sieht man sehr schnell was da los ist.
Ich kann mir gut vorstellen, das bestimmte Accounts nicht gerade erfreut über mein neues Tool sind. Aber, da müssen sie jetzt durch ;-)
---
[EN]
Today I introduce you to a new tool, the Outgoing Vote Counter. I don't need to write much about it, just try it out.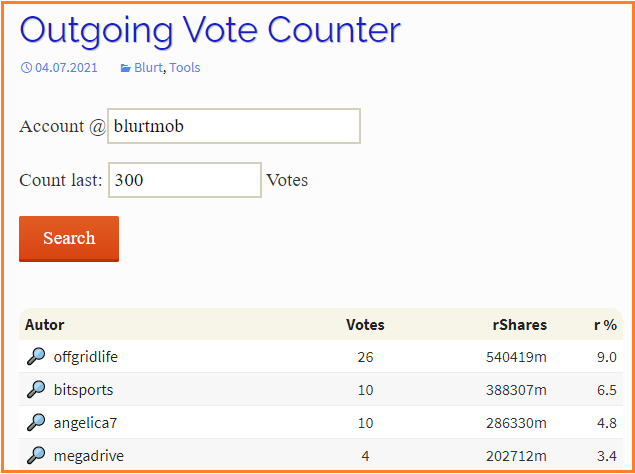 The magnifying glass opens a tab with the votes of the user, a click on the user name opens their profile.
The % column refers to the rShares, i.e. not the percentage number of votes, but how much "money" someone has actually been granted.
And here is the link to the Outgoing Vote Counter.
What can you do with it?
Check your own votes
Of course, in the first place you can take a closer look at your own votes to see if they fit.
Find new friends
Everyone has their own circle of friends, and you might find accounts in other users voting lists that you hadn't noticed before.
Find skimmer
Bad topic, but if Blurt is to have a chance, we have to get a grip on it somehow. I can well imagine that certain accounts are not happy about my new tool.
For example, there's a lot of junk on #deutsch, even posts that aren't even written in German. If you take a closer look at these accounts with the help of the tool, you can quickly see what's going on.

Bookmarks:
Useful Blurt Links updated continuously
Welcome to Blurt [DE] | Welcome to Blurt [EN] Recommended for newcomers