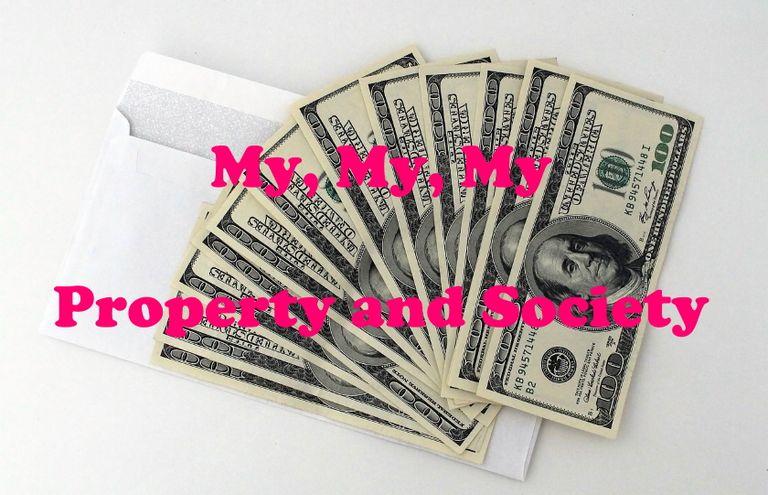 English: Please scroll down.
Meins, Meins, Meins – Eigentum und Gesellschaft
Die letzte Zeit bin ich oft auf Kommentare und auf Posts gestoßen, in denen die Autoren das Recht, mit seinem Eigentum tun oder lassen zu können, was man möchte, als unumstößlich und als Recht mit äußerst hoher Priorität eingestuft haben.
Ich habe eine völlig andere Auffassung zum Eigentum.
Was mich verwundert ist, dass ausgerechnet User sich im Sinne meines ersten Absatzes äußern, von denen mir einige sehr sympathisch sind, die ich mag, und denen ich mich ein bisschen freundschaftlich verbunden fühle.
Daher mache ich mir die Mühe, einmal meinen Standpunkt darzulegen.
Du gehst arbeiten. Du machst dir deinen Rücken kaputt und die Hände schmutzig beim Arbeiten. Du erhältst für deine Arbeit eine bestimmte Summe an Geld. Nun denkst du, dieses Geld sei dein Eigentum. Da hast du falsch gedacht. Denn von dieser Summe Geldes werden dir erst einmal ungefähr 30% für Steuern abgenommen. Mit den verbleibenden 70% kaufst du dir ein Produkt, und schon werden dir noch einmal 19% (in Deutschland) für Steuern abgenommen. Den Rest des Geldes legst zu verzinslich an. Von den Zinsen werden dir noch einmal 25% abgenommen. Nun verschenkst du das Geld an eine Freundin, die dann auf dein versteuertes Geld noch einmal 30% Schenkungssteuer bezahlen muss. Vielleicht hast du noch ein bisschen Geld und möchtest damit Waffen- oder Drogenhandel oder Zwangsprostitution betreiben. Das kannst du zwar machen, aber du wirst dafür bestraft werden und ins Gefängnis gehen.
Nun, meinst du immer noch, dass du mit deinem Geld machen kannst, was du willst?
Auf keinen Fall kannst du das!
Jede Gesellschaft braucht Regeln, damit das Zusammenleben der Menschen funktionieren kann.
Und auch hier auf Blurt brauchen wir Regeln, damit unsere Social Media Plattform mit Gelderwerb-Möglichkeit langfristig funktionieren und existieren kann.
Wir haben hier auf Blurt einen gemeinsamen Reward-Pool.
Du möchtest Regeln, mit denen verhindert wird, dass Plagiate gevotet werden.
Aber du möchtest keine Regeln, wie ein User das Geld, das er aus unserem gemeinsamen Reward-Pool erhalten hat, verwenden darf?
Sicher darf jeder User seine Rewards abheben oder verschenken. Es steht jedem User völlig frei.
Was würdest du aber sagen, wenn ich jeden Tag alle 10 Votes mir selber geben würde?
Du fändest das sicher nicht schön. Wahrscheinlich fändest du das unsozial. Und wahrscheinlich würdest du dir schnell, mit anderen Usern zusammen, Gedanken machen, wie man das verhindern könnte.
Ich fände das auch unsozial. Daher mache ich das auch nicht, obwohl ich mit 10 Selbstvotes am Tag am meisten Geld verdienen könnte.
Wenn das jeder User machen würde, könnte unsere Social Media Plattform nicht funktionieren.
Ich bin schon seit sehr langer Zeit der Meinung, dass wir klare Regeln aufstellen sollten, wie viel Prozent Selbstvotes in Ordnung sind, und ab welcher Menge es nicht mehr in Ordnung ist. Das würde endlich diese moralische Beurteilung beenden. Und wenn User gegen diese Regeln verstoßen, sollten sie genauso sanktioniert werden wie User, die Plagiate posten.
Das Delegieren seiner Blurt-Power ist genauso ein unsoziales Verhalten.
Selbstverständlich meine ich nicht die Delegationen an Projekte, die andere User und das Miteinander auf unserer Plattform fördern.
Ich meine die Delegationen an jegliche Vote-Trading-Services.
Du gibst eine Delegation an diese Services, um mehr Geld zu verdienen. Aber du schmälerst deine Blurt-Power und kannst daher deinem Blurt-Nachbarn nur noch ein schwaches Vote geben. Dein Blurt-Nachbar votet dich aber mit seiner vollen Blurt-Power. Empfindest du dann dein eigenes Verhalten nicht als unsozial?
Ich finde, es ist unsozial!
Ich fand sehr interessant, dass @rycharde sich erinnern konnte, dass es bis zur HF18 auf Steemit keine Möglichkeit zum Delegieren gab. Es hatte niemand vermisst. Und ein prominenter User ist heute nicht mehr erfreut darüber, dass er damals die Einführung von Delegationen unterstützt hat. Er würde es heute wahrscheinlich nicht mehr so tun. Genauso, wie die Möglichkeit für Delegationen einmal geschaffen wurde, können wir sie auch wieder entfernen.
Von einigen Usern kommt folgendes Argument: Wenn wir Delegationen entfernen, werden die Votes bei Services gekauft.
Ich weiß nicht, ob ich mich falsch erinnere, aber ich dachte immer, dass solche Vote-Verkaufs-Services auf Blurt von Anfang an verboten sind. Falls dies noch nicht geschehen sein sollte, sollten wir unsere AGB so ändern, dass Vote-Verkaufs-Services verboten sind. @rycharde, wärst du bitte so freundlich, uns zu sagen, wie die Regelungen zu Vote-Verkaufs-Services auf Blurt sind. Danke!
Meine Konsequenz zur aktuellen Situation mit den Delegationen ist, dass ich keine User mehr voten werde, die an Vote-Trading-Services jeglicher Art delegiert haben, da ich dieses Verhalten unsozial finde.
Erfreulicherweise handeln Herr @r2cornell und @practicalthought schon genauso.
Wenn es für dich zutrifft, und du verwendest den tag #iduvts, wirst du von mir bevorzugt beachtet. #iduvts bedeutet: Ich benutze keine Vote-Trading-Services.
Am Sonntag in der Kneipe werde ich die Gäste bitten, dieses Kürzel zu Beginn ihrer Kommentare einzufügen.
Viele Grüße, euer @double-u


English

My, My, My - Property and Society
Lately I have often come across comments and posts in which the authors have classified the right to do or not do what one wants with one's property as irrevocable and as a right with extremely high priority.
I have a completely different view on property.
What astonishes me: Surprisingly, those users express themselves in the sense of my first paragraph, some of whom are very sympathetic to me, whom I like, and to whom I feel a bit of a friendship.
Therefore I make the effort to explain my point of view once.
You go to work. You break your back and get your hands dirty working. You receive a certain amount of money for your work. Now you think that this money is your property. You thought wrong. Because from this sum of money first of all about 30% is taken from you for taxes. With the remaining 70% you buy a product, and again 19% (in Germany) are taken from you for taxes. The rest of the money you invest with interest. From the interest 25% are taken from you again. Now you give the money away to a friend, who then has to pay another 30% gift tax on your taxed money. Maybe you still have some money and want to use it for arms or drug dealing or forced prostitution. You can do that, but you will be punished and go to jail.
Well, do you still think that you can do whatever you want with your money?
No way you can!
Every society needs rules so that people can live together.
And here on Blurt, we also need rules so that our social media platform with money-making opportunities can function and exist in the long term.
We have a common reward pool here on Blurt.
You want rules that prevent plagiarism from being voted on.
But you don't want rules about how a user is allowed to use the money he received from our shared reward pool?
Sure, every user is allowed to withdraw or give away their rewards. It's completely up to each user.
But what would you say if I gave all 10 votes to myself every day?
I'm sure you wouldn't like that. Probably you would find that antisocial. And probably you would quickly, together with other users, think about how to prevent this.
I would also find that antisocial. That's why I don't do it, even though I could make the most money with 10 self votes a day.
If every user would do that, our social media platform could not function.
I've been of the opinion for a very long time that we should set clear rules about what percentage of self-votes are okay, and at what amount it's no longer okay. That would finally put an end to this moral judging. And if users break these rules, they should be sanctioned just like users who post plagiarism.
Delegating one's blurt power is just as much anti-social behavior.
Of course, I don't mean delegations to projects that promote other users and togetherness on our platform.
I mean delegations to any vote trading services.
You give a delegation to these services to make more money. But you reduce your blurt power and therefore you can only give a weak vote to your blurt neighbor. Your blurt neighbor, however, votes you with his full blurt power. Doesn't this make you feel that your own behavior is antisocial?
I think it is antisocial!
I found it very interesting that @rycharde could remember that there was no option to delegate until HF18 on Steemit. No one had missed it. And a prominent user today is not pleased that he supported the introduction of delegation back then. He probably wouldn't do it the same way today. Just as the possibility for delegations was created once, we can remove it again.
The following argument comes from some users: if we remove delegations, votes will be bought at Services.
I don't know if I'm misremembering, but I always thought that such vote-selling services were forbidden on Blurt from the beginning. If this hasn't happened yet, we should change our AGB so that vote-selling services are forbidden. @rycharde, would you please be so kind to tell us what are the regulations about vote-selling services on Blurt. Thanks!
My consequence to the current situation with delegations is that I will no longer vote users who have delegated to vote trading services of any kind, as I find this behavior anti-social.
Fortunately, Mr @r2cornell and @practicalthought are already acting the same way.
If it applies to you, and you use the tag #iduvts, you will get preferential attention from me. #iduvts means: I don't use vote trading services.
On Sunday at the pub, I'll ask guests to add this abbreviation at the beginning of their comments.
Many greetings, your @double-u