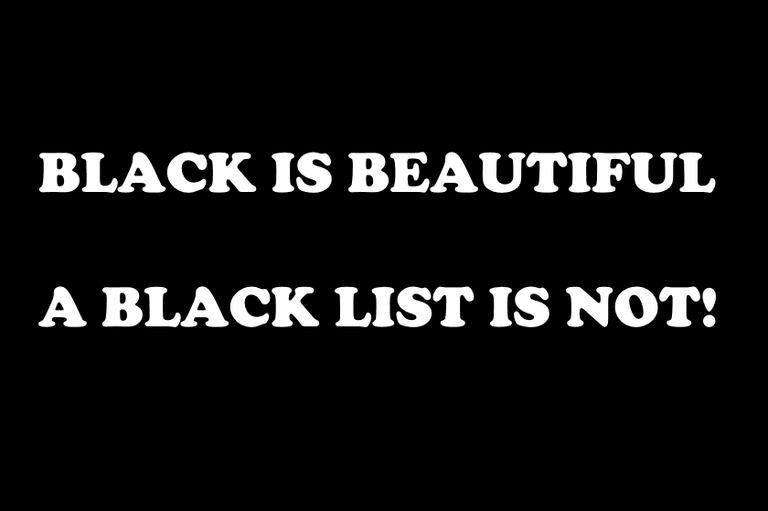 English: Please scroll down.
 
Liebe Blurt-Freunde,
im Blurt-Discord war eine Diskussion zwischen zwei Zeugen über die Sinnhaftigkeit von einer Schwarzen Liste entstanden. Die beiden Diskutanten drehten sich im Kreis, wiederholten sich mehrfach und kamen zu keiner Verständigung.
Ich trug ein paar Gedanken bei und bat aber zweimal darum, dieses Thema nicht im Discord sondern auf unserem Blurt-Frontend zu besprechen, damit alle User teilnehmen können. Denn viele Blurt-User sind nicht auf Discord.
Inzwischen gibt es zu diesem Thema folgende Posts:
https://blurt.blog/blurtgerman/@hannianne/my-thoughts-on-a-blacklist-and-whitelist-for-blurt
https://blurt.blog/blurtgerman/@ciderjunkie/wir-muessen-reden-black-and-whitelists
https://blurt.blog/witness-discussion/@imransoudagar/blurt-discussion-how-to-deal-with-fraud-plaigraism-and-copyright
Edit
Es wurden noch zwei weitere Artikel zu diesem Thema gepostet:
https://blurt.blog/blurt/@freakeao/no-matter-the-color-of-the-list-no-importa-el-color-de-la-lista
https://blurt.blog/blurt/@practicalthought/on-private-property-and-privacy
Wenn neue Post zu diesem Thema hinzu kommen, werde ich die Links hier noch ergänzen. Bitte informiert mich in den Kommentaren, wenn euch ein Post zu diesem Thema auffällt.
Ich möchte ganz anders an dieses Thema heran gehen als es die oben genannten Autoren getan haben.
Vor fast einem Jahr gab es im Kreis der Zeugen schon einmal die Befassung damit, wie man mit Missbrauch umgeht. Wahrscheinlich war ich damals noch nicht Zeuge, denn dies ging vollkommen an mir vorüber. Ich konnte erst jetzt, nachdem ich darauf hingewiesen wurde, diese alten Diskussionen nachlesen.
Wenn ich mich richtig erinnere, führten die damaligen Diskussionen auch zu einem Ergebnis und sogar zu einer Umsetzung. Ich erinnere mich ganz blass, dass es eine Zeit lang nicht mehr möglich war, bestimmte blockierte Accounts zu voten. Bitte korrigiert mich, falls ich mich falsch erinnere.
Damals wurden auch bestimmte Regeln aufgestellt und Abläufe definiert.
Ich finde, um dieses Thema wirklich umfassend besprechen zu können, wären erst einmal ein paar Informationen aus der Vergangenheit nötig.
Daher rufe ich nach @jacobgadikian, @megadrive und @rycharde, die bestimmt in die damaligen Vorgänge einbezogen waren.
Wurde damals eine Abstimmung unter den Zeugen vorgenommen?

Wie konnte damals der Vote-Button von blockierten Accounts entfernt werden? War dazu für jeden Account eine HF erforderlich?

Welche Art von Missbrauch hatten die damals blockierten Accounts begangen?

Wer hat darüber entschieden, welche Accounts blockiert wurden?

Was hat dazu geführt, dass man die Praxis des Blockierens von bestimmten Accounts anscheinend wieder beendet hat?
Ich war zwar in die damaligen Vorgänge nicht einbezogen, erinnere mich aber recht gut an mehrere Chats, die ich mit Jacob zum Thema Missbrauch hatte. Ich denke, das dürfte etwa 9 Monate her sein.
Wenn ich Jacob damals richtig verstanden hatte, erklärte er mir, dass das Aussaugen des Reward-Pools durch einige Accounts dramatisch war. Die betreffenden Accounts waren anscheinend bekannt.
6.) Wurden die Namen dieser Accounts jemals öffentlich gemacht?
7.) Betreiben diese Accounts den Missbrauch auch heute noch?
8.) Wie betreiben diese Accounts Missbrauch?
Ich denke nicht, dass wir uns beim Thema Missbrauch damit beschäftigen müssen oder sollen, wenn ein User die Quelle von einen Bild nicht angibt, oder ob ein Foto ohne Text Votes verdient, oder ob ein Post lang oder kurz sein soll, usw.
Dies liegt in der Entscheidung des Lesers, ob er für ein Foto ohne Text voten möchte oder nicht. Ich finde zum Beispiel, dass ein Foto auch ohne Text spricht.
Wenn mir auffällt, dass ein User Text aus einer fremden Quelle kopiert hat und auf Blurt vorgibt, dass dies sein eigener Text sei, dann kann ich einen Kommentar hinterlassen, dass mir dies aufgefallen ist. Ich werde diesen Post dann nicht voten, und andere Leser werden diesen Post dann wahrscheinlich auch nicht voten. Problem erledigt.
Ich befürworte das Blockieren von Accounts in folgenden Fällen:
Wenn ein Blurt-User die ganze Identität eines anderen Menschen gestohlen hat und vorgibt, dieser Mensch zu sein.
Bei Darstellung von strafrechtlich relevantem Inhalt, zum Beispiel das Zeigen einer echten Vergewaltigung, echten Folterung oder eines echten Mordes.
Ich denke, wir sollten uns bei dem Thema Missbrauch wirklich konzentrieren auf die Fälle, in denen unser Reward-Pool systematisch und im großen Umfang geplündert wird.
Das Aufdecken dieser Fälle wird dadurch erschwert, dass ein Mensch beliebig viele Accounts besitzen darf, mit denen er sich selbst voten kann. Daher bin ich schon immer ein Verfechter der Idee, dass ein Mensch auch nur einen Account besitzen darf. Das würde aber nur mit einer Verifizierung prüfbar sein, und diese wird von vielen Blurt-Usern abgelehnt. In diesem Post hatte ich damals meine Wünsche formuliert.
Es gibt aber User auf Blurt, die decken solche Konstrukte auf, dass da ein User noch mindestens 20 weitere Acounts betreibt und sich mit diesen Accounts selbst votet.
Solche Fälle sollten wir gemeinsam besprechen und den Reward-Dieben das Handwerk verderben.
Nicht diesen Klein-Klein-Kram!
Aber wirklich effektiv können wir dem systematischen Plündern des Reward-Pools im großen Umfang nur mit künstlicher Intelligenz begegnen. Das bedeutet, wir brauchen Menschen, die so etwas programmieren, wie es Steemchiller mit seinem "CSI" getan hat.
Wenn unser Code dann zum Beispiel ermittelt, dass Account A immer nur den Account B votet und keine anderen Accounts, dann könnte zum Beispiel eine automatische Kürzung des Vote-Wertes beim zweiten Vote auf 80%, beim dritten auf 60%, beim vierten auf 40%, usw. des eigentlichen Vote-Wertes stattfinden. Der Code könnte intensives Selbstvoting und Kreisvoting entdecken und automatische Kürzungen vornehmen. Selbstverständlich müssen wir gemeinsam entscheiden ab wann welche Kürzungen vorgenommen werden sollen; also wir müssen uns in diesen Punkten Regeln geben.
Nun, wer programmiert diese Codes?
So, das ist meine Meinung zu diesem Thema Missbrauch.
Liebe Grüße, euer @double-u


English

Dear Blurt friends,
in the Blurt Discord a discussion had arisen between two witnesses about the meaningfulness of a blacklist. The two discussants went around in circles, repeated themselves several times and came to no understanding.
I contributed a few thoughts and asked twice to discuss this topic not in Discord but on our Blurt frontend so that all users can participate. Because many blurt users are not on Discord.
In the meantime there are the following posts about this topic:
https://blurt.blog/blurtgerman/@hannianne/my-thoughts-on-a-blacklist-and-whitelist-for-blurt
https://blurt.blog/blurtgerman/@ciderjunkie/wir-muessen-reden-black-and-whitelists
https://blurt.blog/witness-discussion/@imransoudagar/blurt-discussion-how-to-deal-with-fraud-plaigraism-and-copyright
Edit
There were two more articles posted on this topic:
https://blurt.blog/blurt/@freakeao/no-matter-the-color-of-the-list-no-importa-el-color-de-la-lista
https://blurt.blog/blurt/@practicalthought/on-private-property-and-privacy
If new post on this topic is added, I will add the links here. Please let me know in the comments if a post on this topic catches your eye.
I want to approach this topic very differently than the authors above did.
Almost a year ago, there was already a discussion in the Witness circle about how to deal with abuse. Probably I was not a witness at that time, because this completely passed me by. I was able to read up on those old discussions only now after it was pointed out to me.
If I remember correctly, the discussions at that time also led to a result and even to an implementation. I faintly remember that for a while it was no longer possible to vote on certain blocked accounts. Please correct me if I remember wrong.
At that time, certain rules were also established and procedures defined.
I think to really discuss this topic comprehensively, some information from the past would be needed first.
So I call out to @jacobgadikian, @megadrive and @rycharde who I'm sure were involved in what was going on at the time.
1.) was a vote taken among the witnesses at that time?
2.) how could the vote button be removed from blocked accounts at that time? Did this require a HF for each account?
3.) what kind of abuse had been committed by the accounts blocked at that time?
4.) who decided which accounts were blocked?
5.) what led to the apparent end of the practice of blocking certain accounts?
While I was not involved in what was going on at the time, I remember quite well several chats I had with Jacob on the subject of abuse. I think that was probably about 9 months ago.
If I understood Jacob correctly at the time, he explained that the sucking of the reward pool by some accounts was dramatic. The accounts in question were apparently known.
6.) were the names of these accounts ever made public?
7.) are these accounts still abusing today?
8.) how are these accounts abusing?
I don't think we need to or should concern ourselves with the issue of abuse when a user doesn't state the source of a picture, or whether a photo without text deserves votes, or whether a post should be long or short, etc.
This is up to the reader to decide whether or not to vote for a photo without text. For example, I think a photo speaks even without text.
If I notice that a user has copied text from someone else's source and pretends on Blurt that this is their own text, then I can leave a comment that I noticed this. I will then not vote that post, and other readers will then probably not vote that post either. Problem solved.
I support blocking accounts in the following cases:
When a Blurt user has stolen someone else's entire identity and is pretending to be that person.
When depicting criminal content, for example showing a real rape, real torture or real murder.
I think we really need to focus on the abuse issue on the cases where our reward pool is being systematically plundered on a large scale.
Detecting these cases is made more difficult by the fact that a person is allowed to have as many accounts as they want with which to vote themselves. That's why I've always been a proponent of the idea that a person should only be allowed to own one account. However, that would only be testable with verification, and that is something that many Blurt users reject. In this post I had formulated my wishes at that time.
But there are users on Blurt, who uncover such constructs, that a user runs at least 20 other accounts and votes himself with these accounts.
We should discuss such cases together and stop the reward thieves.
Not this small stuff!
But we can really effectively counter the systematic looting of the reward pool on a large scale only with artificial intelligence. That means we need people to program something like Steemchiller did with his "CSI."
If our code then determines, for example, that Account A only ever votes for Account B and no other accounts, then there could be, for example, an automatic reduction of the vote value on the second vote to 80%, on the third to 60%, on the fourth to 40%, and so on of the actual vote value. The code could detect intensive self voting and circle voting and make automatic cuts. Of course, we have to decide together from when which cuts should be made; so we have to give ourselves rules on these points.
Now, who programs these codes?
So, that is my opinion on this subject of abuse.
Love, your @double-u