Contest Winners: Decorating Blurt for Christmas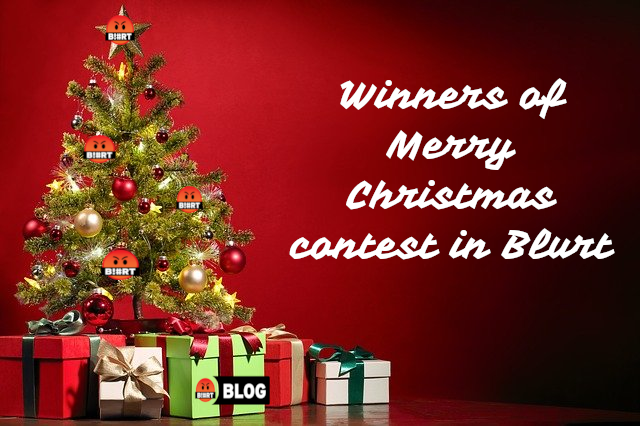 ---
---
The month of December is a wonderful opportunity to celebrate with friends and with the family. It is also a beautiful opportunity to help others and share our best to move positive energy.
Blurt is a beautiful platform that brings together users who every day are encouraged to write original and creative content to give strength and value to this chain. Each of us can make a difference, so the invitation is to share original content and respect the copyright of others, to give positive value to Blurt.
Since I have organized contests on Blurt, I have always been able to enjoy each participation and this has been a great opportunity to meet other users, who with passion, are encouraged to participate. For this contest I am very happy because I could see the work of several very interesting users.
We will celebrate Christmas with joy, optimism and positive mind with the Blurt family. Therefore, I invite all members of the community to participate in this contest, "Decorate your house with Blurt".
Winners
Congratulations to all, I want to thank you for having encouraged to participate in this contest.
Transfers

Thank you for the collaboration and willingness of @blessed-girl to select the winners of this contest.
---
Thanks Blurt, I love you all.
Good vibes.
Ganadores del concurso: Adornando a Blurt de navidad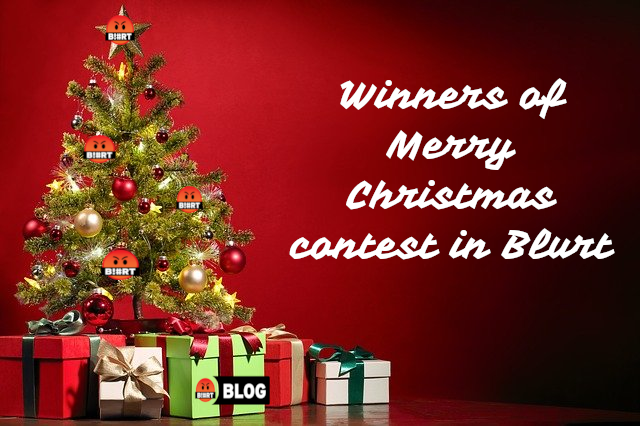 ---
---
El mes de diciembre es una maravillosa oportunidad para celebrar entre amigos y acompañados de la familia. También es una hermosa oportunidad para ayudar a otros y compartir lo mejor de nosotros para mover energía positiva.
Blurt, es una hermosa plataforma que reúne usuarios que cada día se animan a escribir contenido original y creativo para darle fuerza y valor a esta cadena. Cada uno de nosotros podemos hacer la diferencia, por ello la invitación es a compartir contenido original y respetar el derecho de autor de otros, para darle valor positivo a Blurt.
Desde que he organizado concursos en Blurt, siempre he podido disfrutar de cada participación y esta ha sido una grandiosa oportunidad para conocer a otros usuarios, quienes con pasión, se animan a participar. Para este concurso estoy muy alegre porque pude ver el trabajo de varios usuarios muy interesantes.
Vamos a celebrar la navidad con alegría optimismo y mente positiva con la familia Blurt. Por ello, invito a todos los miembros de la comunidad a participar en este concurso, "Adorna tu casa con Blurt".
Ganadores
Felicitaciones a todos, quiero darles las gracias por haberse animado a participar, en este concurso.
Transferencias

Gracias por la colaboración y buena disposición de @blessed-girl para seleccionar a los ganadores de este concurso.
---
Gracias Blurt, los quiero a todos.
Buena vibra.
---
Imagen: Pixabay
Foto: Propia tomada de mi dispositivo de teléfono
---
Invitación
En mis publicaciones estoy dejando un boleto especial para participar en el PUB de unos buenos amigos aquí en En Blurt .
Invitation
In my publications, I am leaving a special ticket to participate in the pub of some good friends here in in blurt .
---
Toma tu boleto de Entrada para el PUB todos los domingos
Esta entrada si la deseas debes compartir un comentario en esta publicación y participar los domingos en el PUB, para hacer amigos, conocer de actividades que se hacen en Blurt y en otras redes y estar dispuesto a pasar un momento diferente entre amigos.
Te comparto aquí el PUB de esta semana, para que leas de que se trata:
Take your ticket for the pub every Sunday

This entry If you want to share a comment on this publication and participate on Sundays in the pub, to make friends, know about activities that are made in Blurt and in other networks, and be willing to spend a different moment between friends.

I share this week's pub here, so you can read that it is: 2021-KW 51 ~ Kneipe 24/7 ~ Treffpunkt ~ Dauer-Kneipe ~ Ohne Zusammenhang / Without Any Context ~ [GER/ENG]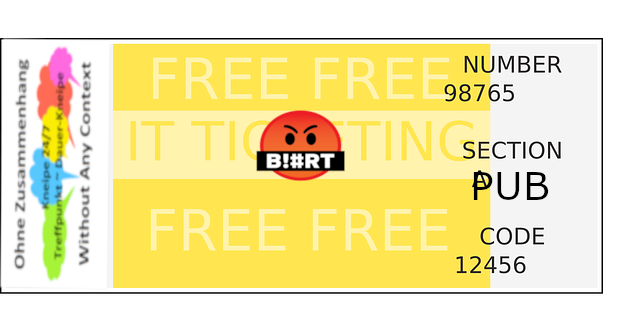 imagen
---
---
---
Historia original // Original story
---
Blurt eres tú, soy yo, blurt somos todos // Blurt is you, it is me, blurt we are all
Que nadie apague tu luz interior // Let no one turn off your inner light
Información Importante:
---