I have been watching a lot of K-dramas since last year, 2020, was a year of binge watching great drama series for me. The long hours of reading subtitles were bearable but whenever the characters would have scenes that involve eating, I would instantly crave for something to eat too. I'm glad that there's a Korean grocery store near our apartment. My watching of kdramas has also made me try out different Korean dishes, there were even times when I ate all of my meals with Kimchi on the side. My consumption of Kimchi also made me try to make my own, I did. A few months ago, I have tried making Kimchi for the first and also the last time since then. It was good, but not as good with the Kimchi we buy from the Korean store. 😅
My attempt to make homemade Kimchi
There are a lot of recipes from the Internet, I've read blog posts and even watched videos on how to prepare the ingredients. The preparation and waiting time could take almost half of the day, it's best to start working on it early in the morning.
Ingredients:
2 medium Napa cabbage
2 tbsp red pepper paste
5 cloves garlic
1 medium onion
1 tsp Ginger
1 tsp sugar
2 tbsp salt
1 tsp fish sauce
2 medium scallions, chopped
1 medium carrot, thinly sliced
The first step is preparing the cabbage, I used a lot of containers and mixing bowls in washing the cabbage and rubbing the leaves with salt. After rubbing salt in between the leaves, I washed the cabbage and left it for 30 minutes. I did this process twice until the cabbage softens.
The second step is making the paste, some recipes really made it from scratch but I am not that confident. I used a store bought red pepper paste and mixed it with the diced garlic, onion, ginger, sugar, and fish sauce. To properly mix those ingredients with the red pepper paste, I used a blender to make a paste out of it. The reason why it was the last time I made Kimchi was because my blender was broken after using it. 😂And I'm still not able to purchase a new one.
For the last step, which is simply applying the paste in between the cabbage leaves, make sure that the cabbage was drained properly of water. I prefer Kimchi with thick texture, in the fermentation process it will eventually water again so it's best to make sure it's dry before applying the paste. I layered the chopped scallions and sliced carrots in between the cut into half cabbages. After this, you can put it aside and wait for a few hours as it ferments. You can consume it already but the fermentation will give you better tasting Kimchi.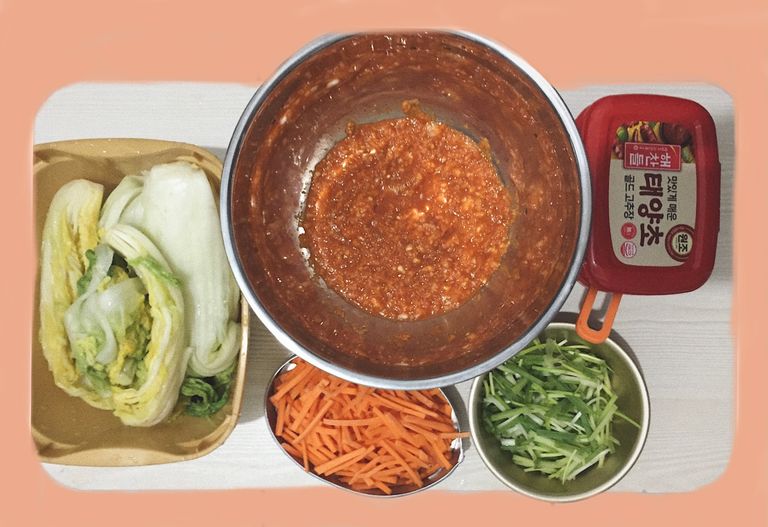 We consumed the homemade Kimchi within a week, it tastes great but I'd still choose to just buy from the store near us. My attempt to make my own Kimchi was a fun experience, from the K-dramas that I have watched, families and friends treat Kimchi making as their quality time spent with each other.
Kimchi fried rice, best breakfast meal 🍳
This is the reason why we keep stocking Kimchi in our refrigerator. Aside from it being a delicious side dish, it's best to mix with fried rice. I usually add a lot of Kimchi in the fried rice since I have become more tolerable in eating spicy food. I usually eat this fried rice with a fried egg and longganisa. You can also dice tomatoes to garnish this meal, something that I forgot to do.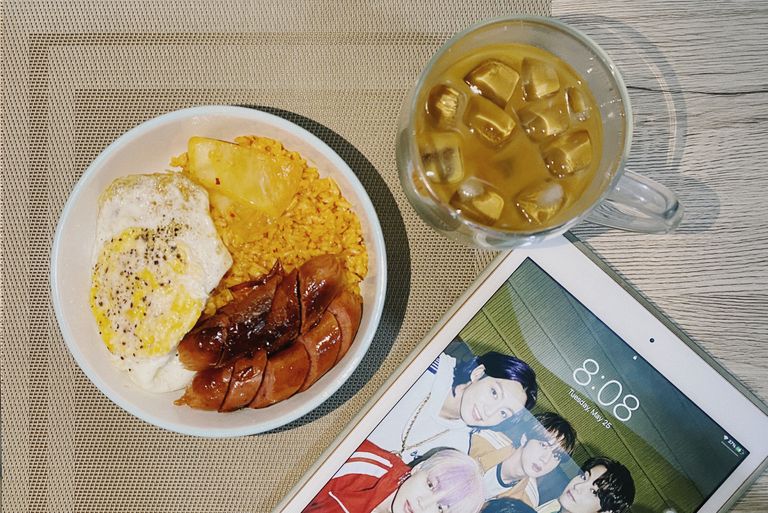 Of course, an iced coffee would be the perfect match for this greasy and spicy breakfast meal. I have also been practicing my drawing skills. For the past days, I have noticed that I've been enjoying drawing food as my subject. Here's a digital illustration of Kimchi fried rice that I made using Autodesk Sketchbook.