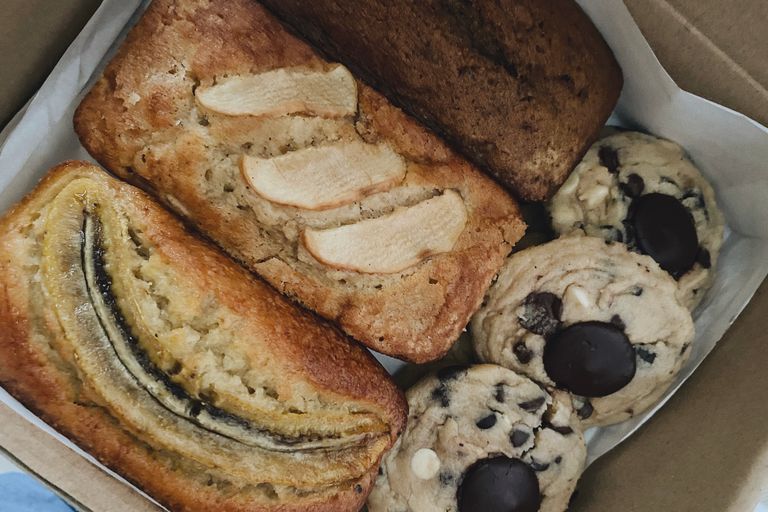 Last month, I bought a box of treats from a bakeshop I found in Instagram. The cookies and variety of loaves they offer look very delicious. The cookies were so sweet, perfect to be eaten with a cup of coffee. Among the loaves I have tried, my favorite was the banana loaf, plus look how the slice of banana on top made the loaf so beautiful. I have tried baking banana bread in the past, it's an easy recipe, hard to mess up. What surprised me when I searched for recipes online was that the ratio of flour and vegetable oil was 2:1, that's a lot of oil for a piece of bread. One of the reasons why I started baking is that it allows me to have control over the amount of ingredients I'll use, I can tweak it so that it'll lessen the guilt of munching on a baked good, one after another. 😅 So, I have tried baking banana bread with less vegetable oil and sugar. It was okay, it's not too dry and it's not too sweet.
I like that banana bread I made. But yesterday, I wanted to try another version of this delicious easy baked treat. Instead of using vegetable oil, I used homemade peanut butter as substitute. Some people actually do that, they substitute vegetable oil with fruit/vegetable purée. The peanut butter that I used was made by my auntie, she makes peanut butter for a living. I prefer homemade peanut butter than those you can but from grocery stores because it's much tastier. I was worried if that'll make the loaf dry because it lacks vegetable oil, but it turned out great. It was such a treat for me since I love eating toast with peanut butter spread and sliced banana on top.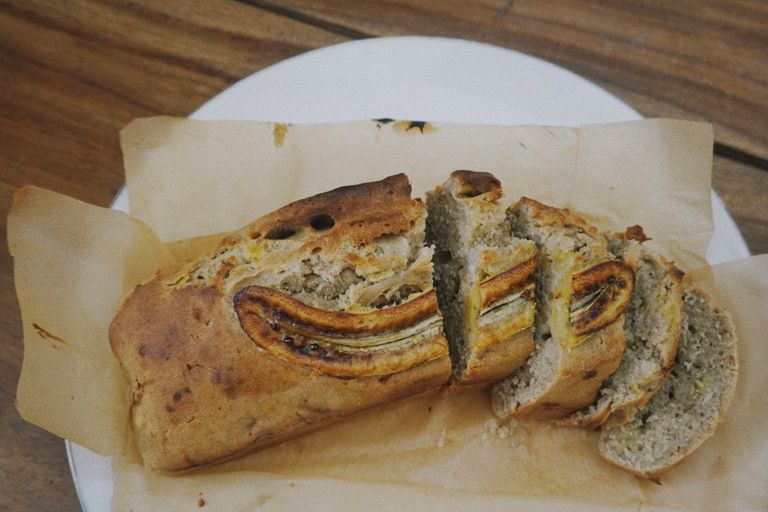 I used a lot of mashed banana too, just in case the oil from the peanut butter can't make the loaf moist enough. The first time I made a banana bread, my motivation was to save the overly ripe bananas we bought. You can use less sugar when the bananas you use are very ripe, that'll do the magic of making the loaf sweet to taste.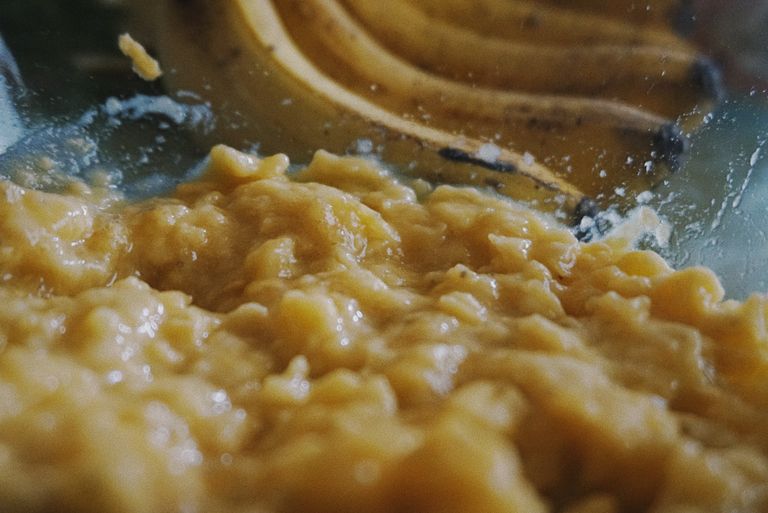 Ingredients :
4 bananas, mashed
2 cups of flour
2 eggs
1 cup of milk
1/2 cup brown sugar
1 tsp baking soda
1 tsp baking powder
1 pinch of salt
1 tsp vanilla syrup
1 tsp peanut butter oil
2 tbsp peanut butter spead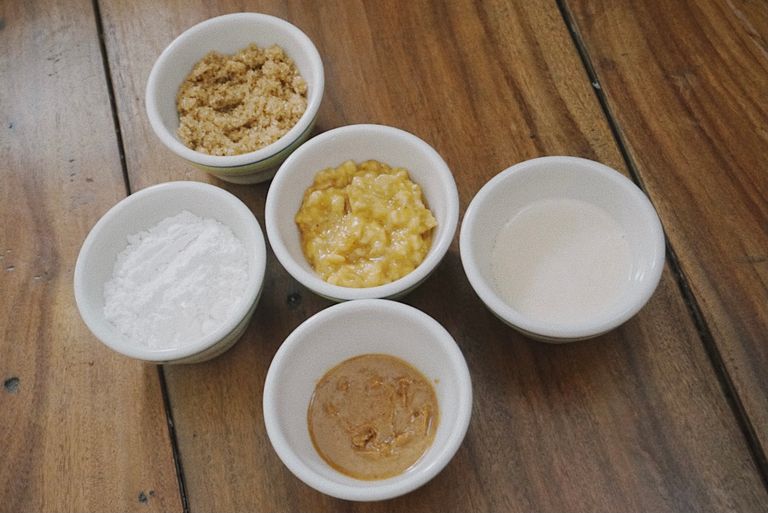 ---
It's been three months since I last bake, I forgot that I have to mix the dry ingredients first before adding the wet ingredients. 😅 I was just aiming to get a photo of all the ingredients in the bowl. To avoid having lumps in the mixture, it's best to mix the dry ingredients first and then add the egg, milk, and mashed bananas in little amounts.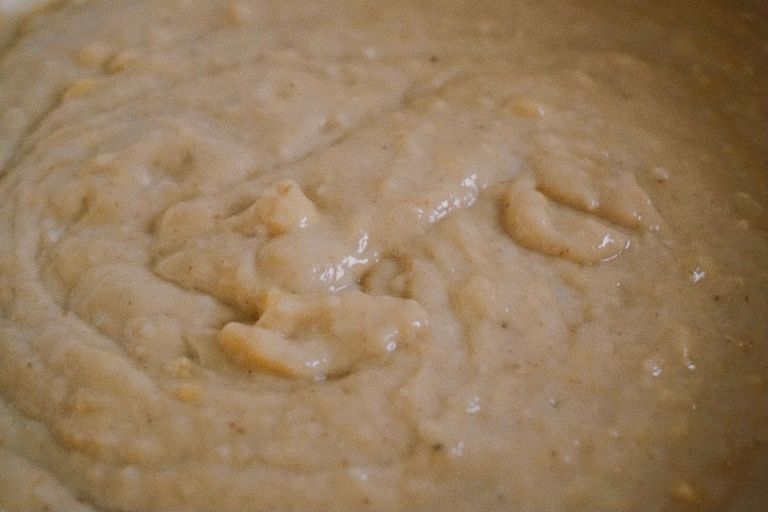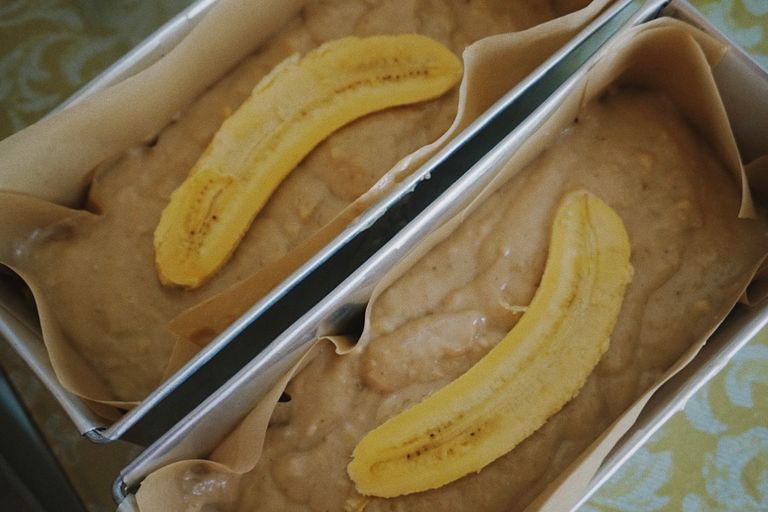 ---
I was able to make two loaves with the amount of ingredients I've used. Just like the one I bought last month, I put a half sliced banana on top to make it beautiful 🤗. The times I have made breads taught me that it'll rise when it goes in a heated oven. This time, I made sure that there's enough space so the mixture won't overflow and won't dirty the oven.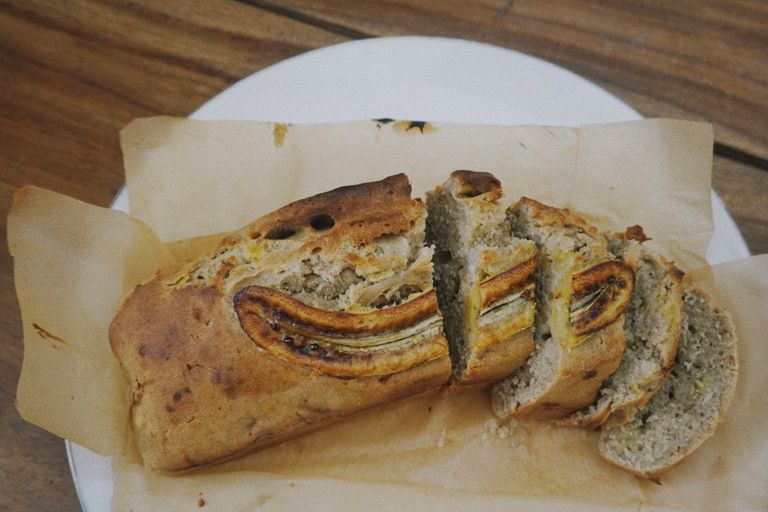 After taking out the loaves from the oven, I left it to cool. A few minutes later, I sliced one of the loaves and asked my mama to taste it. She immediately asked if I put peanut butter on it. 😂She said that the taste of peanut butter was subtle but it's there. Yesterday was good, I was able to bake again after three months and I got a taste of this baked treat at home.