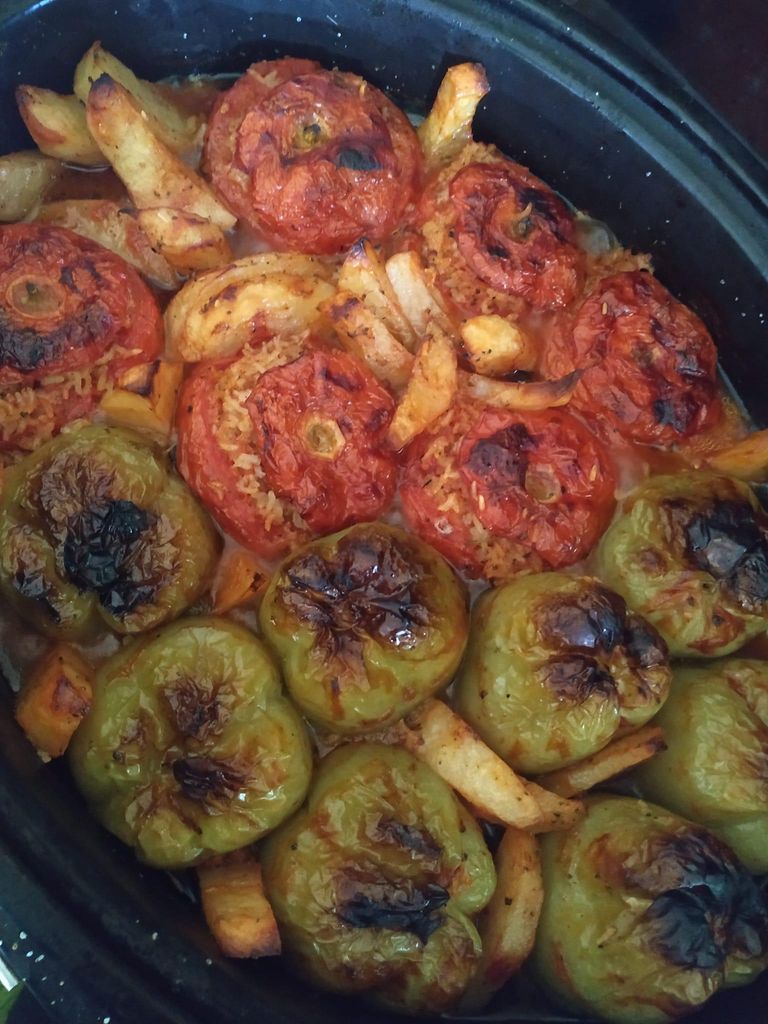 Good morning my friends and happy weekend . I had so long to create this food but today is the day 😜
Wanna try this??? Follow me
Ingredients
400 gr. tomato juice
250 gr. glutinous rice
5 tomatoes, ripe
5 green peppers
2 onions, finely chopped
2 sk. garlic, finely chopped
10-12 mint leaves, finely chopped
10 basil leaves, finely chopped
Or a bunch of parsley, finely chopped
Salt
Pepper
100 ml olive oil
150-200 ml of water, lukewarm
Preparation
1
Rinse the tomatoes, peppers and with a knife cut the stalks from their bases.
2
Then, with a spoon, clean the flesh from the tomatoes, throw them in a multi and mash. The spores from the peppers are simply removed by hand (if we wish to use them, we also add them in the multi).
3
Then, cut the underside of the vegetables a little, so that a base is created so that they can stand. Once cut, place them in a large oven pan measuring 30x26 cm.
4
In a large bowl, add the onion, garlic, fresh tomato, rice, herbs, tomato juice, 50 ml olive oil and mix well with a tablespoon.
5
Immediately after, we fill our vegetables with the rice with a tablespoon and whatever excess filling we add to the pan scattered. Pour in the pan a little olive oil, lukewarm water and season with salt and pepper.
6
Finally, cover the stuffing with their stalks, wrap the pan with foil and bake in a preheated oven at 170 ° C in the air for 1 hour and 30 minutes. During the last 15 minutes of baking, remove the foil.
7
Once the fillings are ready, remove them from the oven, leave them to cool for 10 minutes and then serve.
Stay safe and healthy my friends and take care of your people
My best wishes from Greece