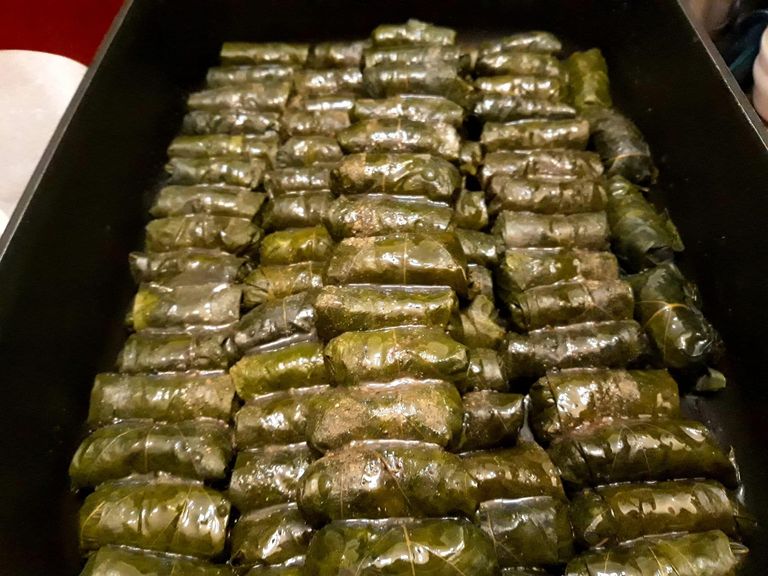 Good morning my friends and happy week , super traditional food for today that if you try it you will love it
Let's do it together
Ingredients
400 gr. Carolina rice
250 gr. vine leaves + extra for cooking
2 bunches of fresh onions, finely chopped
1-2 sc. garlic, finely chopped
1 onion, finely chopped
400 ml of water
250 ml olive oil
1/2 bunch dill, finely chopped
1/2 bunch mint, finely chopped
1/2 bunch parsley, finely chopped
Juice and zest of 1 lemon
Salt
Pepper
Preparation
1
Boil the vine leaves in boiling water for 2-3 minutes and after they boil, remove them with a slotted spoon and leave them to cool.
2
At the same time, heat a large saucepan over medium heat, add half the amount of olive oil, chives, raisins, garlic and cook for about 7-8 minutes, until caramelized.
3
Then add the rice and sauté for 4-5 minutes.
4
When the sautéing is complete, add the water to the pot and lower the heat, so that the rice simmers for 7-8 minutes.
5
Once the rice is ready, remove the pan from the heat, let the rice cool and then add the fresh herbs, zest and lemon juice, season with salt and pepper and mix gently with a wooden spoon.
6
Then, place a vine leaf on the work surface and place 1 tbsp. from the filling in the center of the vine leaf.
7
Then, fold the edges of the vine leaf inwards and wrap it in a roll. Repeat the same procedure for the other vine leaves.
8
After wrapping the dolmadas, place 5-6 vine leaves on the bottom of a pot and place the dolmadas next to each other on top.
9
Finally, pour the remaining oil into the pot, add boiling water, until it completely covers the dolmadas, place a plate on top, cover the pot and simmer over medium to high heat for 40-50 minutes.
10
When the dolmadas are ready, remove them from the heat and serve.
Stay safe and healthy my friends and take care of your people
My best wishes from Greece