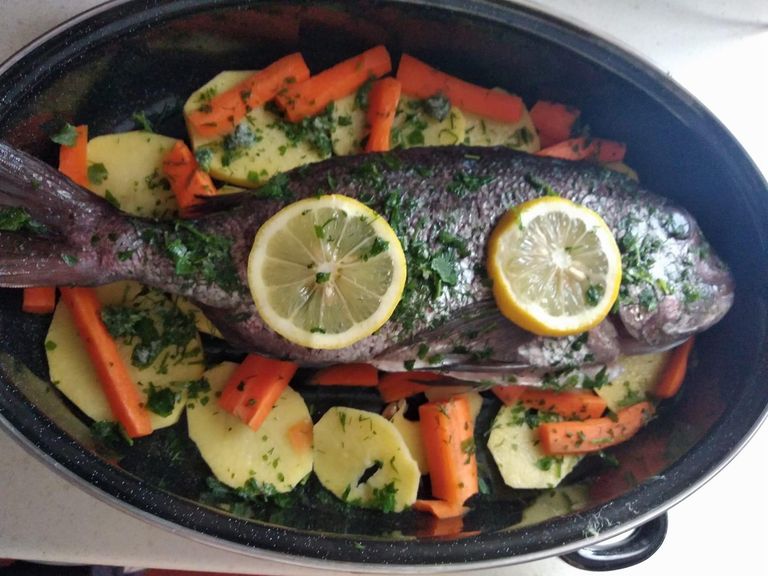 Good morning my friends and happy weekend, do you like fish ???? Let's make something different for today , follow me
Ingredients
1 medium fagri (this is 1/3 of the fish, since the whole was about 5 kg. So it's the tail! The rest was stored in the preservation to be cooked the next day when there will be more of us)
Potatoes cut into slices about one centimeter thick (optional)
1 cup of olive oil
Mixture for fish (at the spice shop). If you do not have, mix in a bowl salt, pepper, oregano, thyme, basil a pinch of cumin and chopped parsley
2-3 large lemons (juice)
2 large cloves garlic (optional)
Preparation
I prepare the herbs
In a bowl, mix the salt, pepper, oregano, thyme, basil, cumin and chopped parsley.
Add a little olive oil and mix well to become a cream.
I rub my fish with this mixture.
Beat the oil with the lemon juice (set aside).
In a deep disposable pan (so as not to wash in the summer afterwards), I spread the salted potatoes, with a little oregano and garlic.
I spread my fish in the middle, on top of the potatoes and I pour over the beaten lemon oil. I add a cup of water.
I cover with foil
Bake in a preheated oven at high temperature for the first 15 minutes. Then continue at 180 for about an hour, until the potatoes are cooked and melted (depending on the oven) and always covered.
Serve with a nice green salad or any other of your choice.
Have a good appetite!
Stay safe and healthy my friends and take care of your people
My best wishes from Greece