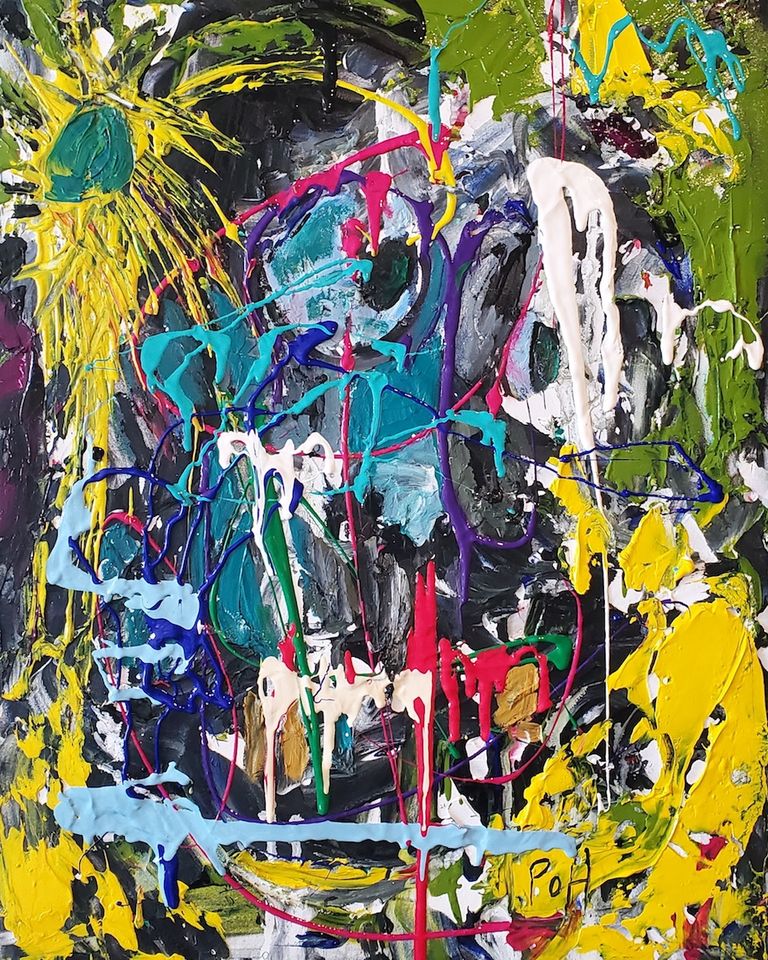 If I Must Live Life Feeling Trapped in Some Kind of Mineral, Can it Have Pretty Veins Please? 2022. Acrylic on canvas, 18 x 24"
I received word this morning that I did not get the dream job as resident artist at our community art center. It was to be sponsored for two years by a billionaire's grant offered up to 300 "artists" across NY State who were willing to partner with a local non-profit organization.
For any of you who also hope a lottery grant ladder can help you climb out of an economic tar pit, I offer the first round questions and my answers that might be of use. Just tweak the subjects and change the names. Maybe you'll have better luck:)
Describe your practice as an artist, culture bearer, or culture maker, including how long you have been a practicing artist. (Required)
I am predominantly a painter and writer. In 2008 I began to show my art publicly. Since then I have funded, exhibited and curated in traditional and non-traditional art spaces. I have created and supported inspiring connections among artists around the world and at home exhibiting their work to the benefit of my community. I am a naïve, intuitive painter and work with a desire toward self-liberation, yet also communion. Success for me is to remain curious and free while exploring technique guided by my own truth. Artistically, I strive to perfect my limitations.
Describe a recent project or performance that you are proud of. (Required)
In 2019, I received a CNYArts grant to research and imaginatively paint the brief tenure of Roy Lichtenstein at Oswego State Teachers College. I completed 34 paintings and published an illustrated book of essays about Lichtenstein's time in Oswego. I met with college leaders and secured an exhibition space on campus in the same academic building where Lichtenstein taught painting and industrial design. A great success! Profits from sales (books and paintings) were donated to a scholarship for an Oswego High School student enrolled at SUNY Oswego and interested in studio art, art history or art teaching.
Please provide a link, if available. (Optional)
Article about Roy Lichtenstein exhibition
Please tell us about the nature of your relationship with each other? How long have you known each other? What skills, expertise, or capacities do you plan to provide in this relationship? What do you expect your partners to provide? (Required)
The first time Ron Throop exhibited his work was in 2008 at the Art Association of Oswego's Lakeside-Statewide juried exhibition. An honorable mention gave him the impetus to pursue a career in the arts. Since then, he has participated in several group and solo exhibitions at the AAO, volunteered as a member, and donated a portion of his painting sales back to the organization, which has consistently supported Throop's endeavors, and those of countless artists. The AAO is the only art center within the City of Oswego and draws people to the arts from across Central New York and beyond.
Throop is a professional painter and passionate promoter of the arts. He is a leading figure of the art movement Stuckism and hosts pop-up exhibitions regularly, inviting local, national and international artists to show, often using exhibitions to fundraise for charities. A prolific self-published author with 23 books in print, he typesets and co-designs his publication and promotional materials. He is adept at promotion on social media, and proficient with Adobe InDesign and Photoshop, web development and maintenance. He is a capable event planner and coordinates media outreach.
Throop will need time and space to practice, as well as ample opportunity for exploration into other media techniques and perspectives outside his own. Specifically, he expects the Board to take up DEI training, strategize for practices beneficial to the AAO and community, encourage artistic development among members, share space, tools and resources, and make necessary purchases to facilitate initiatives.
The AAO will work with Throop to help build its capacity using his expertise as artist and culture maker. We ask that he be on site 40 hours a week to keep the doors open for visitors, classes, and/or tours, while practicing his art in a designated workspace for 20 hours per week.
We will need his help with fundraising, event planning and execution, website redesign, a lively social media presence, and outreach to the youth and underserved throughout the area.
We expect Throop to organize interest groups (subgroups) to encourage other artistic disciplines and augment our ability to support the community. He shall report progress at monthly Board meetings.
Overall, we hope our collaboration will increase local awareness and participation, inform and delight, achieve new memberships, and forge lasting connections in the community.
Please describe your proposed collaboration(s): what work do you plan to do together over the next two years, and how will it support your community? (Required)
The focus for collaboration will be the execution of strategies planned by Throop and the AAO to enhance programming, expand hours of operation (with the goal of sustaining an expanded schedule post-employment), and welcoming new members and diverse perspectives. To strengthen our supportive environment and foster collective infrastructure, Throop and the Board of Directors will:
· Commit to DEI training during the first two months of employment.
· Redesign and maintain our website to better inform, entice and connect with members and the public.
· Have art on the walls 365 days a year. Rotate art in and outside of galleries to take full advantage of AAO spaces year round.
· Offer more exhibition opportunities, such as an annual county-wide high school exhibition.
· Work on projects with SUNY Oswego students linking the college with the local community.
· Invite more collaboration with the Oswego Players theater group to coordinate shared spaces and performance/exhibition scheduling.
· Take AAO "on the road" to local nursing homes and assisted living communities. For example, open painting sessions, local artist jigsaw puzzles, or art movie night.
· Coordinate member and non-member volunteer work, such as middle and high school art clubs and honor societies seeking community service hours (cleaning, painting, gallery sitting).
· Create a more robust social media presence to increase awareness and invite the community to interact. Highlight all AAO has to offer.
· Seek creative ways to fundraise, especially during city-wide events like Harborfest, CNY Pumpkin Festival, and farmer's market.
· Add more integrated avenues for art expression, such as open mic nights for musicians, poetry readings, critiques and artist talks. Implement a writer's workshop or roundtable. Incorporate more writing/reading/sharing opportunities for the community.
· Expand on teaching and learning opportunities to support and enrich the community.
The AAO is near completion of a volunteer-led redesign and construction of a downstairs gallery and classroom. Our collaboration will be a vital asset to aid in the transition and usage of the new spaces.
Ron Throop is a gregarious, hard-working and steadfast promoter of the visual arts in Oswego County. His employment will increase visibility and understanding of artists as workers, and help strengthen AAO connection and responsibility to the community.
Please describe what you want to accomplish over the next two years and how you will know if your work together has been successful. What impact will it have on the community, on your organization, on your practice(s), etc. (Required)
The AAO wants to open its doors to the public for a minimum of 40 hours, six days a week. Currently, it is open on weekends for a total of 6 hours, with various times for art classes and special events. Expanding hours to weekdays and evenings will significantly broaden access to AAO facilities and exhibitions. Our rubric for success would include a strengthening of membership and volunteerism in order to keep doors open 6 days a week after artist employment ends.
We shall:
· build an attractive web interface and have an active social media presence to improve outreach, build awareness, increase membership and bolster member artist recognition.
· plan to encourage and support member commitment to volunteering as stewards, teachers and promoters of the AAO.
· offer more art-related opportunities to area youth and connect with the diverse SUNY Oswego campus population.
· schedule more exhibitions and displays, using the total space of the AAO all year long.
· seek to provide free learning opportunities for underserved members of the community at elder-care and mental health facilities.
· see that our employee/artist (Throop) has ample time and a designated space to practice his art. He will have two solo exhibitions in the downstairs gallery in May 2023 and 2024.
· reinvest a portion of our fundraising to budget free or reduced cost activities. 1 in 4 persons in the City of Oswego (population 16,921) is low-income (26.7%).
Sustained implementation of these strategies will have a positive impact on artist, organization and community. Our full-time dedicated employee/artist in residence will monitor and maintain progress. Success will come with increased community awareness and involvement—including but not limited to, rise in website traffic, frequent interactions on social media, new memberships, connections made among members and the community at large, expanded access, strong exhibition attendance, interest for new programs and events, and dedication to volunteering.
Collaborations are patterned to strengthen the AAO, provide new and improved services, and increase the visibility of artists like Throop as workers.
The COVID-19 pandemic has significantly impacted the Art Association of Oswego. Programming, classes and exhibitions were restricted and membership dwindled. Employing an artist-in-residence full time to get the AAO back on track and improve its outreach is an incredible opportunity to re-energize the organization and serve the community well.