You may have seen the following posts in an attempt to dishonourably leak private chats and wondered what went down, I will bare all shortly in this text.
https://blurt.blog/polish/@fervi/wazne-przykro-mi
https://blurt.blog/decentralization-day/@mariuszkarowski/d-day-countdown-my-log-hears-things-i-cannot-hear#
I have been wary of @fervi for some time now ever since I saw his post about his BLURTL2N project and tested out his app https://blurt2ln.intinte.org/ which coincidentally no longer has a working link.
https://blurt.blog/witness/@fervi/blurt2ln-spend-your-money-how-you-want
These are the comments I left:

It was of concern for me that the fees the app took were not transparent and were 16%+ and it didn't show what max transaction size could be performed. It was very dubious and looked like a user trap on a few levels.
We never really heard about this app again and it is now defunct. (This is the developer @ctime supposedly is touting to replace the foundation)
A few days ago I was approached by my contacts at Hive Watchers, who were complaining that a dev had made a cross-posting tool that was posting random crap to Hive and drawing the wrath of the hive community and breaking the diplomatic relations between Blurt and Hive Watchers, it was alleged the foundation sanctioned and funded this.
They linked me this post: https://hive.blog/polish/@mariuszkarowski/witness-blog-4 which had a link to this cross poster https://crossposter.intinte.org/, it is now defunct but I can tell you I was so shocked at how crude the UI was, looked like some 1995 internet page, it just had a login for you to enter your keys and no support for Keychain, can't say for sure but this looked like a good way to capture user private keys.
I found a screenshot: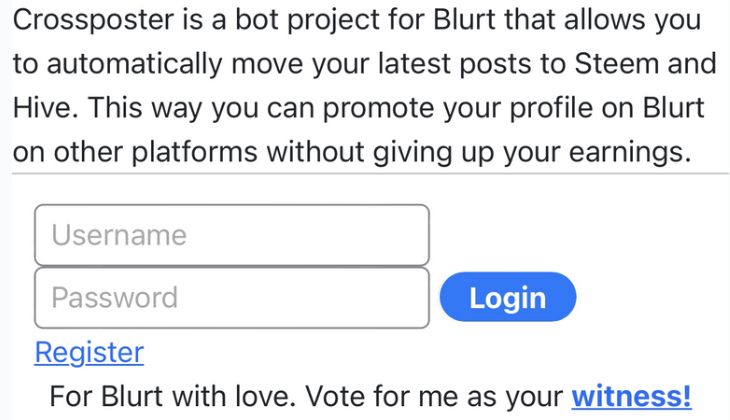 In addition to this, I was told that @fervi was being represented on Hive as CTO of Blurt, having replaced @jacobgadikian. I don't know who spread that info, but it is very false.
I came to be informed that @fervi is a supporter of @ctime who is currently trying to engage in subversive tactics on Blurt and making demands for the foundation to step aside to dupe users into rallying behind the Utopian dream of decentralisation while he and his group lie in wait with 21 mil BP ready to take over consensus and the proposal pool if he succeeds in getting the foundation to neuter itself.
@ctime has on many occassions lorded powering down and crashing the price over the community if he doesn't get his way and latest threats to dox the foundation team which is highly dangerous to the security of Blurt as all hold witness positions, threats of this nature are not to be taken lightly. Other threats include stopping his @ctime rewards bot to punish users (the foundation however has an answer to this with @blurtbooster, an algo bot that will vote all qualifying and non-blacklisted accounts)
The biggest threat is the potential loss of human resources, under threat of doxing and constant social attack. Blurt like all other chains compete for limited dev resources, should conditions become hostile there is no reason why our devs should stay, @ctime had no regard for our team in his demands and couid have come to us in a very diplomatic fashion and said:
"Hey, the 4th is coming up, let's come up with a strategy to decentralise Blurt for the good of the community, here are some ideas and resources I can provide"
But he didn't do that, all he wanted to do was to gain maximum power over users and even thought the foundation would cowtow to him and beg for funding and having to justify every single bit of dev work we do via proposal which he will control, being the then largest stakeholder.
So what happened in the witness channel?
Given the aforementioned threat and the continued bullying that happens on chain by individuals that take freedom of speech too far and use this freedom to threaten other individuals or to threaten the financial stability of the blockchain, which @ctime has done.
I, at the time, approached the witnesses in the channel to gather their thoughts on the notion of giving @ctime notice to wind up his affairs within 30 to 40 days on Blurt before we freeze his account, having been given fair warning, this would extend to bullies on the chain that persecute our users.
EDIT: For clarification purposes, funds will always be SAFU, and even fair warning given to extract them. "Freezing" refers to blocking governance and social functions.
The important thing to note is that I was seeking input and had not made this canon. A fair number of witnesses do agree with this action, some suggested alternatives to freezing, @practicalthought just posted in comment an idea to fork away from the situation, all of which are options that can be considered, including the option to strip @ctime of governance voting powers, renewing blurt.regent for an extended period etc.
The reality is that as Blurt heads to the $0.001 price point that @ctime and @double-u so cavalier laugh about; the cost to take over consenus becomes in the hundreds of thousands of Dollars instead of Millions and makes it ripe for a collusive takeover and destruction, nullifying value for everyone, but these jokers think it is funny and want to engineer that it does get there by spreading FUD.
In fact if the foundation were to remove its consensus vote Blurt could be attacked with less than 100K, that's why you can't just blindly follow recommendations without proper research.
At the end of the day when you invest in DPOS you need to realise that it is a governed community and if witness governance wishes to extract the cancer in the community, they are in their right to do so.
Ultimately most are of like mind that @ctime is not good for the community and he should power down and leave, even that is a courtesy that will hurt the price in the short term but we will bounce back from it after.
@fervi is in league with @ctime and is putting out dubious apps which are now defunct anyway, I called him out on these and warned of his association with @ctime, to which he suggested he should leave Blurt and I wished him all the best, not long after he posts threatening to expose the witness private chat, that becomes a matter of chain security as those discussions were precisely about chain security, hence the reason for banning from Discord.
@ctime clearly has no empathy for the community as can be seen in his actions to try downvote and destroy the SBI community on Steem. You can see in this post https://peakd.com/hive/@cryptoandcoffee/absolute-bull that I commented in displeasure that he was using my delegation to downvote this community and wipe out their financial stability. At the time @saboin also ran a project called @ihealyou to help SBI against @ctime's actions which countervoted. Already from 2020 @saboin and I have been doing triage on the damage this individual causes.
In summary, @ctime and his alts are currently considered Blurt enemy #1 by the Blurt Socialgraph Foundation (or Blurt Core if you prefer) and supporting witnesses, anyone continuing to aid and abet his destructive actions will be categorised in the same manner.
It is highly desired that @ctime and his alt accounts leave the Blurt community and he will be afforded the time to do so before any action is taken. Anyone wanting to purchase his stake or portion of it in OTC may contact me and I will suggest a safe way of doing so.