Sla̲y̲e̲r - Seas̲o̲n̲s̲ In̲ The Aby̲s̲s̲
---
SI FUERA UN DICTADOR HABRIA TOMADO EL CONTROL DE TODO EL GOBIERNO ANOCHE
---
De acuerdo al ranking de Democracy Index en el 2020 al menos en 50 países, los ciudadanos viven bajo regímenes autoritarios, los cuales no les permiten ejercer sus derechos fundamentales. Siempre se ha hablado de como la sociedad ha evolucionado durante miles de años, sin embargo, la opresión por el ser humano parece seguir incrementándose día tras días. Si yo fuera un Dictador sin duda alguna hubiese asaltado la residencia presidencial en horas de la noche, al parecer esto está escrito en el manual de como derrocar a los que están en el poder, el 4 de febrero de 1992 Hugo Chávez Fría, de madrugada se sublevo para derrocar al por entonces presidente de la republica Carlos Andrés Pérez, esto fue un golpe de estado fallido. Si sigo revisando como algunos de estos mal llamados lideres obtiene su poder, muy pocas veces es por medio de elecciones y siempre a través de la fuerza, incluyendo el apoyo de las fuerzas armadas quienes también parecen disfrutar muchas veces de los placeres de torturar a la población.
Si mi objetivo se logra y puedo convertirme en presidente de mi nación por la fuerza, lo primero que haría es encarcelar a toda aquella persona que haya firmado contratos con el estado y no haya culminado las infraestructuras que prometieron construir, y su castigo seria trabajar de manera forzosa en cada una de esas obras sin culminar, yo no les mataría, pero en cada una de esas construcciones dejarían su sudor y fuerzas por haber robado a la nación.
---
UN DICTADOR NO ES DICTADOR SI NO ES EXCENTRICO
---
Cuando asuma el poder, de acuerdo a mi personalidad y al comportamiento del manual de dictador, debo ser excéntrico, por lo cual es posible que mis cuadros y afiches inunden la ciudad, aunque debo reconocer que no soy bien parecido; pero quien se queje de ellos posiblemente pueda cumplir 10 años de prisión. Al estilo Mike Tyson debo tener algún tipo de animal exótico y sobre todo una vestimenta adecuada con la cual el pueblo puede identificarme como un hombre del pueblo y para el pueblo. Así que es posible que mi traje sea verde oliva y sobre todo muy parecido al de Stalin para que me asocien con un dictador temible y feroz.
Como buen dictador, debo saber las necesidades de mi pueblo, como estos últimos 20 años me han graduado en esa materia, promulgare que todos los viernes las licorerías sean gratuitas y los mejores memes de la semana puedan obtener una bonificación en dólares, al parecer eso es lo que mantiene al venezolano en movimiento, siempre haciendo chistes de las malas situaciones y las fiestas sin importar el nivel inflacionario no pueden acabarse. Por lo cual es obligatorio que todos disfruten de sus viernes y sobre todo los días que puedan ser declarados feriados no laborables. Con esto cubro todo lo relacionado a la Materia Económica se refiere no necesitamos más nada.
---
UN DICTADOR NECESITA MEDIO DE TRANSPORTE
---
Así es, como dictador y presidente de una nación debo trasladarme, como soy un dictador rara vez puedo salir de mi país, por lo cual más que un súper avión como el Air Force One, requiero un Mustang blindado, un Camaro y un GTO del año 67 blindado. Adicional a otros vehículos que puedan llevarme a reuniones con los líderes que vendrán a buscar el petróleo de la nación. Esto de ser un Dictador no es fácil, debes estar siempre buscando como satisfacer tus propias necesidades más que las del pueblo pero que importa es un sacrificio que debo hacer por mi nación.
---
Si yo fuera un Dictador, reduciría a tres puntos mi mandato, muerte a los criminales y políticos, Tecnología de punta para adoptar nuevas ideas o al menos más vanguardistas como las criptomonedas o tecnologías como los auto eléctricos, en segundo lugar, adoptaría un nuevo sistema educativo con el fin de erradicar lo absurdo que se ha vuelto el actual, pero por razones obvias deben aprender todo sobre mi y lo que he logrado como dictador. Si se les enseña mucho sobre libertades y lo bueno de otros países pueden querer derrocarme.
Posdata: Como soy un dictador aquí se escucha la música que a mí me gusta.
Esto es una pequeña sátira para participar en el concurso organizado por @practicalthought. Pueden Leer aquí en que consiste y las normas para participar.
If I Were The Dictator Of My Country Challenge
---
ENG
---
Sla̲y̲e̲r - Seas̲o̲n̲s̲ In̲ The Aby̲s̲s̲
---
IF HE WERE A DICTATOR HE WOULD HAVE TAKEN CONTROL OF THE ENTIRE GOVERNMENT LAST NIGHT.
---
According to the Democracy Index ranking in 2020 in at least 50 countries, citizens live under authoritarian regimes, which do not allow them to exercise their fundamental rights. We have always talked about how society has evolved over thousands of years, yet oppression by human beings seems to continue to increase day by day. If I were a Dictator without a doubt I would have assaulted the presidential residence at night, apparently this is written in the manual of how to overthrow those in power, on February 4, 1992 Hugo Chávez Fría, at dawn rose to overthrow the then president of the republic Carlos Andrés Pérez, this was a failed coup d'état. If I keep reviewing how some of these misnamed leaders obtain their power, very seldom is it through elections and always through force, including the support of the armed forces who also seem to enjoy many times the pleasures of torturing the population.
If my goal is achieved and I can become president of my nation by force, the first thing I would do is to imprison every person who has signed contracts with the state and has not completed the infrastructure they promised to build, and their punishment would be to work in a forced way in each of those unfinished works, I would not kill them, but in each of those constructions they would leave their sweat and strength for having stolen from the nation.
---
A DICTATOR IS NOT A DICTATOR IF HE IS NOT ECCENTRIC.
---
When I assume power, according to my personality and the dictator manual behavior, I must be eccentric, so it is possible that my pictures and posters flood the city, although I must admit that I am not good looking; but whoever complains about them can possibly serve 10 years in prison. In the style of Mike Tyson I must have some kind of exotic animal and above all a suitable outfit with which the people can identify me as a man of the people and for the people. So it is possible that my suit will be olive green and above all very Stalin-like so that I will be associated with a fearsome and fierce dictator.
As a good dictator, I must know the needs of my people, as these last 20 years have graduated me in that matter, I will enact that every Friday liquor stores will be free and the best memes of the week can get a bonus in dollars, apparently that is what keeps the Venezuelan in motion, always making jokes of the bad situations and the parties no matter the inflationary level cannot end. So it is mandatory that everyone enjoys their Fridays and especially the days that may be declared non-working holidays. With this I cover everything related to the Economic Matter is concerned we do not need anything else.
---
A DICTATOR NEEDS TRANSPORTATION
---
That's right, as a dictator and president of a nation I must move around, as I am a dictator I can rarely leave my country, so more than a super plane like Air Force One, I require an armored Mustang, a Camaro and an armored '67 GTO. In addition to other vehicles that can take me to meetings with the leaders who will come to get the nation's oil. This being a Dictator is not easy, you must always be looking to satisfy your own needs more than those of the people but what does it matter it is a sacrifice I must make for my nation.
---
If I were a Dictator, I would reduce my mandate to three points, death to criminals and politicians, cutting edge technology to adopt new ideas or at least more cutting edge like cryptocurrencies or technologies like electric cars, secondly, I would adopt a new educational system in order to eradicate the absurdity that the current one has become, but for obvious reasons they must learn all about me and what I have achieved as a dictator. If they are taught too much about freedoms and what is good about other countries they may want to overthrow me.
P.S. Since I am a dictator here is the music that I like.
This is a little satire to participate in the contest organized by @practicalthought. You can read here what it consists of and the rules to participate.
If I Were The Dictator Of My Country Challenge
---
Vota por mi como Witness
Link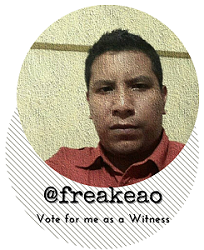 ---