Vamos a jugar BITSPORTS // Let's play BITSPORTS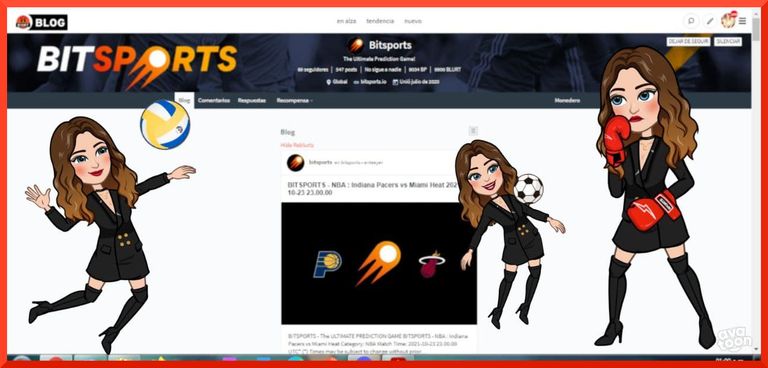 ---
Blurt se ha convertido en un lugar genial, aquí he conocido personas que pareciera conociera de toda la vida, también puedes encontrar muchos usuarios que ponen su mejor esfuerzo para escribir contenido de valor, otros que les hace feliz compartir sus momentos, fotos, sueños y mucho más, en realidad es un ecosistema muy diverso.
Además de todo lo que experimentamos en Blurt con buena energía, también tenemos juegos divertidos y concursos y en esta oportunidad vengo a invitar a todos los usuarios de Blurt que me leen a participar en este juego el cual es genial, se trata de predecir. Creo que no soy muy buena en eso, pero ¿saben algo? eso no importa, porque aquí he ganado jugando también a la adivinanza, y eso pasa porque con @bitsports ganas de todas las formas posibles, ven y te lo explico.
Siempre obtendrás recompensas de curación por votar en la publicación o el comentario, ¡todos ganamos, es increíble!
English

Blurt has become a great place, here I have met people who seem to have known their whole life, you can also find many users who put their best effort to write valuable content, others who are happy to share their moments, photos, dreams, and much more, it is actually a very diverse ecosystem.

In addition to everything we experience in Blurt with good energy, we also have fun games and contests, and this time I come to invite all Blurt users who read me to participate in this game which is great, it is about predicting. I don't think I'm very good at it, but you know what? That does not matter, because here I have also won playing the riddle, and that happens because with @bitsports you win in all possible ways, come and I will explain it to you.

You will always get curation rewards for voting on the post or comment, we all win, it's awesome!

Formas de ganar apostando

Es bastante simple el proceso, vota por el equipo que más te gusta en los comentarios de las publicaciones de la cuanta @bitsport, la cual te recomiendo seguir, y en los comentarios encontraras una serie de opciones para votar el equipo de tu preferencia, ahora algo importante que debes tener en cuenta, solo puedes votar por una opción.

Aquí puedes leer la publicación que está activa en este momento BITSPORTS - Football / Soccer : Napoli vs Legia Warsaw 2021-10-21 19.00.00, pero no solamente está activiva esta publicaicón, sino otras más, tienes muchas opciones solo debes revisar la cuenta y empezar tu apuesta.
---
---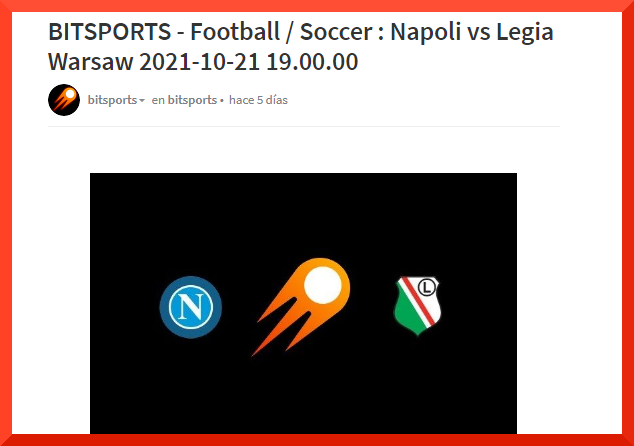 ---
---
Información para considerar
No es obligatorio votar en la publicación principal, sin embargo, aumenta la visibilidad en la página de tendencias de Blurt y las recompensas se agregarán al grupo de ganadores.
Los votos realizados después de la hora de inicio del juego no se contarán, las recompensas de autor adicionales de los votos tardíos se agregarán al grupo de ganadores.
Una vez que la publicación se paga en 7 días, los ganadores recibirán una nota con un enlace al comentario ganador y su parte de las ganancias.
Votar a varios equipos con la misma cuenta resultará en la descalificación.
Invite a sus amigos a jugar, siéntase libre de socializar y discutir el partido en la sección de comentarios a continuación.
Traducción tomada como referencia de la publicación original
English

Information to consider

Voting on the main post is not required, however, it increases visibility on Blurt's trending page and rewards will be added to the group of winners.

Votes made after the game start time will not be counted, additional author rewards from late votes will be added to the winner pool.

Once the post is paid in 7 days, the winners will receive a note with a link to the winning comment and their share of the winnings.

Voting multiple teams with the same account will result in disqualification.

Invite your friends to play, feel free to socialize, and discuss the match in the comment section below.

Translation taken as a reference to the original publication
---
¿Qué estás esperando? // What are you waiting for?
---
Yo he ganado y no solo una, sino varias veces
Es muy fácil ganar, pero además te diviertes, invita a tus amigos vamos a participar con alegría, todos están cordialmente invitados. Aquí te comparto mi última recompensa.
English

I have won and not just once, but several times

It is very easy to win, but you also have fun, invite your friends, we will participate with joy, everyone is cordially invited. Here I share my last reward.

Ahora mejor me voy a votar y seleccionar mis equipos para no perderme la oportunidad, vamos juntos acompáñame a @bitsports.
Por cierto me conseguí este video en la publicación de la cuenta original y no quise dejar de compartirlo, porque me gustó mucho, espero que puedan seguir la cuenta y que el video les guste tanto como a mi.
English

Now I better vote and select my teams so as not to miss the opportunity, let's go together, join me at @bitsports.

By the way, I got this video in the publication of the original account and I did not want to stop sharing it, because I really liked it, I hope you can follow the account and that you like the video as much as I do.
---
Buena vibra Blurt
Continúa confiando, creando comunidad y creando contenido genial en Blurt, porque el equipo Blurt no descansa, siempre está pensando como crecer y evolucionar. Vamos paso a paso pero con mucho estusiasmo y buena vibra.
English

Good vibes Blurt

Keep trusting, building community and creating great content on Blurt, because the Blurt team does not rest, it is always thinking about how to grow and evolve. We go step by step but with a lot of enthusiasm and good vibes.
Con mucho Cariño / With love
@ Angelica7.
---
---
Invitación
En mis publicaciones estoy dejando un boleto especial para participar en el PUB de unos buenos amigos aquí en En Blurt .
Invitation
In my publications, I am leaving a special ticket to participate in the pub of some good friends here in in blurt .
---
Toma tu boleto de Entrada para el PUB todos los domingos
Esta entrada si la deseas debes compartir un comentario en esta publicación y participar los domingos en el PUB, para hacer amigos, conocer de actividades que se hacen en Blurt y en otras redes y estar dispuesto a pasar un momento diferente entre amigos.
Te comparto aquí el PUB de esta semana, para que leas de que se trata:
Take your ticket for the pub every Sunday

This entry If you want to share a comment on this publication and participate on Sundays in the pub, to make friends, know about activities that are made in Blurt and in other networks, and be willing to spend a different moment between friends.

I share this week's pub here, so you can read that it is: 2021-KW 42 ~ Kneipe 24/7 ~ Treffpunkt ~ Dauer-Kneipe ~ Ohne Zusammenhang / Without Any Context ~ [GER/ENG]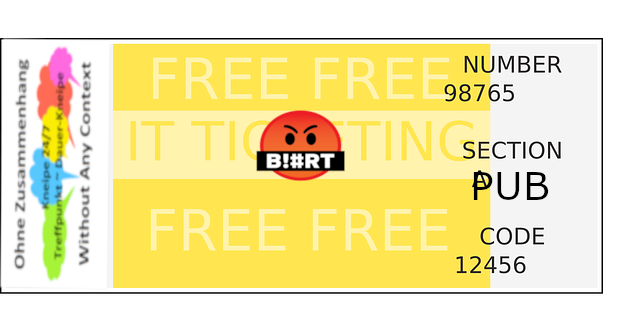 imagen
---
---
Para los nuevos y los no tanto también
Blurt, es una cadena de bloques, donde tienes un espacio para convertirte en una gran creador de contenido, tan solo comparte lo que te gusta, no dejes de ser tu mismo y crea contenido creativo y original.
A la familia Blurt le gusta leer a personas reales sensibles y que estén dispuestos en hacer crecer la cadena con buena energía, por ello los invitamos a que sean unos usuarios geniales con identidad propia y que hable su propia voz, para ser protagonistas de tu propia historia detrás de cada foto o contenido.
También aprovecho a darle las gracias a todos los amigos en Blurt que se mantienen activos y alegres apostando por el crecimiento de Blurt, con buena vibra.
Te invito a escribir tu historia detrás de la foto, estoy segura que tienes muchas cosas que compartir y estaré encantada de leerte.
for new and not so much also

In Blurt, you have a space to become a great content creator, I only always know yourself and create creative and original content.

The Blurt family likes to read sensitive real people and that are willing to grow the chain with good energy, so we invite them to be great users with their own identity and to speak their own voice, to be protagonists of your own History behind each photo or content.

I also take advantage of giving thanks to all friends in Blurt who remain active and cheerful betting on Blurt's growth, with good vibes.

I invite you to write your story behind the photo, I'm sure you have many things to share and I'll be happy to read to you.
---
Historia inspirada en apuestas y juegos // Original story
Imagenes: Publicación original de la cuenta @bitsports
Edición: Comica
---
Let no one turn off your inner light
---
---
Blurt continues to grow // Blurt continúa creciendo
---
---
Que nadie apague tu luz interior // Let no one turn off your inner light
Información Importante: