Mother - Roger Waters
@double-u Wegner eres tu haciendo un performance de la canción Mother de Pink Floyd? ¿o solo eres el dueño de un Pub que se parece mucho a Roger Waters? prefieres el Jägermeister o la cerveza negra como yo? Normalmente prefiero la cerveza, pero reconozco que el Jager tiene algo que lo hace único. Si puedes envíame un container de cerveza o jagger a Venezuela.
@elkezaksek eres un angel del cielo que vino a recordarnos que debemos ayudar al bienestar de otros? Que debemos dejar el egoísmo y dar lo mejor de nosotros mismos. me pregunto que pasaría si todos escucháramos tu voz? ¿podríamos cambiar el mundo? ¿Qué opinas tú?
---
Sabían que cumpliré 41 dentro de poco? aun me siento como un niño, a pesar que mi cuerpo duele por algunas lesiones aun me siento con mucha energía como para sentarme toda la tarde a ver todas las temporadas se Saint Seiya o Dragon Ball Z.
---
@practicalthought estamos en la Matrix? ¿esto es un sueño efímero o es que deseamos despertar de esto que llamamos vida? En ocasiones leo y escucho que dios tiene un plan para nosotros, ¿es que acaso realmente ya todo está dicho y escrito? En mi caso me niego a creer que alguien más pueda dirigir mi destino.
---
@offgridlife que se siente caminar en la nieve? uno de mis sueños es poder caminar en la nieve, poder admirar los paisajes similares a los de Ontario, o tan solo un lugar que posea un pequeño lago y poder caminar en el cuándo se congele. Es una duda existencial, pero a simple vista parece gratificante. Me imagino un juego de Hockey chocando contra todos.
---
@angelica7 esta canción me recuerda a ti, suena de fondo mientras escribo todo esto que parece al azar, pero la realidad es que hemos superado la barrera de los países, del mundo y estamos todos conectados de una forma u otra, por lo cual pienso y reflexiono sobre la frase Obtienes lo que das.
---
@vickyguevara puedes traerme un Café con algún dulce? ha sido una tarde lluviosa, muy friolenta y gris. El café alegra el alma, es gratificante poder tomar una taza de café, así como leer un buen libro.
---
Hoy pude leer que es el día de la prevención del suicidio, así que hablen más con sus seres amados, con sus amigos, aunque digan que están bien nadie sabe lo que ocurre en sus corazones. Siempre hay una señal de que algo no está en su lugar.
---
ENG
---
@double-u Wegner are you doing a performance of the song Mother by Pink Floyd? Or are you just the owner of a Pub that looks a lot like Roger Waters? do you prefer the Jägermeister or the stout like me? I usually prefer beer, but I recognize that the Jager has something that makes it unique. If you can send me a container of beer or jagger to Venezuela.
@elkezaksek are you an angel from heaven who came to remind us that we should help the welfare of others? That we must leave selfishness and give the best of ourselves. I wonder what would happen if we all heard your voice? Could we change the world? What do you think?
---
Did you know that I will be 41 soon? I still feel like a child, even though my body hurts from some injuries I still feel very energetic to sit all afternoon to watch all the seasons of Saint Seiya or Dragon Ball Z.
---
@practicalthought are we in the Matrix? Is this a fleeting dream or is it that we want to wake up from what we call life? Sometimes I read and hear that God has a plan for us, is it really that everything is already said and written? In my case I refuse to believe that someone else can direct my destiny.
---
@offgridlife what does it feel like to walk in the snow? one of my dreams is to be able to walk in the snow, to be able to admire the landscapes similar to those of Ontario, or just a place that has a small lake and to be able to walk in it when it freezes. It is an existential doubt, but at first glance it seems gratifying. I imagine a game of Hockey crashing into everyone.
---
@angelica7 this song reminds me of you, it sounds in the background as I write all this that seems random, but the reality is that we have overcome the barrier of countries, the world and we are all connected in one way or another, which is why I think and I ponder the phrase You get what you give.
---
@vickyguevara can you bring me a coffee with some sweets? It has been a rainy afternoon, very cold and gray. Coffee cheers the soul, it is gratifying to be able to have a cup of coffee, as well as read a good book.
---
Today I could read that it is suicide prevention day, so talk more with your loved ones, with your friends, even if they say they are fine, no one knows what happens in their hearts. There is always a sign that something is not in its place.
---
Vota por mi como Witness
Link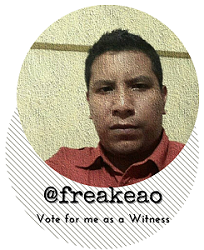 ---